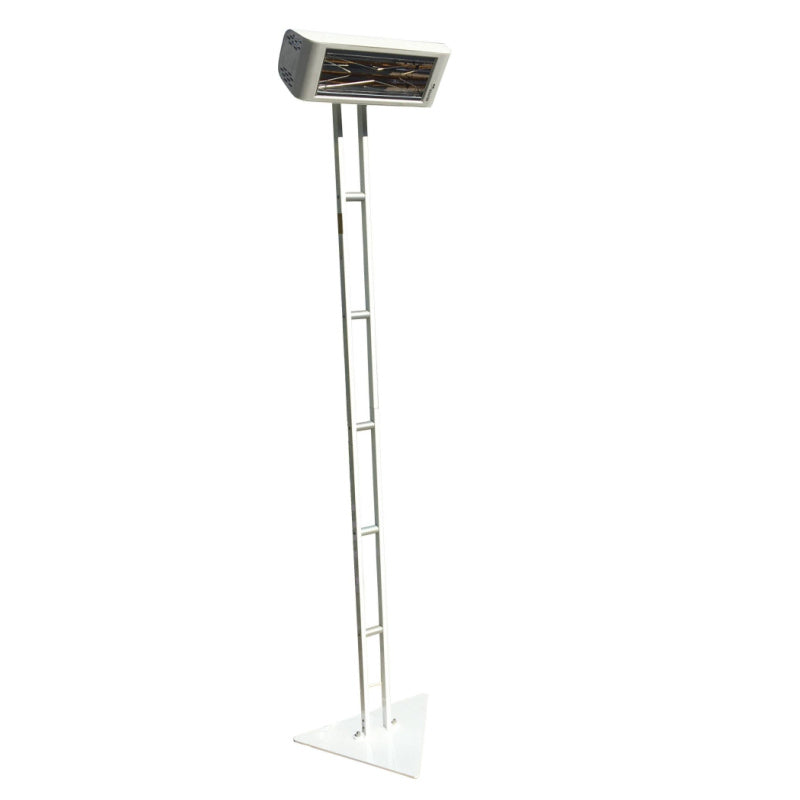 Stand for Heliosa 11 or 44 | Scala Model
Description

Why buy From Us

Shipping
Introducing the Scala Stand, a versatile accessory designed to provide mobility for your Heliosa 11 or Heliosa 44 heaters. With its stylish design and sturdy construction, the Scala Stand offers a practical solution for conveniently moving your heaters to different locations.
Stylish Design to Complement Heliosa Heaters
The Scala Stand features a sleek and modern design that perfectly matches the aesthetics of the Heliosa heater range, ensuring a cohesive and visually appealing outdoor setup.
Durable Construction for Outdoor Use
Crafted with a combination of power-coated steel and aluminium, the Scala Stand offers excellent stability and durability, allowing you to use it confidently in outdoor environments.
Flexible Heater Mounting
The Scala Stand provides the flexibility to mount one or two heaters back to back, accommodating your heating needs and preferences.
Convenient Assembly and Storage
Designed for ease of use, the Scala Stand is delivered in a flat pack box with pictorial instructions, making assembly straightforward and hassle-free. When not in use, the stand can be conveniently disassembled and stored until needed again.
Secure Placement Options
The Scala Stand offers multiple placement options to ensure stability. It can be securely pegged to the ground for added support, or you can utilize gazebo weights or sandbags (not provided) to provide ballast and stability.
Optimal Height and Cable Length
Standing at 213cm tall, the Scala Stand allows you to position your Heliosa 11 or Heliosa 44 heaters at an ideal height for effective heat distribution. Particularly with the Heliosa 44, you can take advantage of its 5m cable length for added flexibility in positioning.
Sturdy and Safe Design
The stand is constructed with powder-coated steel, providing rigidity and strength. The triangular base features a hole for easy pegging into soft ground, ensuring stability. Careful positioning away from foot traffic ensures safe usage even without additional weights.
Important Compatibility Note
Please note that the Scala Stand is not suitable for use with the Heliosa 66 heater, as it does not provide the necessary height and stability required for this larger unit.
Stand for Heliosa 11 or 44 | Scala Technical Specifications:
Fixed mounting height: 2.07m
Recommended mounting angle: 30° – 45° from horizontal
Construction: Steel bracket, base, and uprights with aluminium cross supports
Colour options: Carrara white (RAL9016) or Cast Iron grey (RAL7015)
Dimensions: Base - 50×50 cm; Upright - 207cm x 9cm
Weight: 2.2kg
Additional Feature: Extra bracket can be purchased for mounting twin heaters.
Peace of mind 30 day returns policy! Find out more here.
Price match guarantee*. Get more details here.
Review Rewards Program! Check it out here.
We provide customer service, via online chat, email, and phone 7 days a week, 7am to 10 pm. Contact us anytime!
Shipping FREE on a range of items!
For bulky items we have multiple items to reduce shipping costs:
Shipping to door, calculated at the product, cart, and checkout pages.

Collect from local depots we ship to, for reduced costs.

Collect for FREE from warehouse where products are shipped from.
You can find all our delivery/shipping details here.
If you have any questions contact us anytime.