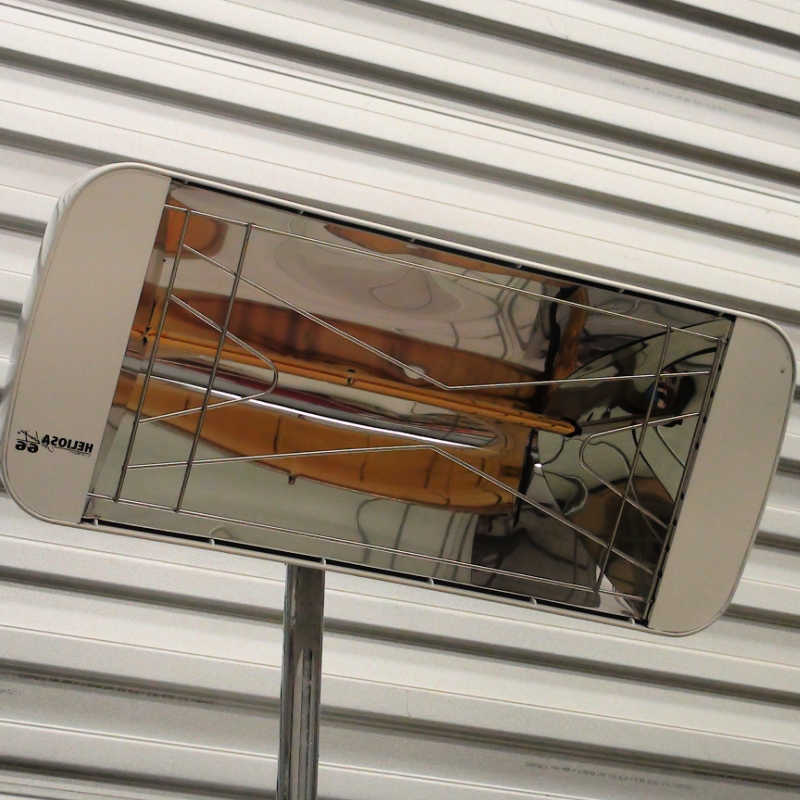 Infrared Heater | Outdoor | Electric | Heliosa 66
Description

Why buy From Us

Shipping
Introducing the Heliosa 66 Heater - the ultimate solution for outdoor heating in cafes, bars, restaurants, and larger outdoor areas. With its impressive heat coverage and cutting-edge features, this heater will revolutionize your outdoor experience.
This heater can be converted to a portable patio heater with the colonna Stand
Unmatched Efficiency and Performance
The Heliosa 66 utilizes short-wave infrared technology, boasting a remarkable 92% radiant efficiency. This means that even in windy conditions, you can enjoy consistent warmth without the heat drifting away.
Experience market-leading performance with its ability to heat up to 20m² with just 2000W of power. Its large heat projection ensures a comfortable environment for everyone.
Instant Heat and Longevity
Say goodbye to wasted energy and pre-heating time. The Heliosa 66 provides instant full power within 1 second of switching it on, ensuring efficient use of energy.
Equipped with InFraCaLoR® halogen lamps, this heater offers up to 7000 hours of life, minimizing maintenance costs and providing long-lasting performance.
Ambient Lighting and Sleek Design
Enjoy the warm glow of the warm gold halogen lamp, which offers an 80% reduction in light output compared to traditional infrared lamps. Create a cozy ambiance similar to an open fire.
The stylish design of the Heliosa 66 complements any outdoor space. With a powder-coated aluminum casing available in glossy Carrara White or textured Cast Iron Grey, it combines functionality with aesthetics.
Weatherproof and Versatile
Designed for outdoor use, the Heliosa 66 is fully weatherproof and IPX5 certified. It can be safely operated in all weather conditions, ensuring durability and reliability.
Its tilt-and-swivel bracket allows for flexible wall or hook mounting, while the included 150mm extension bracket enables ceiling or wall installation under eaves. Choose the most suitable configuration for your space.
Convenient Installation and Specifications
Each Heliosa 66 comes with a 3m lead, ready to be wired into an electrical circuit. If desired, a plug can be attached at no additional cost by specifying in the 'Comments' section during checkout.
Recommended mounting height ranges from 2.4m to 2.7m, with a suggested mounting angle of 30° to 45° from horizontal. The heater projects heat up to 3.5m in distance and 5m in width.
The Heliosa 66 is equipped with a stainless-steel protective grill for added safety.
Infrared Heater | Outdoor | Electric | Heliosa 66 Specifications:
Enclosure: Aluminum casting with powder-coated finish and aluminum reflector
Colors: White (RAL9016) or Cast Iron Grey (RAL7015)
Electrical supply: 220-240V AC 50/60 Hz single phase
Power consumption: 2.0kW per hour
Insulation: Class 1
Environmental protection: IPx5
Element life: Up to 7000 hours
Dimensions: 45.5 x 14 x 15.7cm (width x height x depth)
Weight: 2.1kg
Cable length: 3m
Additional available features: Tilt & swivel wall bracket, 150mm extension bracket, stainless steel safety grille
Some of the more popular accessories are on this page as add ons but for a full list see the following:
For a full range of available controllers

 

click here
For a full range of brackets for connecting to awnings, pergolas, poles etc

 

click here
Upgrade your outdoor space with the Heliosa 66 Heater and experience the perfect combination of warmth, efficiency, and style. Transform your outdoor areas into inviting and comfortable spaces for year-round enjoyment.

Infrared Heater | Outdoor | Electric | Heliosa 66 Information Sheet and Case Study
Peace of mind 30 day returns policy! Find out more here.
Price match guarantee*. Get more details here.
Review Rewards Program! Check it out here.
We provide customer service, via online chat, email, and phone 7 days a week, 7am to 10 pm. Contact us anytime!
Shipping FREE on a range of items!
For bulky items we have multiple items to reduce shipping costs:
Shipping to door, calculated at the product, cart, and checkout pages.

Collect from local depots we ship to, for reduced costs.

Collect for FREE from warehouse where products are shipped from.
You can find all our delivery/shipping details here.
If you have any questions contact us anytime.