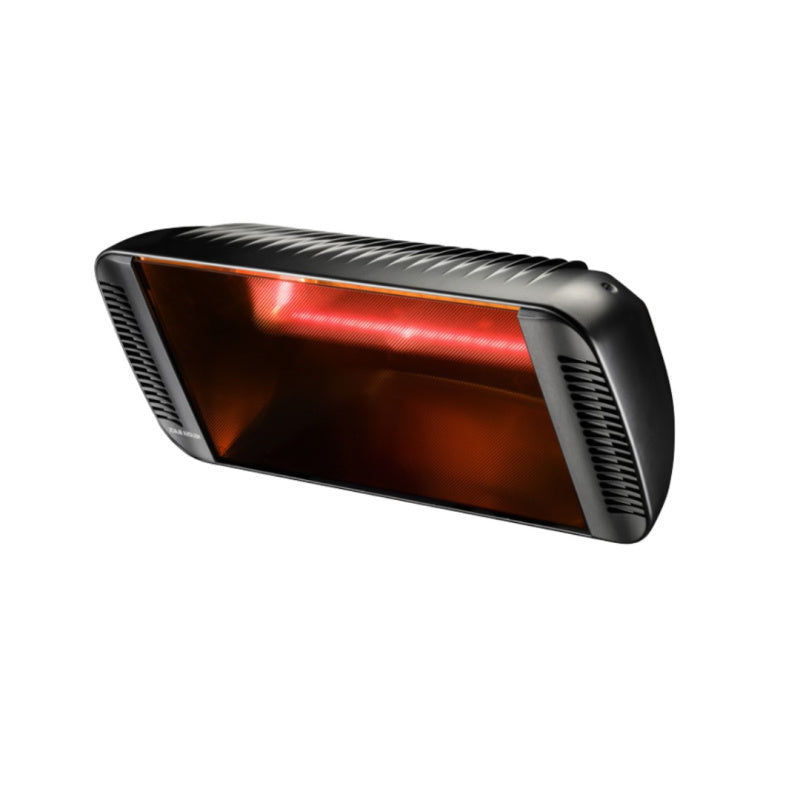 Infrared Heater | Outdoor | Electric | Heliosa 66 Black Glass
Description

Why buy From Us

Shipping
Heliosa 66 Black Glass Infrared Heater: Your Perfect Companion for Outdoor Comfort
Experience unparalleled outdoor comfort with the Heliosa 66 Black Glass Infrared Heater. Specially designed for cafés, bars, restaurants, and large outdoor spaces, this heater doesn't just heat up your space - it redefines it. With its sleek and modern design, it adds an air of sophistication to your establishment or outdoor entertainment area while providing superior warmth and comfort.
This heater can be converted to a portable patio heater with the colonna Stand.
Outstanding Features of the Heliosa 66 Black Glass Infrared Heater
Highly Efficient Infrared: Leveraging the power of short-wave technology, this heater boasts a 92% radiant efficiency. This ensures you enjoy a constant stream of warmth, undisturbed by wind or breezy conditions. The heat remains firmly grounded, making your outdoor areas feel just as cosy as the indoors.

Impressive Performance: Small in size, but mighty in capability, the Heliosa 66 offers an expansive heat projection. Just 2000W is all it takes to heat up to 15m², a market-leading performance that's hard to match. It's small, it's powerful, and it's incredibly efficient.

Instant Heat: This heater doesn't make you wait. Within a single second of switch-on, it's at full power, providing immediate heat. No wasted energy on pre-heating, no long waits for warmth. It's instant, efficient, and incredibly satisfying.

Darkened Safety Glass: Safety is a top priority with the Heliosa 66. It features darkened safety glass that significantly reduces glare from the halogen lamp. This means you can enjoy the warmth without the discomfort of excessive light, making your outdoor area more enjoyable for your customers or guests.

Longevity and Low Maintenance Costs: Equipped with InFraCaLoR® halogen lamps, that can have up to 7000 hours of life. That's a lot of cosy evenings with minimal maintenance required. Low operational costs, coupled with high performance, make this heater a smart choice for your home or establishment.

Warm, Ambient Lighting: The warm gold halogen lamp produces an 80% reduction in light output compared to traditional infrared lamps. This reduction creates the ambiance of an open fire, making your outdoor space feel even more inviting. It's warmth with a dash of charm.

Weatherproof Design for Outdoor Use: The Heliosa 66 is built for the outdoors. Fully weatherproof and IPX5 certified, it can safely operate under any weather condition. Rain or shine, this heater has got you covered.
Additional Heliosa 66 Black Glass Infrared Heater Highlights
The heater casing is beautifully crafted from powder-coated aluminium and finished in Optic Black, offering a visually pleasing and durable option for outdoor heating. An adjustable tilt-and-swivel bracket is included for wall mounting. An optional 150mm extension bracket is available (Dark Grey only Part # 690402 / 106FM) if ceiling or under-eave installation is preferred.
Remember, the Heliosa 66 Black Glass comes with a 3m lead but without a plug to enable easy wiring into your electrical circuit. If you wish for a plug to be attached prior to shipment, simply leave a note in the 'Comments' section at check out - this is provided at no extra cost to you.
Embrace the perfect blend of style, efficiency, and outstanding performance with the Heliosa 66 Black Glass Infrared Heater!
Heliosa 66 Black Glass Infrared Heater Specifications:
Rec. mounting height: 2.2-2.5m.
Rec. mounting angle: 45°.
Throw: 3.0m.
Spread: 3.5m.
Distance between heaters: 2.7-3.0m.
Enclosure: Aluminium casting, powder-coated with aluminium reflector.
Colour: Optic black
Electrical supply: 220-240V AC 50/60 Hz single phase.
Power consumption: 2.0kW. Insulation: Class 1.
Environmental protection: IPX5 (splash-proof).
Element life: 7000 hours (nom.).
Dimensions: 51 x 16.5 x 21.5cm (whd).
Weight: 2.8kg.
Cable: 3m
Some of the more popular accessories are on this page as add ons but for a full list see the following:
For a full range of available controllers

 

click here
For a full range of brackets for connecting to awnings, pergolas, poles etc

 

click here
Infrared Heater | Outdoor | Electric | Heliosa 66 Black Glass Information Sheet and Case Studies
Peace of mind 30 day returns policy! Find out more here.
Price match guarantee*. Get more details here.
Review Rewards Program! Check it out here.
We provide customer service, via online chat, email, and phone 7 days a week, 7am to 10 pm. Contact us anytime!
Shipping FREE on a range of items!
For bulky items we have multiple items to reduce shipping costs:
Shipping to door, calculated at the product, cart, and checkout pages.

Collect from local depots we ship to, for reduced costs.

Collect for FREE from warehouse where products are shipped from.
You can find all our delivery/shipping details here.
If you have any questions contact us anytime.