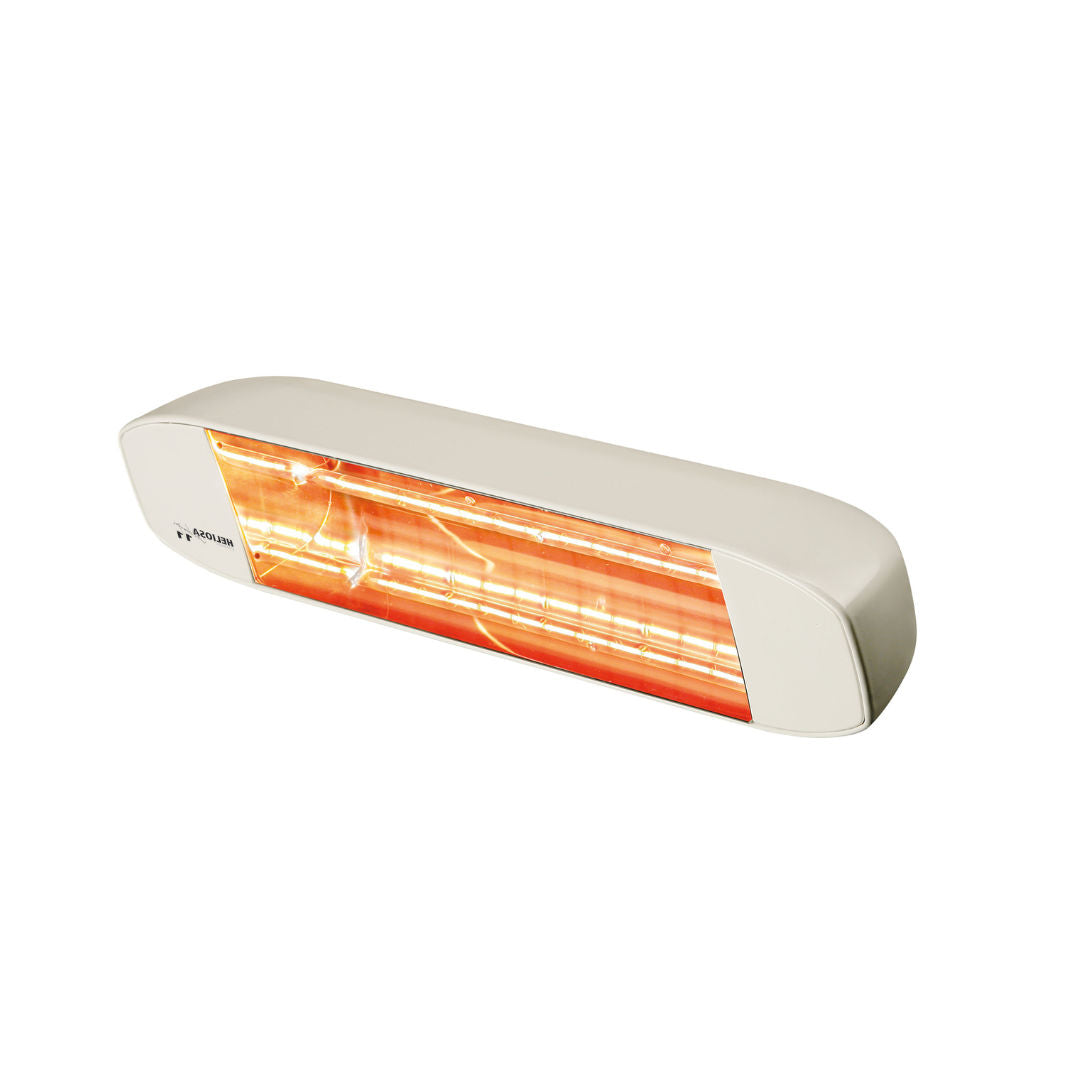 Infrared Heater | Outdoor | Electric | Heliosa 11
Description

Why buy From Us

Shipping
Heliosa 11 Infrared Heater:
Welcome to a new era of heating with the Heliosa 11 Infrared Heater, an ideal solution for commercial and residential applications. Whether it's for fixed umbrellas, balconies, outdoor niches, high-ceiling bathrooms, or exposed office reception areas, or even keeping warm under caravan canopies, Heliosa 11 is your trusted companion.
This heater can be converted to a portable patio heater with the Scala Stand.
Outstanding Features of the Star Progetti Heliosa 11 Infrared Heater
Optimum Infrared Efficiency: Embrace the power of short-wave technology with a 92% radiant efficiency. This ensures the warmth stays with you, even under windy conditions - no heat lost to the breeze.

Exceptional Performance: Small in size but big on power, this heater offers substantial heat projection. With just 1500W, it can comfortably heat up to 10m², outperforming other heaters of similar size.

Instant Heat: No waiting, no pre-heating. The Heliosa 11 achieves full power within a second of switch-on, guaranteeing immediate warmth and energy efficiency.

Extended Life and Low Maintenance: With InFraCaLoR® halogen lamps that offer up to 7000 hours of life, maintenance costs are significantly reduced.

Warm, Ambient Lighting: Experience the glow of an open fire with a warm gold halogen lamp, providing an 80% reduction in light output compared to traditional infrared lamps.

Weatherproof Design: Designed for outdoor use, this heater is fully weatherproof and carries an IPX5 certification, ensuring safe operation under any weather conditions.
Additional Highlights of the Star Progetti Heliosa 11 Infrared Heater
The Heliosa 11 boasts a stylish and compact design, perfectly complementing any outdoor area. The patented parabolic reflector offers a 'wow' factor to the heat output and simultaneously keeps energy costs low.
With an optimal mounting height of 2.3m above the ground, it projects heat at a 2.5m distance and a 3.5m width. It's ideal for small balconies and under umbrellas, providing more heat with fewer units compared to other heating forms.
Built for flexibility, it can be mounted on a wall, from the ceiling, or on a Scala stand for mobility. Its casing, made of powder-coated aluminium, comes in either glossy Carrara White or textured Cast Iron Grey.
The Heliosa 11 comes equipped with a tilt-and-swivel bracket for wall mounting and a short hook bracket for canopy or umbrella mounting. You can also purchase an extension bracket or a bracket for angle umbrella spots/struts for more mounting options.
Additionally, it comes with an optional stainless-steel protective grill that we recommend fitting prior to installation.
Finally, while every heater comes with a 3m lead without a plug for easy integration into an electrical circuit, we can attach a plug at no extra cost before shipment - simply request this in the 'Comments' section at check out.
Elevate your outdoor heating experience with the Star Progetti Heliosa 11 Infrared Heater!
Heliosa 11 Infrared Heater Specifications:

Rec. mounting height: 2.0 – 2.3m.
Rec. mounting angle: 30° up to 45° from horizontal.
Throw: 2.5m.
Spread: 3.5m.
Distance between heaters: 1.5m – 2.5m.
Enclosure: Aluminium casting, powder coated with aluminium reflector.
Colour: Carrara white (RAL9016) or Cast Iron grey (RAL7015).
Electrical supply: 220-240V ac 50/60 Hz single phase.
Power consumption: 1.5kW. Insulation: Class 1.
Environmental protection: IPx5 (operates with water spray from any direction).
Element life: Up to 7000 hours (nominal).
Dimensions: 45.5 x 13 x 9cm (whd).
Weight: 1.0kg.
Cable: 3m 
Other available features: Tilt & swivel wall bracket. Short hook bracket. Stainless steel safety grille.
Some of the more popular accessories are on this page as add ons but for a full list see the following:
For a full range of available controllers click here
For a full range of brackets for connecting to awnings, pergolas, poles etc click here
Infrared Heater | Outdoor | Electric | Heliosa 11 Information sheet
General Heliosa Range Shortwave Infrared Heater Comparison Brochure
Peace of mind 30 day returns policy! Find out more here.
Price match guarantee*. Get more details here.
Review Rewards Program! Check it out here.
We provide customer service, via online chat, email, and phone 7 days a week, 7am to 10 pm. Contact us anytime!
Shipping FREE on a range of items!
For bulky items we have multiple items to reduce shipping costs:
Shipping to door, calculated at the product, cart, and checkout pages.

Collect from local depots we ship to, for reduced costs.

Collect for FREE from warehouse where products are shipped from.
You can find all our delivery/shipping details here.
If you have any questions contact us anytime.