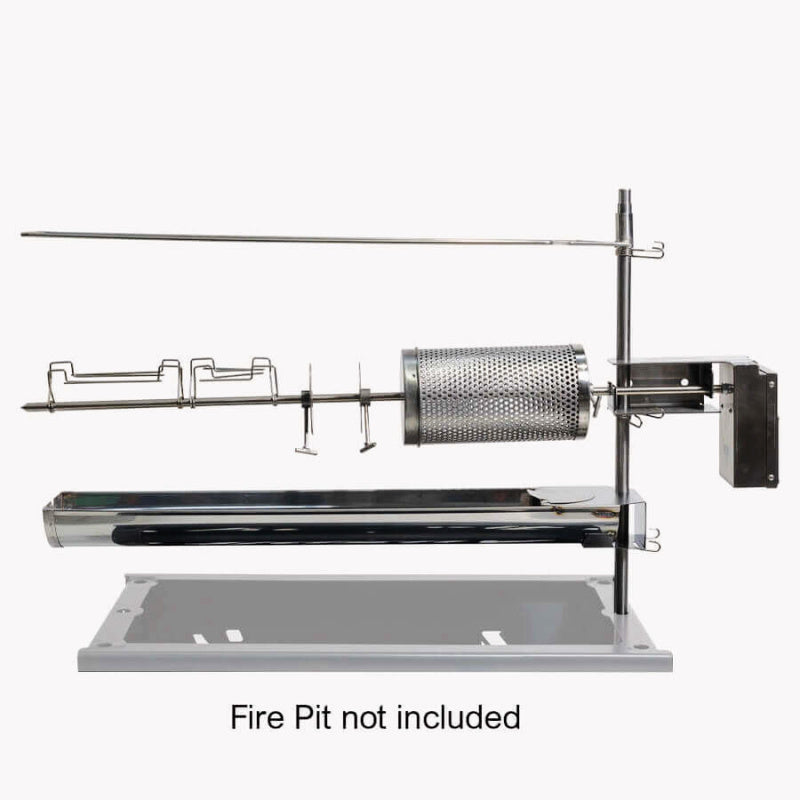 Portable Spit BBQ Rotisserie Package | Auspit
Description

Why buy From Us

Shipping
This portable spit roaster is a game changer for outdoor cooking enthusiasts! Now you can effortlessly roast up to 8kg of perfectly balanced meat wherever your outdoor cooking adventures take you. Designed with convenience in mind, this exceptional rotisserie package fits snugly into a carry bag, making it the ultimate companion for camping trips, 4wding, beach outings, or backyard gatherings.

Portable Spit BBQ Rotisserie Package Key Features:
Impressive Capacity: The Auspit Gold is designed to handle up to 8kg of balanced meat, allowing you to effortlessly prepare a mouth-watering feast for friends and family.

Exceptional Portability: With its compact design and lightweight construction, the Auspit Gold Portable Spit Rotisserie Package is easy to transport and store. The entire unit fits neatly into a durable carry bag, so you can take it with you wherever you go.

Efficient Motor: The Auspit Gold's powerful, battery-operated motor provides smooth and consistent rotation, ensuring even cooking and delicious results every time.

Adjustable Height: The innovative height adjustment system allows you to easily position the meat at the optimal distance from the heat source, ensuring perfect results every time.

Easy Assembly: The Auspit Gold Portable Spit Rotisserie Package features a simple no hassle assembly, making it quick and easy to set up and dismantle.

Versatile Cooking Options: With its versatile design, the Auspit Gold is perfect for roasting a wide variety of meats.
Don't let your outdoor cooking creativity be limited by your location. Elevate your outdoor cooking experience with the Auspit Gold Portable Spit Rotisserie Package and indulge in tender, juicy, and flavorful meats at your next gathering. Order yours today and embark on a new era of outdoor feasting!
Portable Spit BBQ Rotisserie Package Specifications:
Patented carrier bracket for improved reliability and functionality

Hatchet - for splitting timber and hammering in your Auspit

Heat resistant gloves so you can move those burning logs around

Auspit carry bag for easy transportation

Heat accelerator attachment so you can cook in windy conditions

Fire Tray - Holds fire when a ground fire is not suitable

Swingarm​ to keep your billy boiling

Spitmate junior for your spuds and veggies

2 x Gyros discs – for making bush kebabs

Stainless steel skewer for easy cleaning and longevity- 1m long, 12mm round

Stainless steel support upright -1

m long, 20mm diameter

 (20mm diameter)

8kg capacity battery-operated motor that on average can give you up to 30 hours run time on 2x D-Size batteries

2 x 70mm prongs

4 x 130mm prongs

Fits in to carry bag 1050mm x 150mm x 150mm
Peace of mind 30 day returns policy! Find out more here.
Price match guarantee*. Get more details here.
Review Rewards Program! Check it out here.
We provide customer service, via online chat, email, and phone 7 days a week, 7am to 10 pm. Contact us anytime!
Shipping FREE on a range of items!
For bulky items we have multiple items to reduce shipping costs:
Shipping to door, calculated at the product, cart, and checkout pages.

Collect from local depots we ship to, for reduced costs.

Collect for FREE from warehouse where products are shipped from.
You can find all our delivery/shipping details here.
If you have any questions contact us anytime.