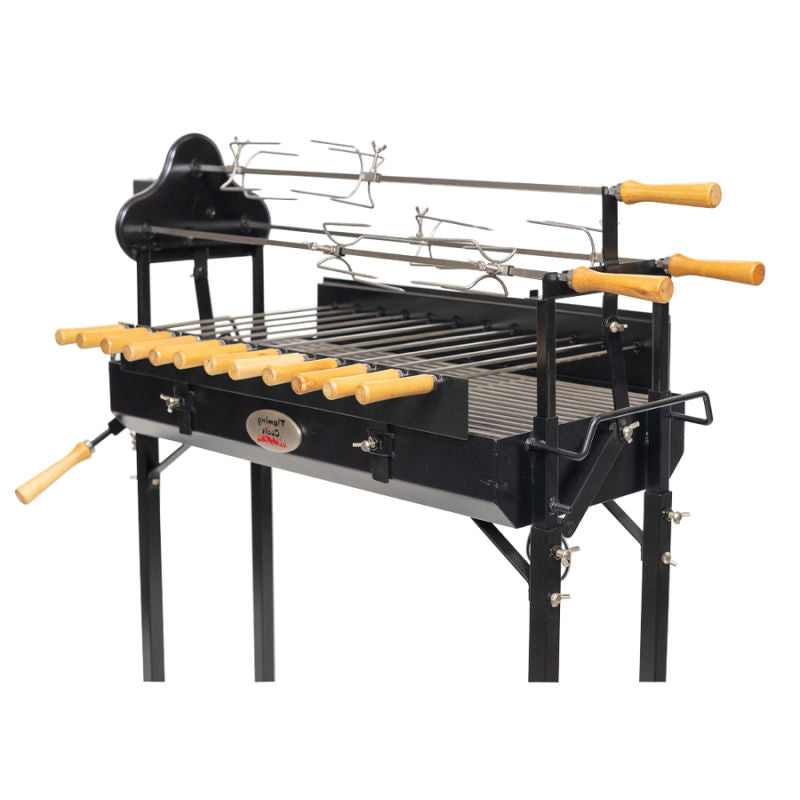 BBQ Spit Roaster | Cyprus | 3 Large Skewers
Description

Why buy From Us

Shipping
The Cyprus Spit - Original Cypriot Souvla by Flaming Coals is a versatile and well-built BBQ tool that allows you to enjoy delicious meals without the hassle of turning the meat by hand. Whether you're cooking for your family after work or hosting a weekend party, this souvla offers convenience and excellent results. Once you experience the charcoal-cooked goodness, you won't settle for gas-cooked steaks at restaurants anymore.
BBQ Spit Roaster | Cyprus | Flaming Coals Key Features:
Suitable for Various Foods:

Chickens, rolls of meat, kontosouvli, roasts & gyros
Kebabs
Charcoal BBQ/Brazilian BBQ

Durable Construction:

2mm thick BBQ body for long-lasting use
Stainless steel charcoal tray for extended spit protection and easy cleaning

Dual Motor Options:

12/240V 5RPM 13kg motor can run on mains power or 12V
240V 2RPM 9kg motor for kebabs (motors are interchangeable)

Versatile Skewers and Accessories:

3 height-adjustable long stainless steel skewers (8mm thick) for larger cuts of meat or baskets
12 stainless steel kebab skewers (4mm thick) for kebabs, vegetables, and prawns
6 stainless steel prongs/forks for securing large roasts and chicken
1 height-adjustable cooking grill for perfect heat positioning

Easy Height Adjustment:

Simple lever height adjustment functionality for skewers and grill (easier than unscrewing wingnuts)

Convenient Mobility:

4 wheels for easy maneuverability (optional installation)

Superior Gear Mechanisms:

All gears molded with advanced technology powdered metallurgy and protected with Dacromet coating for durability

Warranty:

24-month warranty on motor / 12-month warranty on spit body (terms and conditions apply)
BBQ Spit Roaster | Cyprus | Flaming Coals Dimensions:
Cooking area: 72.5cm (L) x 34cm (W) x 10.5cm (D)
Total: 104cm (L) x 60cm (W) x 94cm (H from the ground to the top of the firebox. The 3 large skewers sit another 20cm higher)
Gauge steel: 2mm thick
Removable legs
BBQ Spit Roaster | Cyprus | Flaming Coals Benefits:
Wheels for easy mobility
Taller legs for comfortable cooking height
Easy lever height adjustment for large skewers
Height-adjustable grill for versatile barbecuing
Strong 4mm kebab skewers
Additional stainless steel charcoal tray for added protection and easy ash cleaning
Stainless steel skewers and accessories for long-lasting quality
Peace of mind 30 day returns policy! Find out more here.
Price match guarantee*. Get more details here.
Review Rewards Program! Check it out here.
We provide customer service, via online chat, email, and phone 7 days a week, 7am to 10 pm. Contact us anytime!
Shipping FREE on a range of items!
For bulky items we have multiple items to reduce shipping costs:
Shipping to door, calculated at the product, cart, and checkout pages.

Collect from local depots we ship to, for reduced costs.

Collect for FREE from warehouse where products are shipped from.
You can find all our delivery/shipping details here.
If you have any questions contact us anytime.