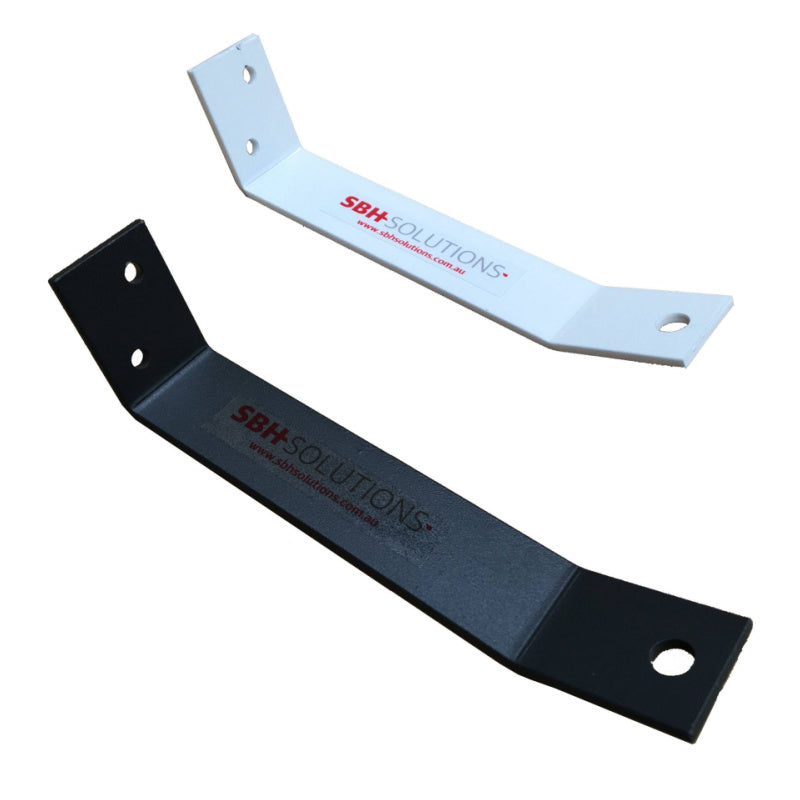 Ceiling or Wall Bracket | Heliosa Infrared Heaters
Description

Why buy From Us

Shipping
Product Code: 106B 690401 / 106FM 690402
Please note this bracket is already included with Heliosa 66 models
Versatile Wall or Ceiling Bracket for Heliosa Models
Enhance the Flexibility of Your Heliosa Heater with our Sturdy and Adjustable Bracket
When it comes to maximizing the functionality and convenience of your Heliosa heaters, the right accessories make all the difference. Introducing our versatile Wall or Ceiling Bracket, designed to perfectly complement all Heliosa models and provide you with endless possibilities for installation. Whether you want to mount your heater on a wall or ceiling, this bracket is your go-to solution.
Seamless Integration for Effortless Installation
Our Wall or Ceiling Bracket is engineered to seamlessly integrate with your Heliosa heaters, ensuring a hassle-free installation process. Crafted with precision and durability in mind, this bracket guarantees a secure and stable mounting for your heater, giving you peace of mind and reliable performance.
Flexible Mounting Options
With the Long Brackets included in this accessory package, you have the freedom to choose between mounting your Heliosa heater facing up or facing down, depending on your specific needs and preferences. This adaptability ensures optimal heat distribution and coverage, allowing you to create the perfect heating solution for your outdoor space.
Sleek Design in Two Stylish Colors
Available in two elegant colors, white and dark grey, our Wall or Ceiling Bracket not only provides functionality but also adds a touch of sophistication to your outdoor environment. Whether you prefer a classic and timeless look or a modern and sleek aesthetic, you can select the color that seamlessly blends with your existing decor and complements your Heliosa heater.
Durable Construction for Long-lasting Performance
Crafted from high-quality materials, our Wall or Ceiling Bracket is built to withstand the elements and endure the test of time. Designed to ensure exceptional durability and reliability, this accessory guarantees long-lasting performance, offering you years of efficient heating and enjoyment.
Easy to Install
Equipped with user-friendly instructions and a straightforward installation process, our Wall or Ceiling Bracket allows for quick and effortless setup. Even if you're not a seasoned DIY enthusiast, you can easily mount the bracket and attach your Heliosa heater without any hassle.
Unleash the Full Potential of Your Heliosa Heater
With our versatile Wall or Ceiling Bracket, you have the freedom to position and mount your Heliosa heater exactly where you need it. Whether you're aiming to create a cozy atmosphere on your patio, a warm gathering spot in your backyard, or a comfortable seating area in your commercial space, this bracket opens up a world of possibilities.
Invest in our Wall or Ceiling Bracket for Heliosa models and unlock the full potential of your outdoor heating solution. Experience convenience, style, and reliability like never before, and enjoy the warmth and comfort of your Heliosa heater in the perfect location, all year round.
Peace of mind 30 day returns policy! Find out more here.
Price match guarantee*. Get more details here.
Review Rewards Program! Check it out here.
We provide customer service, via online chat, email, and phone 7 days a week, 7am to 10 pm. Contact us anytime!
Shipping FREE on a range of items!
For bulky items we have multiple items to reduce shipping costs:
Shipping to door, calculated at the product, cart, and checkout pages.

Collect from local depots we ship to, for reduced costs.

Collect for FREE from warehouse where products are shipped from.
You can find all our delivery/shipping details here.
If you have any questions contact us anytime.