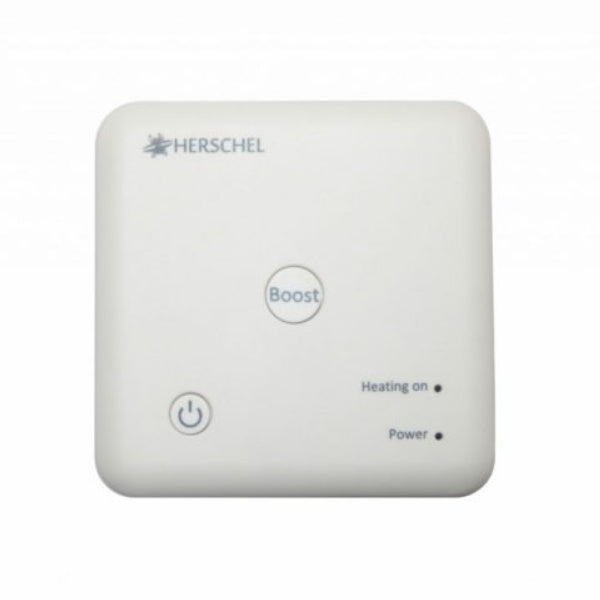 Infrared Heater Receiver | Herschel iQ R2
Description

Why buy From Us

Shipping
Let us introduce the Herschel iQ R2 Receiver - a dedicated device designed to work in unison with the T2 Thermostat, offering seamless control over Herschel Infrared heaters.
Infrared Heater Receiver | Herschel iQ R2 Key Features
The R2 Receiver has been designed with the following standout features:
Wireless Receiver Unit: Convenient wireless operation and connectivity.
Operates with T2 Thermostat: Designed specifically for use with the T2 Thermostat for optimal performance.
1 Hour Boost Function: Enables an extra burst of heat when needed.
Dual Frequency: Operates on both 433MHz RF and 2.4GHz wifi for versatile operation.
10 Amp Load at 230 Volts: Can handle a peak load of 10 Amp at 230 volts.
Detailed Overview
The Herschel iQ R2 Receiver acts as the primary interface for your heaters, turning them on and off as necessary. It needs to be wired directly to the heaters and mains power and also serves as the internet gateway for the T2, allowing you to control your heating system using the SmartLife App.
The R2 pairs wirelessly with the T2 Thermostat and receives control signals from it to manage your heater(s). To expand the control to more heaters in the same room, you can simply add additional R2 units to the same T2 Thermostat.
Please note: Herschel iQ controls will only work with Herschel heaters. Attempting to use them with other heater brands will void the warranty.
Infrared Heater Receiver | Herschel iQ R2 Technical Specifications
The R2 Receiver boasts a host of impressive features:
10 Amp Peak Load at 230 Volts: Capable of handling a robust peak load.
433MHz Radio Frequency and 2.4GHz Wifi: Enables versatile operation and control.
35m Effective Wireless Range: Allows for extended control over a considerable distance.
IP30 Rating: Suitable for use in non-bathroom zones.
24-Month Warranty: Offers peace of mind and assured quality.
Compliance with EC Directive: The combination of Herschel Infrared heaters with the iQ T2 Thermostat or R2 Receiver meets the requirements of EC Directive 2009/125/EC for Ecodesign of local space heaters.
Quality & Safety
iQ Certifications
Herschel Heaters and iQ Controls adhere to the highest quality and safety standards. They comply with the ErP Regulation (EU) 2015/1188 and Supplement (EU) 2016/2282 (Lot 20), providing assurance of their adherence to regulatory standards.
Infrared Heater Receiver | Herschel iQ R2 Doccumentation Manual | App Links
Smartlife App download Links



Peace of mind 30 day returns policy! Find out more here.
Price match guarantee*. Get more details here.
Review Rewards Program! Check it out here.
We provide customer service, via online chat, email, and phone 7 days a week, 7am to 10 pm. Contact us anytime!
Shipping FREE on a range of items!
For bulky items we have multiple items to reduce shipping costs:
Shipping to door, calculated at the product, cart, and checkout pages.

Collect from local depots we ship to, for reduced costs.

Collect for FREE from warehouse where products are shipped from.
You can find all our delivery/shipping details here.
If you have any questions contact us anytime.