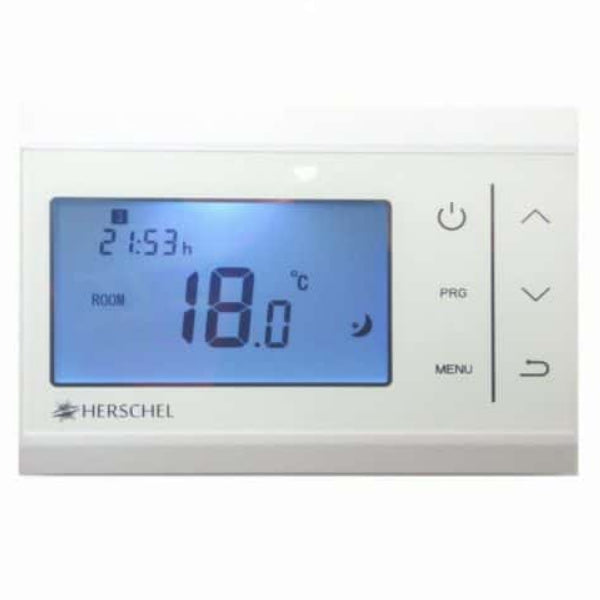 Infrared Heater Thermostat | Herschel iQ T2 with receiver
Description

Why buy From Us

Shipping
Introducing the Herschel iQ T2 Thermostat Pack - your key to efficient and intelligent heating. Combining advanced energy-saving technology (Lot 20 features) with user-friendly design, this pack is specially crafted to regulate Herschel Infrared heaters. When linked with Wi-Fi, you can manage your heating remotely via the SmartLife App.

Infrared Heater Thermostat | Herschel iQ T2 with receiver Premium Features
The T2 Thermostat Pack brings an array of features:
Battery-Operated T2: Showcasing a digital display, the T2 thermostat offers convenient wireless operation.
Programmable: With 7 x 1 day programmability, you can set your heater's operation for optimum comfort and energy efficiency.
Open Window & Adaptive Start: The thermostat intelligently detects open windows and automatically ensures the desired room temperature is reached at the set time.
Internet Control: When paired with Wi-Fi, the SmartLife App enables remote heating regulation.
T2 + R2 Combo: The pack includes one T2 thermostat and one R2 Receiver for efficient heater control.
Detailed Description
The T2 Thermostat Pack is the ideal choice when a hard-wired connection to the MD2 Thermostat isn't feasible, such as in installations where minimizing wall chasing or cable trunking is desired.
The wireless T2 Thermostat, which is battery operated, can either be wall-mounted or used as a free-standing unit. It comes with an R2 Receiver that needs to be connected to the mains power supply and the Herschel heater(s). The T2 and R2 form a wireless pair, with the option of pairing the R2 with your Wi-Fi for SmartLife app control.
The T2 effectively controls all R2 units paired with it. It can manage up to 2kW (at 230V supply) of Herschel Infrared heaters on a single electrical circuit. If you wish to control more heaters in the same zone or prefer one R2 Receiver per heater, you can simply purchase extra R2 receivers and pair them with the T2.
Remember, Herschel controls work exclusively with Herschel heaters, and using them with any other brand will void the warranty.
Infrared Heater Thermostat | Herschel iQ T2 with receiver Technical Aspects
The T2 Thermostat Pack offers state-of-the-art features:
Programmable Modes: The T2 offers Economy and Manual modes along with 7 x 1 day programmable settings.
Display: A backlit digital control display on the T2 ensures easy operation.
Boost Function: The R2 Receiver comes with a 1-hour "Boost" function.
Wi-Fi Connection: The R2 can connect to Wi-Fi for control through the SmartLife App.
Unlimited Pairing: You can pair an unlimited number of R2's to a T2 to control more heaters.
Other key specifications include:
10 Amp peak load at 230 volts
Radio Frequency 433Mhz
2.4GHz Wifi
35m wireless range
24-month warranty
The Herschel iQ T2 Thermostat Pack, along with Herschel Infrared heaters, fully complies with EC Directive 2009/125/EC for Ecodesign of local space heaters, ensuring the highest standards of quality and safety.
Infrared Heater Thermostat | Herschel iQ T2 with receiver Documentation Manuals | App Links
Smartlife App download Links
Peace of mind 30 day returns policy! Find out more here.
Price match guarantee*. Get more details here.
Review Rewards Program! Check it out here.
We provide customer service, via online chat, email, and phone 7 days a week, 7am to 10 pm. Contact us anytime!
Shipping FREE on a range of items!
For bulky items we have multiple items to reduce shipping costs:
Shipping to door, calculated at the product, cart, and checkout pages.

Collect from local depots we ship to, for reduced costs.

Collect for FREE from warehouse where products are shipped from.
You can find all our delivery/shipping details here.
If you have any questions contact us anytime.