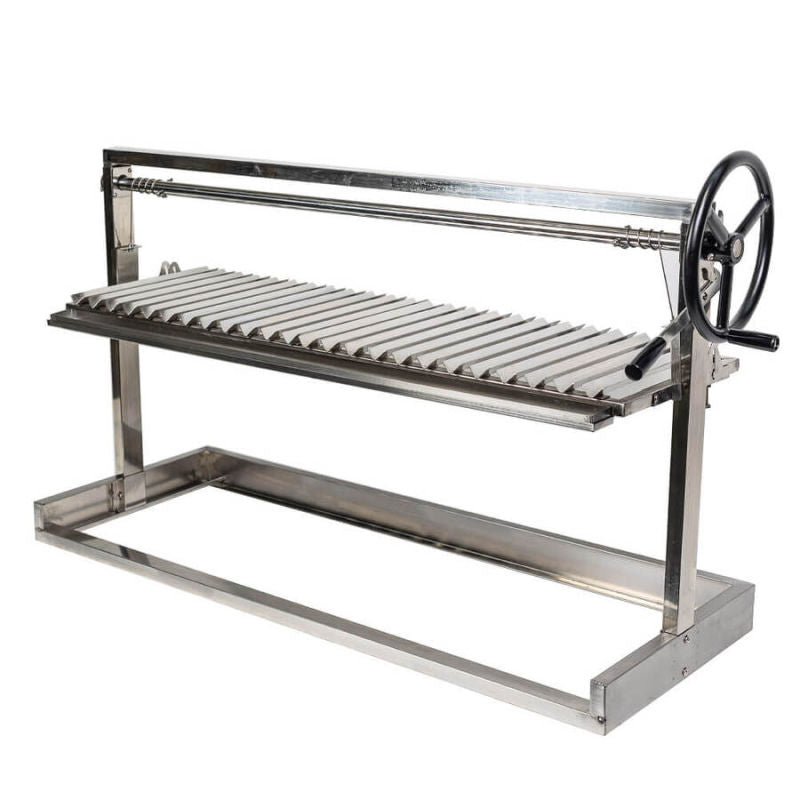 Parrilla BBQ Grill | Argentine | Asado
Description

Why buy From Us

Shipping
This item is discontinued. It is now only available in the following models:
Introducing the Argentinian Asado Parrilla Grill 120 x 44cm, a remarkable insert designed to elevate your outdoor cooking experience. Whether you already own a charcoal BBQ, firepit, or spit rotisserie, or you're looking to incorporate an Argentinian grill into your outdoor kitchen, this grill insert is perfect for you.
Parrilla BBQ Grill | Argentine | Asado Key Features:
Heavy-Duty Stainless Steel Construction: The Parrilla Grill insert is crafted with durable stainless steel components, ensuring longevity and easy cleaning.
Authentic V-Shaped Grill: The V-shaped grill design slopes forward, effectively catching fat and fluids from your food and draining them into the fat catch tray. This reduces flare-ups and simplifies the cleanup process.
Large Height Adjustment Range: Enjoy the flexibility of adjusting the grill height to your desired cooking style. Keep it at the top for slow cooking with maximum smoke flavor, lower it for a quick sear, or position it halfway up for flame grilling.
Temperature Control Crank Wheel: Easily lift or lower the grill by rotating the crank wheel, allowing precise control over the cooking height.
Compatible with Various Fuels: The Parrilla Grill can be used with timber, charcoal, or briquettes. For maximum flavor, timber or natural lump charcoal with added timber chunks are recommended.
Additional Information:
If the Parrilla insert's size exceeds your firepit or BBQ, we offer a smaller Argentinian Parrilla Grill measuring 60 x 44cm.
The Parrilla Grill insert features a powder-coated crank wheel for added style and durability.
The base frame is designed to easily accommodate the grill inside or on your charcoal BBQ, providing stability and convenience.
Parrilla BBQ Grill | Argentine | Asado Specifications:
Construction: Stainless steel
Powder-Coated Crank Wheel
Cooking Area (V Grill Size): 108cm x 34cm
Cooking Grill Height Adjustment: 11cm to 53cm
Grill Base Dimensions: 120cm wide (+12cm crank wheel) x 44.5cm deep
Elevate your outdoor cooking game with the Argentinian Asado Parrilla Grill 120 x 44cm, a versatile and durable insert that brings the authentic Argentinian grilling experience to your backyard.
Peace of mind 30 day returns policy! Find out more here.
Price match guarantee*. Get more details here.
Review Rewards Program! Check it out here.
We provide customer service, via online chat, email, and phone 7 days a week, 7am to 10 pm. Contact us anytime!
Shipping FREE on a range of items!
For bulky items we have multiple items to reduce shipping costs:
Shipping to door, calculated at the product, cart, and checkout pages.

Collect from local depots we ship to, for reduced costs.

Collect for FREE from warehouse where products are shipped from.
You can find all our delivery/shipping details here.
If you have any questions contact us anytime.