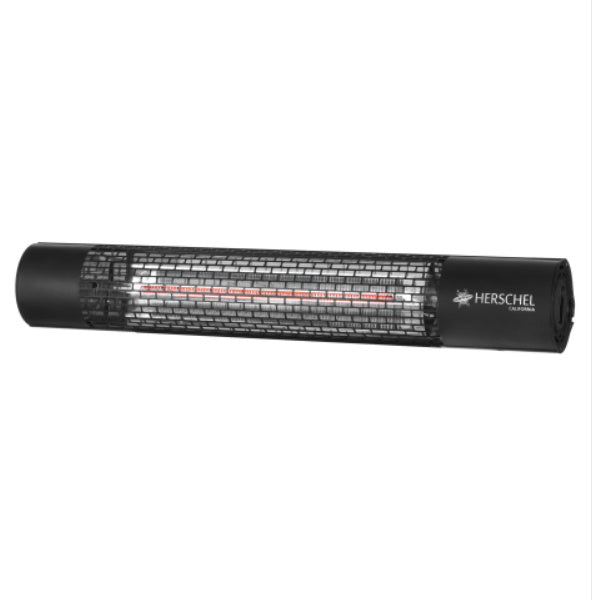 Infrared Heater | Outdoor | Electric | Herschel California
Description

Why buy From Us

Shipping
FREE DELIVERY
Introducing the Herschel CALIFORNIA 2kW, a state-of-the-art, maintenance-free, superior choice for outdoor heating. An epitome of innovative design and durability, it features an anodised finish, available in three unique colours: black, silver, and a special edition gold.
Also available with portable stand transforming it into a patio/portable heater.
Part of Herschel's premium SUNSET range, CALIFORNIA offers
Contemporary design coupled with an ultra-durable, long life carbon heating lamp.
Rapid generation of cosy warmth, ideal for home spaces and commercial zones such as café, bar, and restaurant terraces.
Efficient solution for draughty, hard-to-heat indoor areas, prioritising aesthetics. Examples include public halls, reception areas, and larger indoor venues.
Herschel CALIFORNIA Infrared Outdoor and Indoor Heater Features:
Silent operation for unintrusive warmth.
2000 W (2kW)
Remote control for effortless heat management, two power levels, and a timer for up to 24 hours.
IP65 rating, recommended for covered and uncovered outdoor areas with limited airflow, as well as draughty indoor spaces.
Wall-mountable with an optional portable stand for added versatility (note: anti-tilt device included, adherence to mounting guidelines required).
The Herschel CALIFORNIA sets a new standard in chic outdoor living. It guarantees quick, efficient, and eco-friendly heating, embodying the perfect synergy of aesthetics and practicality.
The CALIFORNIA 2kW model from our Sunset range stands out for its appealing finishes in gold, black, and silver. It provides immediate, potent heat that casts a comforting glow without the excessive glare and intrusive light seen with many quartz halogen heaters.
The CALIFORNIA's cutting-edge design combined with an ultra-long life carbon heating lamp swiftly creates an atmosphere of comfortable warmth. It's an excellent heating solution for outdoor spaces in both domestic and commercial settings, including alfresco dining areas, bars, and shops.
Note: The infrared spread may reduce by 1/3 to 1/2 in exposed areas with wind and air movement. We recommend increasing the number of heaters in these areas.
Herschel CALIFORNIA Infrared Outdoor and Indoor Heater
 Specifications

:
Voltage
230 V @ 50/60 Hz
Current
7 A
Fuse Rating
13 A
Heating area
Outdoors - 5-9 m2
Indoors - 8-14 m2
Power
2000 W
Heating element
Carbon lamp
10, 000 hour life
Reflector
Aluminium
98% efficient (only 2% rearward loss)
Body
Anodised Aluminium
Black, Gold, or Silver
Dimensions
78 x 12.5 x 13.5 cm
Remote Control
50% & 100% Power
24 x 1 hour increments
Lamp warm up
Less than 10 seconds,
Wavelength
2 – 5µm,
Weight
6 kg,
Cable length
2 m,
Warranty
2 years, (excludes remote and lamp)
Standards
RCM | RoHS compliant, IEC 60335-1; 60335-2-30 Electrical & Construction Safety Tested
Herschel California Infrared Outdoor and Indoor Heater Datasheet and installation/instructions documents
Peace of mind 30 day returns policy! Find out more here.
Price match guarantee*. Get more details here.
Review Rewards Program! Check it out here.
We provide customer service, via online chat, email, and phone 7 days a week, 7am to 10 pm. Contact us anytime!
Shipping FREE on a range of items!
For bulky items we have multiple items to reduce shipping costs:
Shipping to door, calculated at the product, cart, and checkout pages.

Collect from local depots we ship to, for reduced costs.

Collect for FREE from warehouse where products are shipped from.
You can find all our delivery/shipping details here.
If you have any questions contact us anytime.