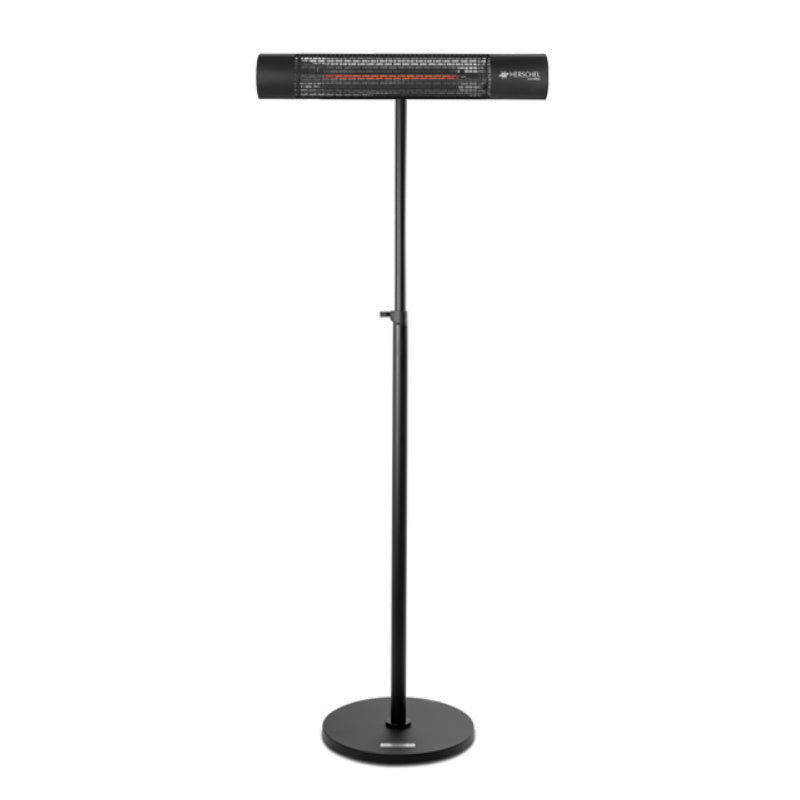 Infrared Heater with Stand | Outdoor | Herschel California
Description

Why buy From Us

Shipping
Enhance your outdoor living experience with the ultimate, stylish solution for outdoor heating – our Designer 2000W Herschel California Infrared Heater and Stand combo. This sleek and portable heating solution provides instant, robust heat, anywhere you choose to place it. It's not just a heater; it's a design element that brings warmth, comfort, and a dash of elegance to your outdoor spaces.

Herschel California Outdoor heater with Stand Features and Benefits:
Stylish Design: With an elegant finish, the heater enhances your outdoor decor. It's a piece of modern design that offers both functionality and style.

Ultra-Low Glare & Warm Glow: The heater features an ultra-low glare and a sunset range, giving off a comforting warm glow. Perfect for creating a cozy atmosphere during outdoor gatherings.

Two Power Settings: The Black California heater is engineered with two power settings (100% & 50%), offering flexible heating options tailored to your needs.

24-Hour Timer & Remote Control: Enjoy convenient operation with a 24-hour timer and remote control, giving you control over your comfort.

Wide Mirror Reflectors: Designed with wide mirror reflectors to ensure maximum spread and throw of the infrared heat, creating a warm and comfortable area. Reflectors are 98% efficient, only 2% of heat is lost reawards.

Quick Warm-Up Time: Experience instant warmth with a quick warm-up time of just 5-10 seconds.

Ultra-Long Life Carbon Heating Lamp: Boasting a bulb life of up to 10,000 hours, the lamp produces an effective feeling of comfortable warmth instantly.

High-Quality Anodised Finish & IP65 Rating: The robust construction, high-quality anodised finish, and an impressive IP65 rating make our heater resilient to weather elements and safe from rainfall.

Adjustable & Sturdy Stand: The heavy-duty stand extends from 1.1 to 2.1 meters tall and can be adjusted to direct heat exactly where you want.

Available in Different Colours: Our Infrared Heater and Stand combo is available in Black, Rose Gold, and Silver, offering flexibility to match your aesthetic preferences.

Money-Saving Bundle: With this bundled deal, save $149 compared to buying the heater and stand separately.
Experience a cozy haven year-round with our Designer Infrared Heater and Stand combo. It's a unique solution that ensures your outdoor space stays warm, inviting, and stylishly lit, no matter the season.
Make your patio, garden, or any outdoor space a cozy haven year-round with our Designer Infrared Heater and Stand combo. It's not just a heater; it's a solution that brings warmth, comfort, and a touch of elegance to your outdoor living experience.
Herschel California Outdoor heater with Stand Specifications:
Voltage
230 V @ 50/60 Hz
Current
7 A
Fuse Rating
13 A
Heating area
Outdoors - 5-9 m2
Indoors - 8-14 m2
Power
2000 W
Heating element
Carbon lamp
10, 000 hour life
Reflector
Aluminium
98% efficient (only 2% rearward loss)
Body
Anodised Aluminium
Black, Gold, or Silver
Dimensions
78 x 12.5 x 13.5 cm
Stand Height
1 – 2.1 m (adjustable)
Remote Control
50% & 100% Power
24 x 1 hour increments
Lamp warm up
Less than 10 seconds
Wavelength
2 – 5µm
Weight
6 kg
Cable length
2 m
Warranty
2 years, (excludes remote and lamp)
Standards
RCM | RoHS compliant, IEC 60335-1; 60335-2-30 Electrical & Construction Safety Tested
Herschel California Infrared Outdoor Heater with Stand Datasheet and installation/instructions documents
Peace of mind 30 day returns policy! Find out more here.
Price match guarantee*. Get more details here.
Review Rewards Program! Check it out here.
We provide customer service, via online chat, email, and phone 7 days a week, 7am to 10 pm. Contact us anytime!
Shipping FREE on a range of items!
For bulky items we have multiple items to reduce shipping costs:
Shipping to door, calculated at the product, cart, and checkout pages.

Collect from local depots we ship to, for reduced costs.

Collect for FREE from warehouse where products are shipped from.
You can find all our delivery/shipping details here.
If you have any questions contact us anytime.