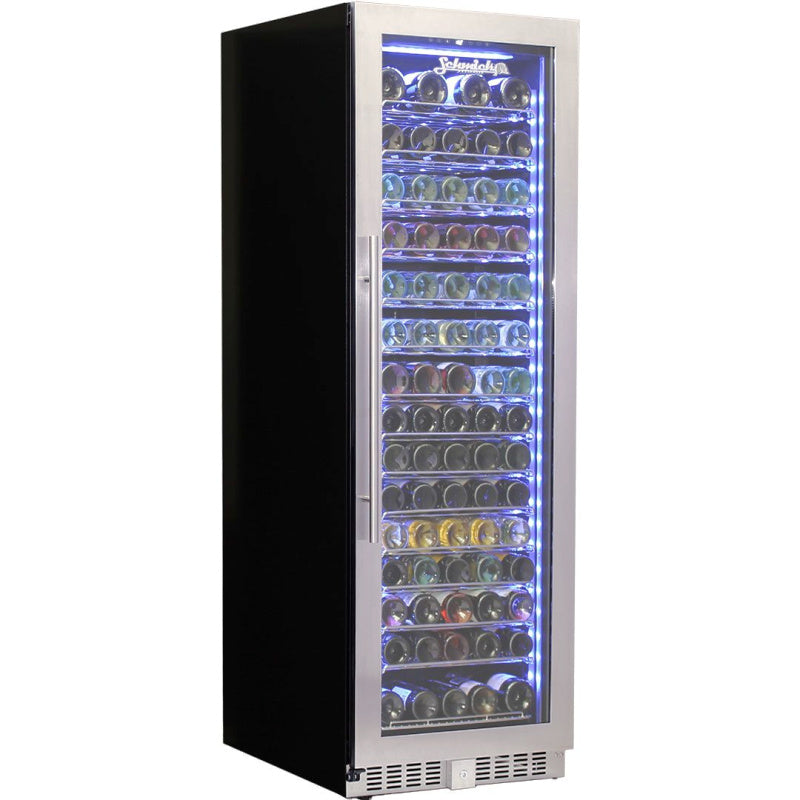 Wine Fridge | 405 Litre Upright | Tripple Glazed Low E Glass
Description

Model Codes

Why buy From Us

Shipping
Wine Fridge | 405 Litre Upright
Sophistication meets Elegance
Enjoy FREE delivery in NSW, VIC, QLD (Gold Coast to Sunshine Coast), and the Adelaide region.
Introducing our sophisticated and dependable 405 Litre glass door wine fridge, designed to elevate your wine storage experience. Crafted with quality brand name parts and packed with impressive features, this fridge is the perfect addition to any entertaining area. The slimline door frame and soft blue LED lighting add a touch of class, making it a true showpiece for your home.
Discover a new level of sophistication with this glass door wine fridge. Experience quiet cooling, personalised storage, and elegant design in your entertaining area. Embrace the perfect blend of aesthetics and performance
Wine Fridge Standout Features
Silent Cooling: Enjoy the peace and tranquility with its quiet running mechanism.

Triple Glazed LOW E Glass: Prevent condensation and ensure optimal wine conditions with the triple glazed glass door.

Flexible Bottle Storage: The sliding rubber saddles accommodate bottles of all sizes with ease.

Easy Electronic Control: Conveniently control the fridge with the touch of a button.

Adjustable Shelving: Customise the interior space with adjustable shelves, providing various bottle storage options.

Energy Efficient: Equipped with 12V fans, cyclopentane foaming, LED lighting, R600 ozone-safe gas, and triple glazing for eco-friendly operation.
Shelving Information
Say goodbye to bottle clashing and hello to hassle-free access with our revolutionary sliding saddle shelf system! Experience the convenience of telescopic ball bearing slides, allowing you to effortlessly reach your favorite bottles. Your beverage collection has never been more accessible and organised
Unbeatable Power Efficiency and Cost-Savings
Experience the epitome of energy efficiency with our state-of-the-art wine fridge. Consuming just 1.7 kW/24hrs, this eco-conscious marvel ensures significant savings on your energy bills. Costing approximately $151 per year, based on a reasonable 25.64 cents per kilowatt, the 405 liter Wine Fridge offers unrivaled performance and cost-effectiveness.
Sophisticated Integration and Unmatched Performance
Effortlessly fit the fridge into your designated space with its sleek design, creating a seamless and stylish addition to your home. Enjoy a whisper-quiet cooling experience thanks to Noctua silent fans and the reliable Jiaxipera compressor, ensuring exceptional performance that goes above and beyond your expectations.
Wine Fridge | 405 Litre Upright | Specifications
Litres 405
Weight 129kg
Dimensions Width - 595mm
Depth - 695mm
Height - 1800mm
Capacity 135 wine bottles
Noise Level 43.00dB Similar to
a kitchen fridge
Front Venting Yes
Body Colour Black
Interior Finish Moulded Black
Adjustable Feet4 Adjustable Feet
Lockable Yes
Glass Door Triple glazed
LOW E glass
Door Hinge Right Hinged
(Handle Left)
Power Consumtion 1.7 kW/24hrs
Running Costs Approximately
$159 per year
Approvals RCM
SAA Electrical
EMC (C-Tick)
Wine Fridge | 405 Litre Upright | Complete Guide
For a complete bar fridge guide on maintenance, tips and performance read here
Peace of mind 30 day returns policy! Find out more here.
Price match guarantee*. Get more details here.
Review Rewards Program! Check it out here.
We provide customer service, via online chat, email, and phone 7 days a week, 7am to 10 pm. Contact us anytime!
Shipping FREE on a range of items!
For bulky items we have multiple items to reduce shipping costs:
Shipping to door, calculated at the product, cart, and checkout pages.

Collect from local depots we ship to, for reduced costs.

Collect for FREE from warehouse where products are shipped from.
You can find all our delivery/shipping details here.
If you have any questions contact us anytime.