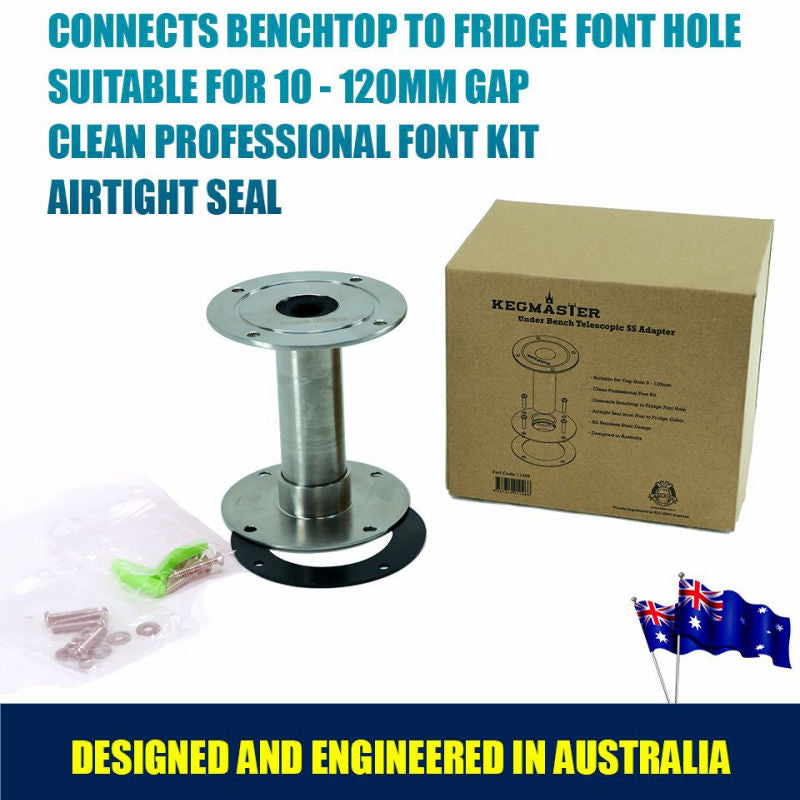 Kegerator Accessory | Under Bench Font Adaptor
Description

Why buy From Us

Shipping
Effortlessly Mount your Kegerator Font and Taps on a Benchtop
Optimise your kegerator setup with the KegMaster Under Bench Telescopic SS Font Adaptor. This smart solution simplifies connecting your kegerator to a countertop or bar, facilitating easy installation of your font and tap array.
Crafted from stainless steel, this telescopic component ensures that the font fan hose efficiently keeps your font and lines cold while preventing leaks and circulating cold air back to the kegerator.
Using the provided template, drilling your countertop becomes a breeze. Just make a 38mm hole for the lines and font fan hose, and four 7mm holes for securing the font base with screws.
The top segment of this telescopic adaptor, along with a gasket and font, rests on your countertop. Meanwhile, the bottom portion securely attaches to your kegerator font port beneath the countertop or bar.
With the Keg Master Telescopic Font Adapter, you'll enjoy around 120mm of clearance between the kegerator's top and the underside of your countertop when the top plate is mounted under the bench. Upgrade your setup effortlessly.
Peace of mind 30 day returns policy! Find out more here.
Price match guarantee*. Get more details here.
Review Rewards Program! Check it out here.
We provide customer service, via online chat, email, and phone 7 days a week, 7am to 10 pm. Contact us anytime!
Shipping FREE on a range of items!
For bulky items we have multiple items to reduce shipping costs:
Shipping to door, calculated at the product, cart, and checkout pages.

Collect from local depots we ship to, for reduced costs.

Collect for FREE from warehouse where products are shipped from.
You can find all our delivery/shipping details here.
If you have any questions contact us anytime.