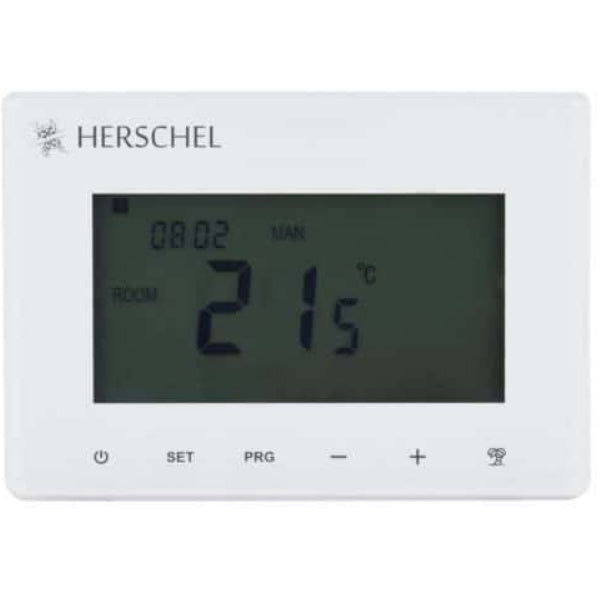 Infrared Heater Thermostat | Herschel T-MT
Description

Why buy From Us

Shipping
The Herschel T-MT Thermostat: Your All-in-one Heating Control Solution
Enhance your Herschel XLS heaters with the T-MT Thermostat - a mains or micro USB powered device designed exclusively to provide advanced control over your heating system.
Infrared Heater Thermostat | Herschel T-MT Key Features
The T-MT Thermostat stands out with the following primary features:
Energy-Efficient (Lot 20) Features: Offers sustainable and efficient heating control.
Mains or USB Powered: Allows flexible powering options for ease of use.
Digital Display: Clear digital readouts for effortless setting adjustments.
SmartLife App Enabled: For convenient remote control and management.
7-Day Programmable: Set your desired heating schedule for each day of the week.
Open Window & Adaptive Start: Advanced features to enhance energy efficiency.
Multi-Heater Control: Can pair with multiple heaters for seamless room heating.
Detailed Overview
The Herschel T-MT is a compact thermostat control specifically designed for use with Herschel XLS heaters with integrated SMART-R receivers. With WiFi capability, the T-MT offers the convenience of controlling your heating remotely via the SmartLife App or through voice commands using Alexa or Google Assistant.
Equipped with manual temperature mode, a 7x1 day program mode, and a holiday (Away) mode, the T-MT adjusts your Herschel heater(s) based on the room temperature and your specified preferences. Featuring Herschel's innovative open window technology and an adaptive start function, it ensures optimal room temperature with minimal energy usage.
The T-MT is capable of being paired with more than one heater, providing coordinated control over multiple heaters within the same room.
Please note: The T-MT will only work with Herschel XLS heaters. It is not compatible with other brands of infrared heaters.
Infrared Heater Thermostat | Herschel T-MT Technical Specifications
The T-MT is packed with easy-to-use features and state-of-the-art energy-saving technology:
7 x 1 Day Programmable: Schedule your heating preferences for each day.
Manual and Away Modes: Flexibility to adjust settings based on presence.
Window Open Function: Automatically shuts off heating if a rapid drop in temperature is detected, resuming after 30 minutes or a manual override.
Adaptive Start: Ensures the desired room temperature is achieved at the set time.
Wall-mounted: For easy access and visibility.
Temperature Range and Accuracy: Set temperatures between 5-40°C with 0.5°C accuracy.
Protection Level: IPX0 rating - should not be installed in bathroom zones 0-2.
Multi-Heater Control: Can control multiple Herschel XLS heaters.
App Enabled: For easy remote control via the SmartLife app.
Voice Control: Compatible with Alexa or Google Assistant when used with the app.
Other Features:
Radio Frequency 433MHz and 2.4GHz Wifi Networks: Enables versatile operation and control.
35m Wireless Range: Allows for extensive control coverage.
24-Month Warranty: Ensures a reliable and long-lasting solution.
Compliance with EC Directive: Fully meets EC Directive 2009/125/EC requirements for Ecodesign of local space heaters when used with Herschel XLS Infrared heaters.
Quality & Safety
XLS Controllers Certifications
Herschel Heaters and XLS Controllers adhere to stringent quality and safety standards, ensuring your complete peace of mind.
Infrared Heater Thermostat | Herschel T-MT Documentation Manuals | App Links
Smartlife App download Links
Peace of mind 30 day returns policy! Find out more here.
Price match guarantee*. Get more details here.
Review Rewards Program! Check it out here.
We provide customer service, via online chat, email, and phone 7 days a week, 7am to 10 pm. Contact us anytime!
Shipping FREE on a range of items!
For bulky items we have multiple items to reduce shipping costs:
Shipping to door, calculated at the product, cart, and checkout pages.

Collect from local depots we ship to, for reduced costs.

Collect for FREE from warehouse where products are shipped from.
You can find all our delivery/shipping details here.
If you have any questions contact us anytime.