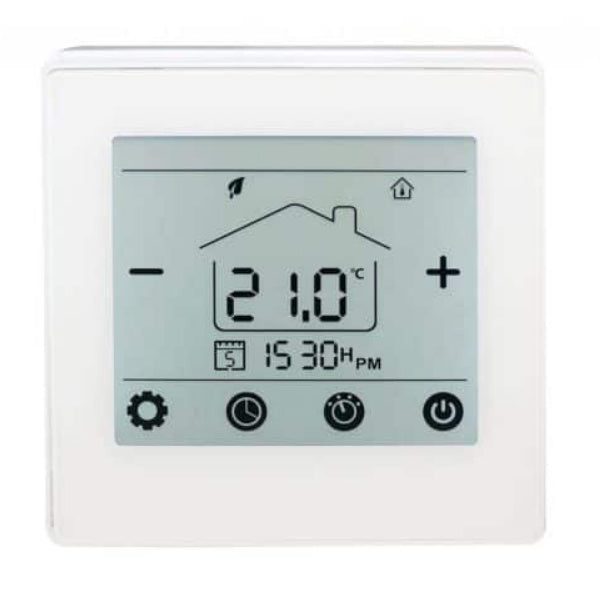 Infrared Heater Thermostat | Herschel iQ MD2 Wired
Description

Why buy From Us

Shipping
Take control of your indoor temperature with the Herschel iQ MD2 Wired Thermostat, designed to deliver ideal warmth to your living or work space. With its advanced features and internet compatibility, it allows you to optimize your energy use and manage your heating with ease and precision.
Infrared Heater Thermostat | Herschel iQ MD2 Wired Key Attributes
Here are the prominent features of the Herschel iQ MD2 Wired Thermostat:
Powerful Functionality: The thermostat is equipped with a 16 Amp peak load at 230 volts, capable of controlling up to 3.6 kW of Herschel heaters.
Seven-day Programmability: It provides the ability to program different heating settings for each day of the week, with four periods per day.
Open Window Detection: This feature allows the device to automatically shut off the heating when a rapid drop in temperature is detected.
High-Temperature Control: You can set a target temperature of up to 45℃, making it suitable for specific high-temperature requirements, such as hot yoga studios.
Keypad Locking: Prevents unauthorized tampering, making it an ideal choice for commercial applications like hotels, care homes, student accommodations, and rental properties.
Internet Control: Via the SmartLife App, you can control your heating remotely, making it ideal for managing your temperature settings when you're away. The app also supports voice control through Alexa or Google Assistant.
Infrared Heater Thermostat | Herschel iQ MD2 Wired Technical Specifications
In addition to these features, the MD2 Wired Thermostat boasts a range of technical specifications:
Display: A clear, backlit digital control display for easy function accessibility.
Modes: Manual and Economy modes for flexible usage and energy saving.
Mounting: Wall-mounted design for easy access and optimum performance.
Protection: IP30 protection level, which advises against installation in zones 0-2 in bathrooms.
Connectivity: It requires a 2.4GHz wifi network for seamless use with the SmartLife app.
Warranty: The product comes with a 24-month warranty, providing you peace of mind.
As a product fully compliant with EC Directive 2009/125/EC for Ecodesign of local space heaters, the Herschel iQ MD2 Wired Thermostat, in combination with Herschel Infrared heaters, is designed to deliver both comfort and energy efficiency. It is the perfect choice for new builds or renovations where cabling can be concealed, making it suitable for both domestic and commercial settings.

Thermostats suitable for the different heaters will appear as accessories on the heater pages. If unsure, reach out to us via phone, in store chat (or message), or email.
Infrared Heater Thermostat | Herschel iQ MD2 Wired Documentation Manuals | App Store Links
Smartlife App download Links
Peace of mind 30 day returns policy! Find out more here.
Price match guarantee*. Get more details here.
Review Rewards Program! Check it out here.
We provide customer service, via online chat, email, and phone 7 days a week, 7am to 10 pm. Contact us anytime!
Shipping FREE on a range of items!
For bulky items we have multiple items to reduce shipping costs:
Shipping to door, calculated at the product, cart, and checkout pages.

Collect from local depots we ship to, for reduced costs.

Collect for FREE from warehouse where products are shipped from.
You can find all our delivery/shipping details here.
If you have any questions contact us anytime.