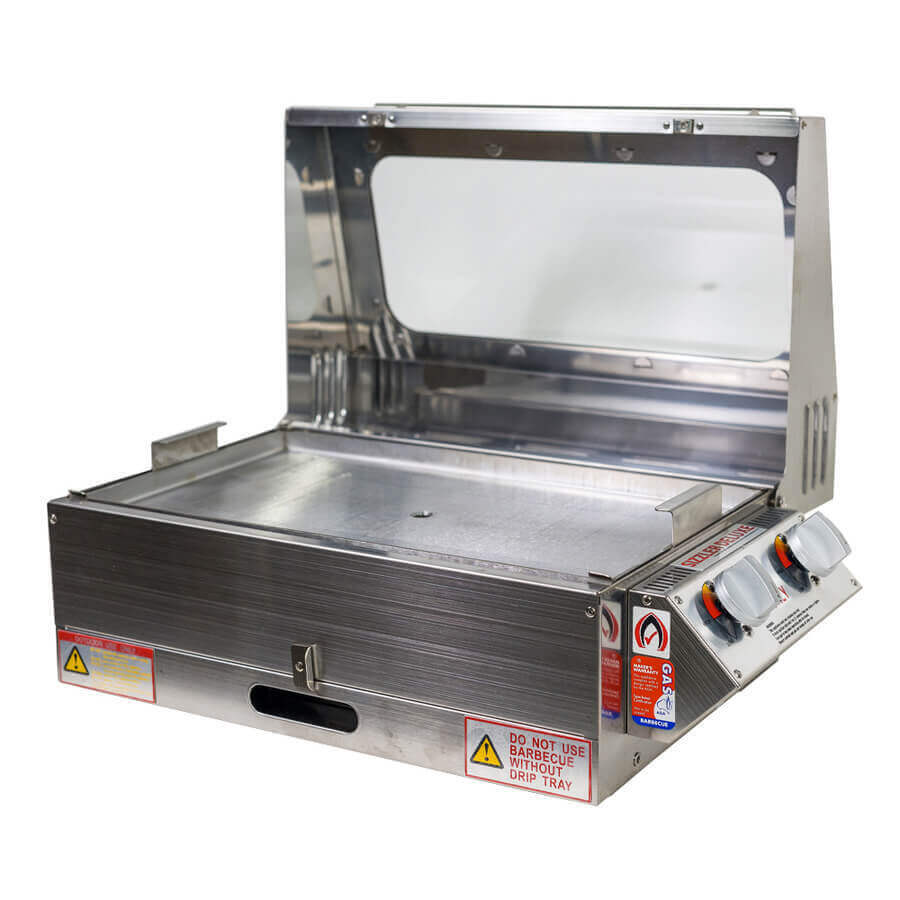 Portable BBQ Grill | Caravan | Sizzler Deluxe
Description

Why buy From Us

Shipping
Introducing the Sizzdels Sizzler Deluxe 2, the ultimate Stainless Steel Portable BBQ designed specifically for caravans and marine use. This Australian-made masterpiece is renowned for its exceptional quality and unbeatable performance. 
Portable BBQ Grill | Caravan | Sizzler Deluxe Features
AGA Approved Model with built-in Flame Failure Devices for added safety.
Large viewing window (375mm x 155mm) for easy monitoring of your culinary creations.
High 110mm lid for versatile cooking options, including roasting and baking.
Full Stainless Steel Solid Cooking Hotplate ensures even heat distribution.
Two separate stainless burners for precise temperature control.
Electronic ignition for effortless starts every time.
Non-spill slide-out fat tray for hassle-free cleaning.
Solid robust construction made from high-grade 430 stainless steel for long-lasting performance.
Sizzler Deluxe 2.0 with a high lid, perfect for your caravan adventures.
Dimensions: Width: 445mm (bottom), 455mm (top - lid sticks out) + 75mm (gas control knobs), Total Width: 530mm, Depth: 305mm, Height: 260mm.
Generous cooking area dimensions: Width: 440mm, Depth: 250mm.
Suitable for cooking for 4-6 people, making it ideal for outdoor gatherings.
Lightweight and portable with a weight of 11kgs.
Consumption: 20,000BTU or 21 Megajoules for efficient and powerful cooking.
Designed to suit a 3/8" SAE fitting for easy installation.
Experience the unmatched performance and exceptional quality of the Sizzdels Sizzler Deluxe 2 Stainless Steel Portable BBQ. Elevate your outdoor cooking adventures and create delicious meals wherever your travels take you. Discover why it stands out from the rest:
Award-winning design: The manufacturer of the Sizzler Deluxe 2 has a proven track record of excellence in product design and has been crafting top-notch barbecues for over 15 years.

Built to withstand tough conditions: This portable gas BBQ is constructed with high-quality stainless steel, ensuring durability even in the harshest Australian environments.

Compact yet spacious: Despite its compact size, the Sizzler Deluxe 2 offers a larger cooking area compared to its competitors, allowing you to grill, roast, and bake with ease.

Unmatched heat output: With a powerful 20,000BTU, the Sizzler Deluxe 2 sets the bar as the hottest caravan BBQ available in Australia.

Enhanced safety features: The Sizzler Deluxe 2 is compliant with the latest Australian gas regulations. It features flame failure devices on both burners, providing peace of mind during your cooking adventures.

Versatile and convenient: Equipped with a high lid and a large viewing window, this BBQ enables roasting and baking in addition to traditional barbecuing. The electronic ignition ensures quick and hassle-free starts.

Easy to clean: Say goodbye to messy cleanup. The Sizzler Deluxe 2 comes with a non-spill slide-out fat tray, making maintenance a breeze.

AGA certified and approved: The Sizzler Deluxe 2 is AGA approved, guaranteeing its safety and quality. It can be effortlessly connected to your caravan or RV's bayonet fitting.
Please note that the gas hose and regulator are sold separately to accommodate various installation setups in caravans or standard gas bottles.
Peace of mind 30 day returns policy! Find out more here.
Price match guarantee*. Get more details here.
Review Rewards Program! Check it out here.
We provide customer service, via online chat, email, and phone 7 days a week, 7am to 10 pm. Contact us anytime!
Shipping FREE on a range of items!
For bulky items we have multiple items to reduce shipping costs:
Shipping to door, calculated at the product, cart, and checkout pages.

Collect from local depots we ship to, for reduced costs.

Collect for FREE from warehouse where products are shipped from.
You can find all our delivery/shipping details here.
If you have any questions contact us anytime.