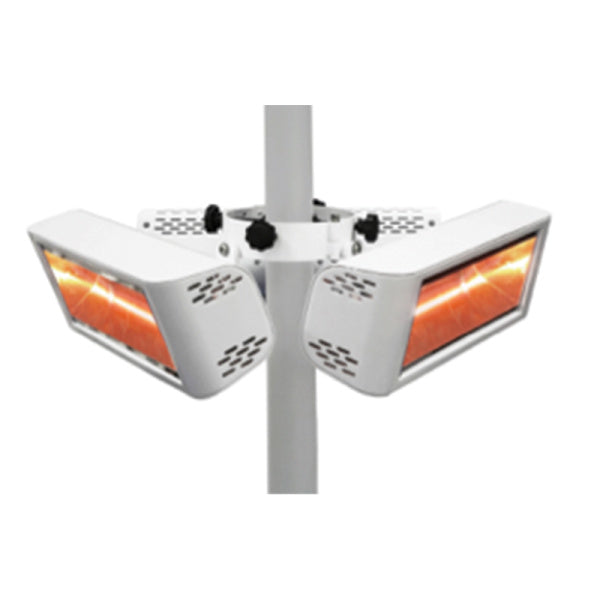 TRIS circular Pole Bracket | Heliosa 11/44 models
Description

Why buy From Us

Shipping
Efficient Circular Pole Mounting Bracket for Heliosa 11/44 TRIS Heaters - Secure and Flexible Installation
Upgrade your outdoor heating setup with the Heliosa 11/44 TRIS Circular Pole Mounting Bracket, a reliable and versatile accessory designed specifically for Heliosa 11 and 44 TRIS heaters. This innovative bracket provides a secure and flexible solution for mounting your heaters onto circular poles, ensuring optimal heating performance with ease.
Secure and Adjustable Mounting
The Circular Pole Mounting Bracket is expertly crafted to ensure a secure and stable attachment to circular poles. With its robust construction and thoughtful design, this bracket offers a reliable and adjustable mounting solution, allowing you to position your heaters precisely for maximum heating efficiency.
Flexible Installation Options
Experience the convenience of a flexible installation process with the Circular Pole Mounting Bracket. It can be easily adjusted to accommodate different pole diameters, providing versatility and adaptability to various outdoor environments. Whether you have small or large poles, this bracket ensures a snug and secure fit for a hassle-free installation.
Durable and Weather-Resistant
Constructed from high-quality materials, the Circular Pole Mounting Bracket is built to withstand the elements and deliver long-lasting performance. The bracket's durability ensures that your Heliosa 11 and 44 TRIS heaters remain securely attached to the pole, even in harsh weather conditions. Enjoy peace of mind knowing that your outdoor heating system is protected and reliable.
Effortless Installation Process
With its user-friendly design, the Circular Pole Mounting Bracket allows for an effortless installation process. The bracket can be quickly and easily attached to the circular pole, enabling you to set up your heaters in no time. Say goodbye to complicated mounting procedures and hello to a straightforward and efficient installation experience.
Sleek and Space-Saving Design
The Circular Pole Mounting Bracket features a sleek and space-saving design, ensuring a seamless integration into your outdoor space. Its compact size and aesthetic appeal add a touch of sophistication while maximizing functionality. Enjoy the benefits of a secure and visually appealing heating system without sacrificing valuable space.
Elevate your outdoor heating experience with the Heliosa 11/44 TRIS Circular Pole Mounting Bracket. With its secure and adjustable mounting, flexible installation options, and durable construction, this bracket provides a reliable and efficient solution for mounting your Heliosa heaters onto circular poles. Enjoy the convenience, versatility, and performance this accessory offers, allowing you to create a cozy and inviting atmosphere in your outdoor area.
Choose the Heliosa 11/44 TRIS Circular Pole Mounting Bracket today and enjoy the peace of mind that comes with a secure and well-mounted outdoor heating system. Experience the benefits of effortless installation, reliable performance, and optimal heating efficiency. Enhance your outdoor space and extend your enjoyment throughout the year with this exceptional mounting bracket.
Peace of mind 30 day returns policy! Find out more here.
Price match guarantee*. Get more details here.
Review Rewards Program! Check it out here.
We provide customer service, via online chat, email, and phone 7 days a week, 7am to 10 pm. Contact us anytime!
Shipping FREE on a range of items!
For bulky items we have multiple items to reduce shipping costs:
Shipping to door, calculated at the product, cart, and checkout pages.

Collect from local depots we ship to, for reduced costs.

Collect for FREE from warehouse where products are shipped from.
You can find all our delivery/shipping details here.
If you have any questions contact us anytime.