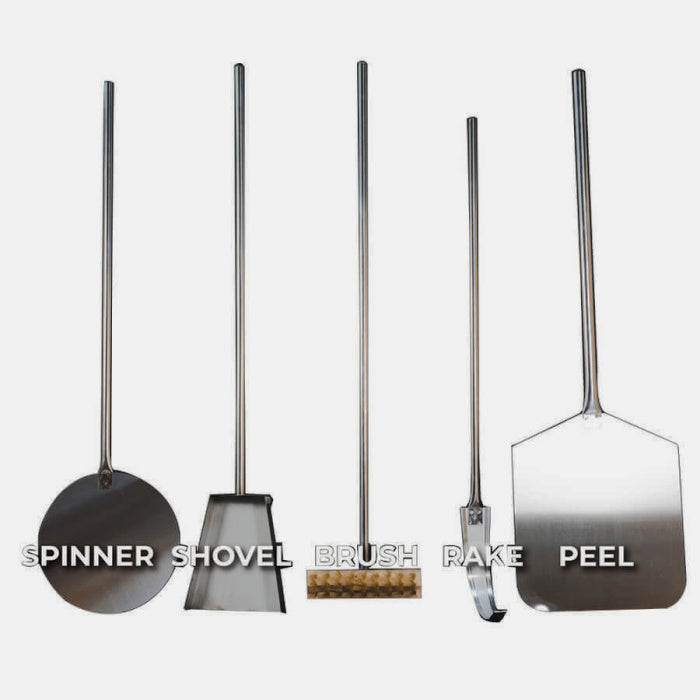 Pizza Oven Tool Kit | 5 tool Set
Description

Why buy From Us

Shipping
Pizza Oven Tool Kit | Flaming Coals
Unlock the secrets of perfect pizza with the Flaming Coals Stainless Steel Pizza Oven Tool Kit. Designed to meet the needs of pizza enthusiasts in both commercial and home kitchens, these high-quality accessories ensure professional grade results every time. Our 5-piece stainless steel kit includes a shovel, rake, peel, brush, and spinner, providing all the essential tools you need for a seamless pizza-making experience. With these precision-crafted accessories, you'll effortlessly cook, safely handle, and swiftly serve up delicious pizzas. Elevate your backyard gatherings and embrace the art of authentic pizza making. Complete your wood-fired oven setup with these indispensable tools. Satisfaction guaranteed for pizza lovers of all levels!
Specifications:
Shovel - Head size: 20.2x17.6cm, Handle length: 79.8cm, Total length: 100cm

Brush - Head size: 20x6.8cm, Handle length: 93.2cm, Total length: 100cm

Peel - Head size: 30x35cm, Handle length: 64cm, Total length: 99cm

Spinner - Head diameter: 25cm, Handle length: 74cm, Total length: 99cm

Rake - Head size: 26x5.6cm, Handle length: 72cm, Total length: 98cm
If you are in need of a top of the line pizza oven we have you covered with our selection of Pizza Ovens
Peace of mind 30 day returns policy! Find out more here.
Price match guarantee*. Get more details here.
Review Rewards Program! Check it out here.
We provide customer service, via online chat, email, and phone 7 days a week, 7am to 10 pm. Contact us anytime!
Shipping FREE on a range of items!
For bulky items we have multiple items to reduce shipping costs:
Shipping to door, calculated at the product, cart, and checkout pages.

Collect from local depots we ship to, for reduced costs.

Collect for FREE from warehouse where products are shipped from.
You can find all our delivery/shipping details here.
If you have any questions contact us anytime.