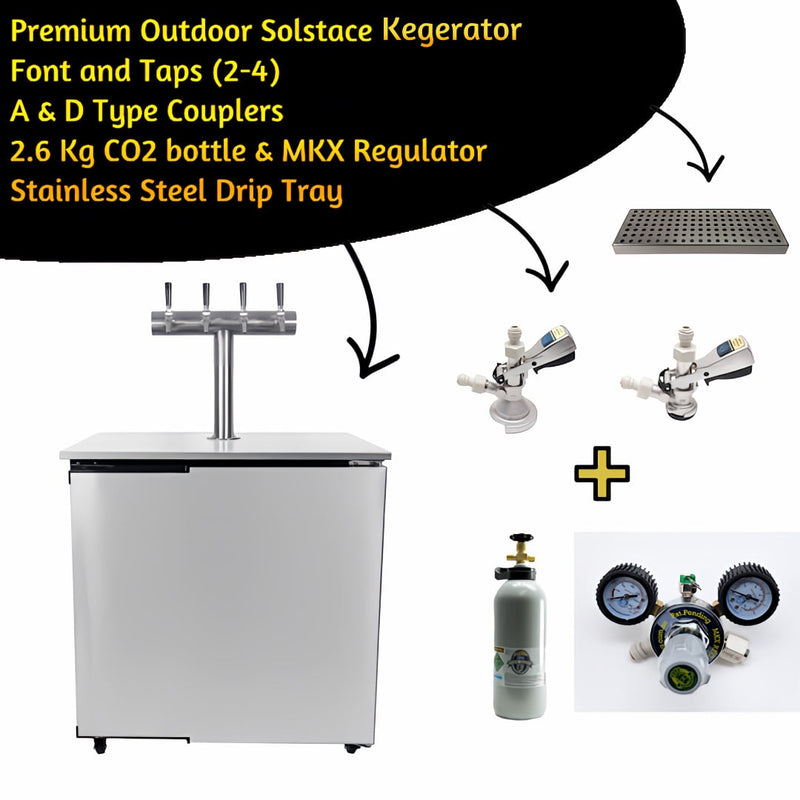 Kegerator | Solstace Indoor or Outdoor | Complete Package
Description

Model Code

Why buy From Us

Shipping
The Ultimate Kegerator Beer Fridge Bundle: Ready for Your Favourite Brew
Get ready to transform your beer-drinking experience with the Solstice Kegerator Beer Fridge Bundle. This all-in-one package is your ticket to draft beer at its finest, offering convenience, power efficiency, and a sleek design that seamlessly fits into your lifestyle.

The Solstice bundle includes a Solstice kegerator, a 2.6kg CO2 gas bottle (full), A and D type couplers, an MKX regulator, and a 40cm stainless steel drip tray. Just grab your favorite keg of beer, connect it, and you're good to go!

With the inclusion of both A-type and D-type couplers in your package, you'll have the versatility to connect to an extensive range of kegs. This means you can enjoy draft beer from a wide array of Australian breweries straight out of your Solstace Kegerator at home.

The KegMaster Solstice is perfectly suited for the unique Australian climate, boasting a remarkable tolerance for temperatures as high as 40 degrees Celsius in the surrounding environment. This extraordinary adaptability ensures it is an excellent choice for use not only indoors but also in the great outdoors

2.6kg of CO2, If you're serving commercially carbonated beer, you can typically dispense approximately 400 litres out of it, which equates to around 8 x 50-litre kegs. And If you're brewing and carbonating your beer, assuming no CO2 is wasted, you should have enough CO2 to carbonate and dispense around 200 litres of beer, equivalent to over 10 x 19-litre kegs.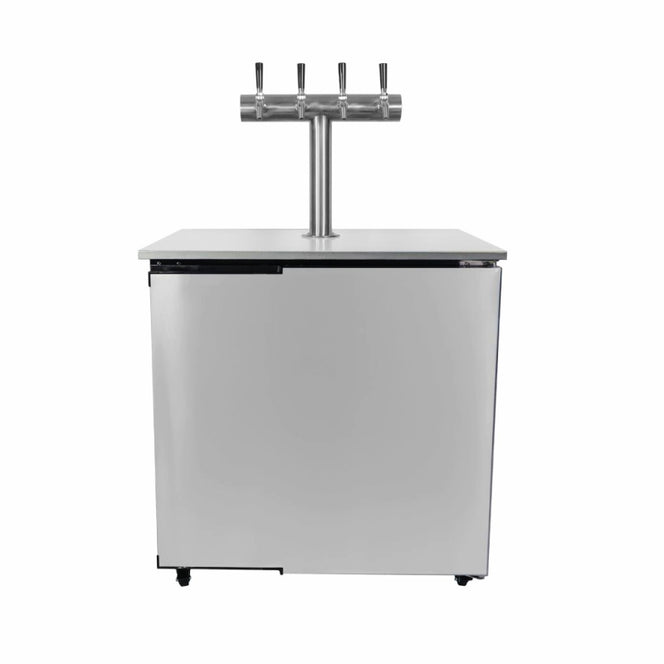 Why Choose a Solstice Kegerator?
Power Options: The KegMaster Solstice is exceptionally versatile, capable of running on DC power, solar panels, batteries, or a standard household outlet. Enjoy tap beer wherever you are, whether it's in your home, office, café, bar, caravan, boat, or at an outdoor event.

World's First: This kegerator is a game-changer as the world's first 12V DC powered, cassette-based, heating, and cooling commercial-grade beverage dispensing keg fridge. It's not just for keeping your beer cold; it's perfect for fermentation temperature control too.

Visually Stunning: Designed in Australia by Keg King Engineering, the Solstice kegerator boasts a visually striking design, constructed from 304 stainless steel. It's not only a functional appliance but also an attractive addition to any setting.

Power Flexibility: You have the freedom to choose how you power your Solstice kegerator. Plug it into a standard 10amp power outlet, use batteries, solar power, or any combination that supplies 12 volts at 15 amps. It's perfect for those off-grid adventures.

Cooling or Heating: With the high-performing HJ-510 temperature controller, Solstice can handle both heating and cooling modes, including defrost cycles. It can adapt to your needs, whether it's for fermenting or serving ice-cold beverages.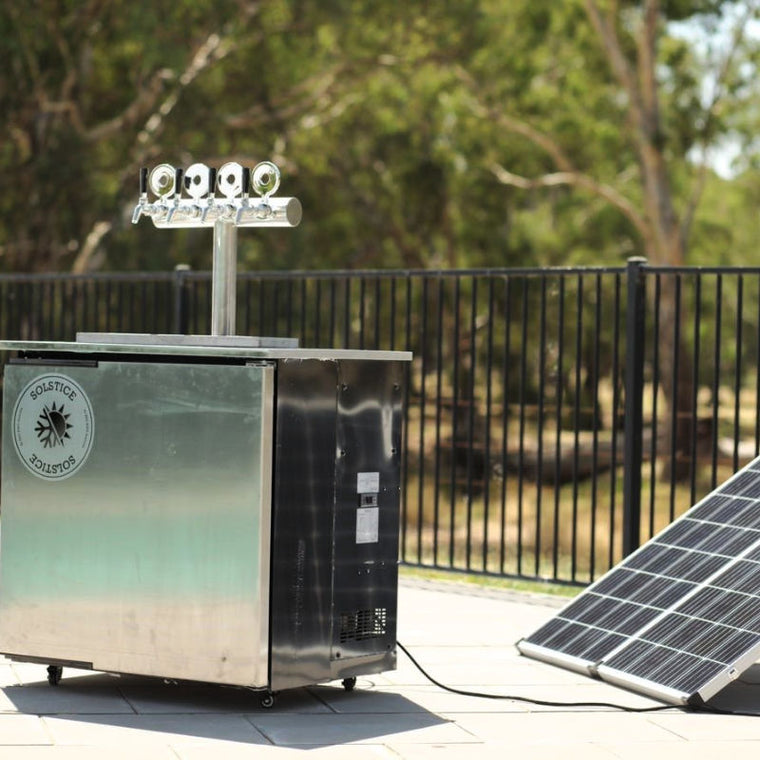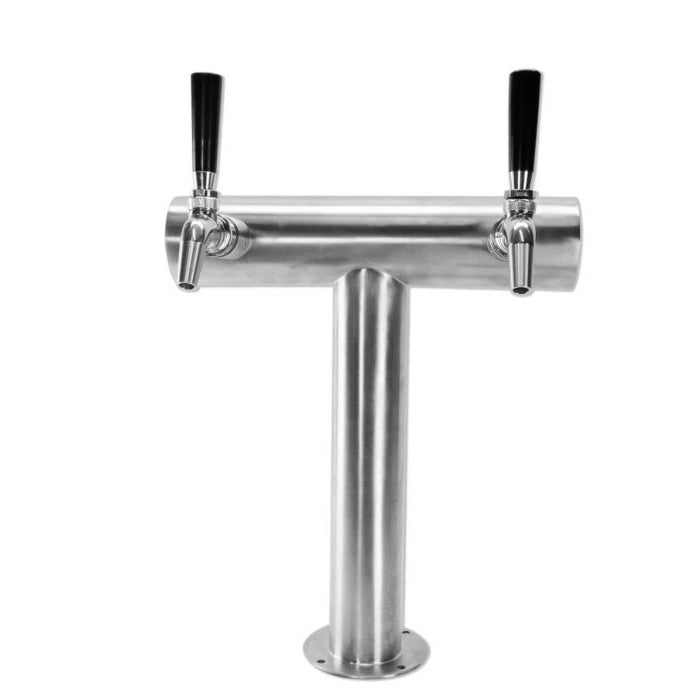 Tap Font Compatibility
The Solstice Kegerator offers versatility when it comes to tap fonts. You can choose from either 2 to 4 taps. Font and taps are made from 304 Stainless Steel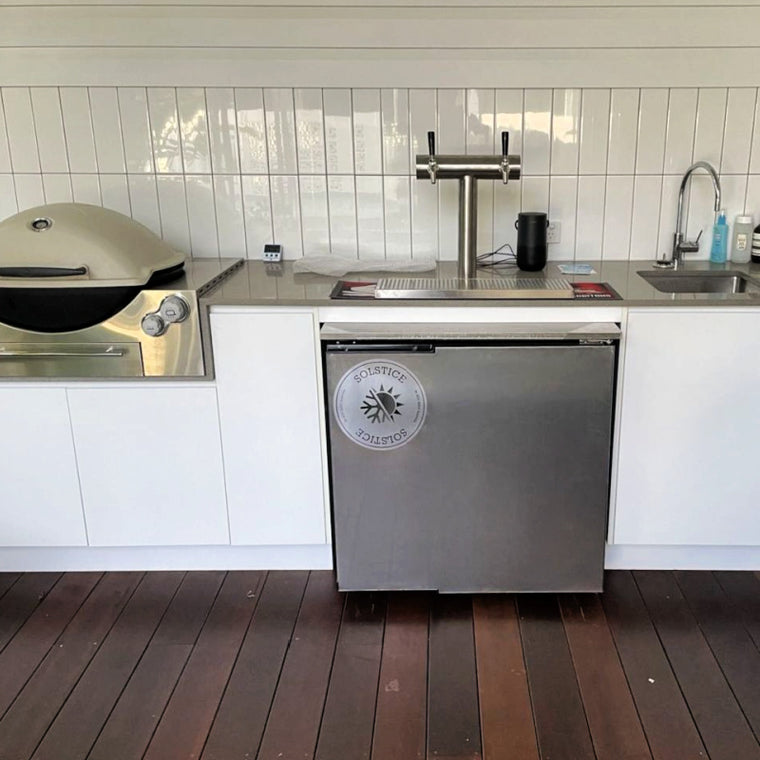 Versatile Installation
With a reversible door, you can choose the orientation that works best for your space. It's perfect for under-bench installations, requiring only 100mm of ventilation space on the cassette side.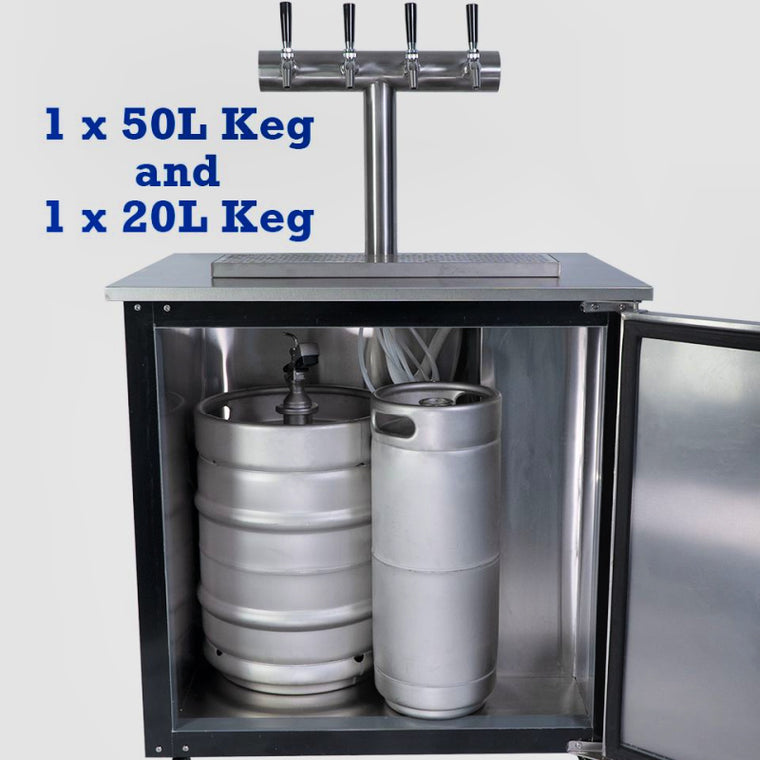 Huge Capacity
The Solstice Kegerator provides a spacious 236L of storage, accommodating up to 4 x 20L Kegs, 1 x 50L keg and 1x 20L keg or a 50L keg and a CO2 Gas bottle
Some Brands that A&D Type Couplers are Compatible with
A Type Couplers D Type Couplers
Brookvale Bulmers
Bundaberg & Cola Carlton Draught
Canadian Club Carlton Cold
Coopers Cascade
Furphy Crown Lager
Hahn Great Northern
Heineken Peroni
James Squire Pure Blonde
Tooheys Somersby
XXXX Gold VB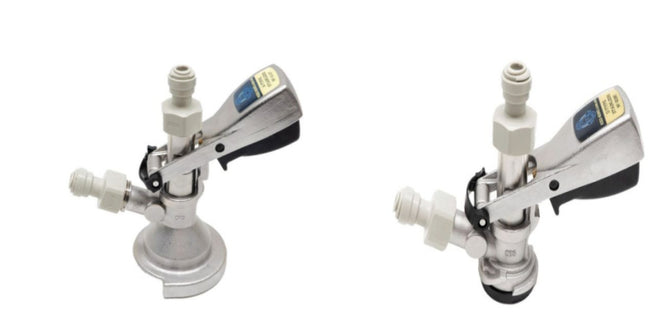 Kegerator | Solstace Indoor/Outdoor | Specifications
Dimensions Length: 880mm
Depth: 642mm
Height: 850mm
Weight 43kg
Cassette Weight 13kg
Volume 236 Litres
Power10amp Power Point
12v 20amp DC
Heating 130 Watts
Cooling 240 watts
Refridgerant Gas R600a (40g)
Insulation Cyclopentane
Packaged
Dimensions Length: 930mm
Depth:710mm
Height: 940mm
Included
AccessoriesFont & Taps
A&D Couplers
MKX Regulator
400mm Drip Tray
Font304
Stainless Steel

TapsChoose Between
2 - 4 Taps
Body304
Stainless Steel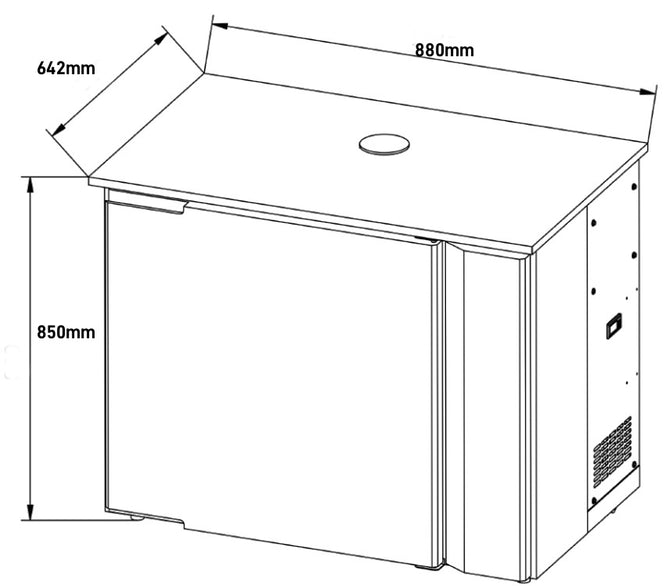 Peace of mind 30 day returns policy! Find out more here.
Price match guarantee*. Get more details here.
Review Rewards Program! Check it out here.
We provide customer service, via online chat, email, and phone 7 days a week, 7am to 10 pm. Contact us anytime!
Shipping FREE on a range of items!
For bulky items we have multiple items to reduce shipping costs:
Shipping to door, calculated at the product, cart, and checkout pages.

Collect from local depots we ship to, for reduced costs.

Collect for FREE from warehouse where products are shipped from.
You can find all our delivery/shipping details here.
If you have any questions contact us anytime.