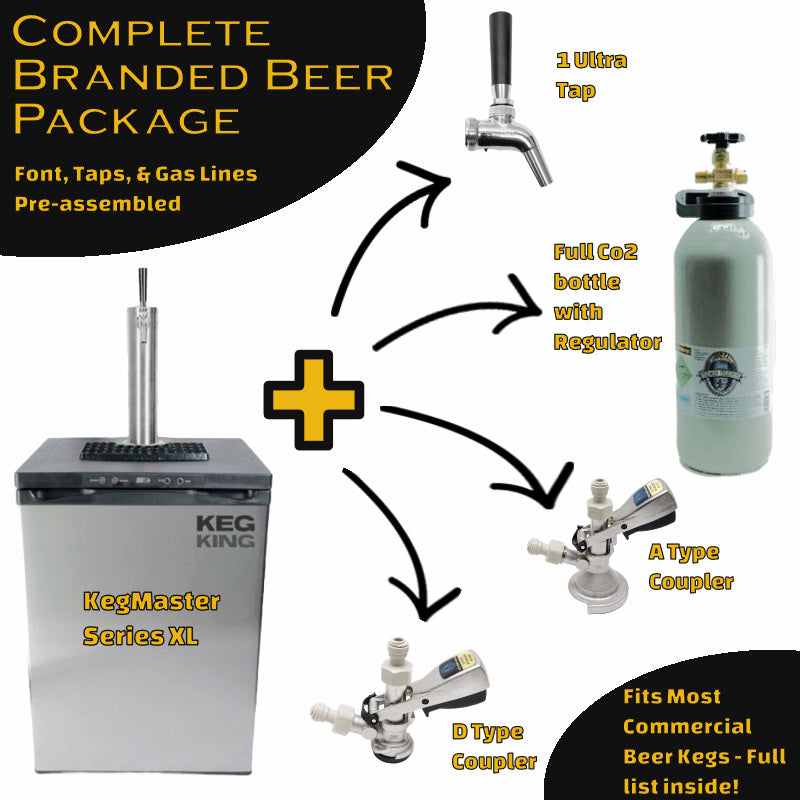 Kegerator | KegMaster Series XL | Branded Beer Complete Package
Description

Model Code

Why buy From Us

Shipping
Ultimate KegMaster Series XL Premium Package - Everything You Need in One Click!
Are you ready to take your beverage game to the next level? Look no further! Our all-in-one Kegerator Series XL package has you covered. This complete package is designed to make your keg experience seamless and enjoyable. Just grab a full keg of your favorite beer, and you're all set for an epic pouring experience.
The heart of this package is our cutting-edge Series XL Kegerator, built to keep your kegs at the perfect temperature. Say goodbye to warm, flat beer and hello to crisp, refreshing pints. The Kegerator is the star of the show. It also come with all gas and beer lines
We provide you with both A-type and D-type couplers, giving you the flexibility to tap almost any commercial beer produced in Australia. Whether you prefer Coopers Kegs and craft brewery creations (A-type) or classic brands like Carlton Draught, Great Northern and VB (D-type), we've got you covered.
But wait, there's more! This versatile system is not limited to beer alone. You can also tap into kegs of Premixed Cocktails, CC and Dry, Bundy and Cola, Ciders, Sparkling Wines, and an array of other delightful beverages.
Our package also includes a convenient counter-top drip tray, sleek stainless steel Ultratap taps, and a stainless steel beer tap tower - all pre-assembled for swift setup.
The Series XL Kegerator: Keeping Your Kegs Chilled
We've made setup a breeze. We've pre-assembled all the fiddly parts of the tap tower, so attaching it to the kegerator body is as simple as it gets. The Series XL is truly the easiest kegerator in Australia to set up.
To ensure your kegs are ice-cold and ready to serve, give them at least 24 hours in the kegerator set to a crisp 2°C. Once your keg is chilled to perfection, you're in control - pour your beverage whenever you please. The CO2 Gas will keep your drinks fresh until you've finished every drop.
Wondering what fits in this fantastic kegerator? It accommodates:
1x 50L commercial keg or
3x 20L commercial kegs or
1x 30L commercial keg + 1x 20L commercial keg or
4 x 19l Corny Kegs
And the best part? With built-in low-profile rollers, moving your KegMaster™ XL kegerator to the perfect spot is super easy, ensuring you're ready to enjoy your beverages without a hitch.
Last but not least, our Fridge Pack includes the newly improved MKX Regulators, guaranteeing precise and reliable CO2 dispensing to take your draft system to the next level.
Kegerator CO2 Gas Bottle
Role: The CO2 gas bottle is an essential component in a kegerator system. It's responsible for carbonating and pressurising the keg, ensuring that your beer or other beverages flow smoothly and stay carbonated.
Function: When the CO2 bottle is connected to the kegerator, it releases carbon dioxide gas into the keg. This gas maintains the proper pressure within the keg, which in turn pushes the liquid out through the tap when you pour a drink.
MKX Regulator
Role: The MKX Regulator is a crucial part of the kegerator setup. It controls the flow of CO2 from the gas bottle into the keg and maintains a consistent pressure, ensuring that your beverages are dispensed accurately and without excessive foaming.
Function: The MKX Regulator allows you to adjust the pressure to match the specific requirements of different types of beverages. Some drinks, like lagers, require higher pressure, while others, like ales, may need lower pressure.
Ultratap Taps
Role: Ultratap taps are the means by which you access the beverages stored in the keg. They play a crucial role in controlling the flow of liquid and ensuring that it pours smoothly without excessive foaming.
Function: Ultratap taps are designed for durability and ease of use. They are known for their smooth operation and the ability to control the flow rate, giving you the freedom to pour the perfect pint every time.
Kegerator | KegMaster Series XL | Premium Specifications
External
DimensionsWidth: 600mm
Depth: 640mm
Height: 850mm
Internal
DimensionsWidth: 512mm
Depth: 405mm
Height: 725mm
Weight 43kg
Volume 160 Litres
Power220-240 volt
Climate Class T
Refridgerant Gas R600a (40g)
Insulation Cyclopentane
Packaged
DimensionsWidth: 660mm
Depth:690mm
Height: 880mm
Included
AccessoriesFont & Taps
A&D Couplers
MKX Regulator
CO2 Gas Bottle
Font304
Stainless Steel

TapsChoose Between
1 - 4 Taps
DisplayDigital
Some Brands that A&D Type Couplers are Compatible with
A Type

Couplers

D Type Couplers
Brookvale Bulmers
Bundaberg & Cola Carlton Draught
Canadian Club Carlton Cold
Coopers Cascade
Furphy Crown Lager
Hahn Great Northern
Heineken Peroni
James Squire Pure Blonde
Tooheys Somersby
XXXX Gold VB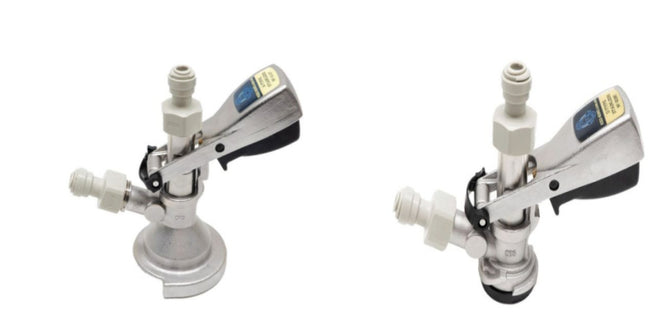 Peace of mind 30 day returns policy! Find out more here.
Price match guarantee*. Get more details here.
Review Rewards Program! Check it out here.
We provide customer service, via online chat, email, and phone 7 days a week, 7am to 10 pm. Contact us anytime!
Shipping FREE on a range of items!
For bulky items we have multiple items to reduce shipping costs:
Shipping to door, calculated at the product, cart, and checkout pages.

Collect from local depots we ship to, for reduced costs.

Collect for FREE from warehouse where products are shipped from.
You can find all our delivery/shipping details here.
If you have any questions contact us anytime.