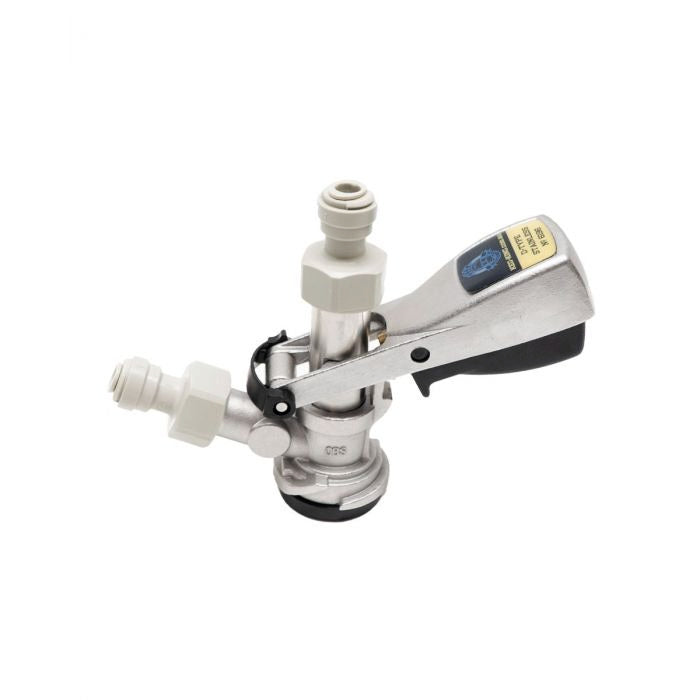 Kegerator Accessory | D-Type Coupler
Description

Why buy From Us

Shipping
D-Type Keg Coupler with DM Variety Push-In Fittings in Stainless Steel/Alloy
In the Australian brewing scene, D-Type kegs are predominantly associated with large-scale commercial breweries. However, you'll also find some craft breweries opting for these kegs, showcasing their flexibility and appeal across the industry.
Our Keg King D-Type Couplers come packed with features that make keg handling a breeze:
5/8" Male Beer and Gas Threads: The coupler body boasts 5/8" male beer and gas threads, ensuring a secure and leak-free connection.
2 x 5/8" to 5/16" DM Push-In Fittings: Simplify your gas and liquid line connections with these push-in fittings, making setup a snap.
1 x Non-Return Ball or Torpedo Check Piece (Non-Return Liquid): Enjoy peace of mind knowing that your liquid flows in one direction, preventing backflow and ensuring a consistent pour.
1 x Gas Duck Bill Valve (Non-Return Valve for Gas): Keep your gas supply regulated and your keg pressure under control, thanks to this efficient gas valve.
Brands that use D-Type Kegs
4 Pines
Bulmers
Carlton Draught
Carlton Cold
Cascade
Cricketers Arms
Crown Lager
Fat Yak
Lazy Yak
Great Northern
Kingfisher
Konig
Monteiths
Mountain Goat
Peroni
Pure Blonde
Reschs Draught
Somersby
Tiger Beer
VB
Peace of mind 30 day returns policy! Find out more here.
Price match guarantee*. Get more details here.
Review Rewards Program! Check it out here.
We provide customer service, via online chat, email, and phone 7 days a week, 7am to 10 pm. Contact us anytime!
Shipping FREE on a range of items!
For bulky items we have multiple items to reduce shipping costs:
Shipping to door, calculated at the product, cart, and checkout pages.

Collect from local depots we ship to, for reduced costs.

Collect for FREE from warehouse where products are shipped from.
You can find all our delivery/shipping details here.
If you have any questions contact us anytime.