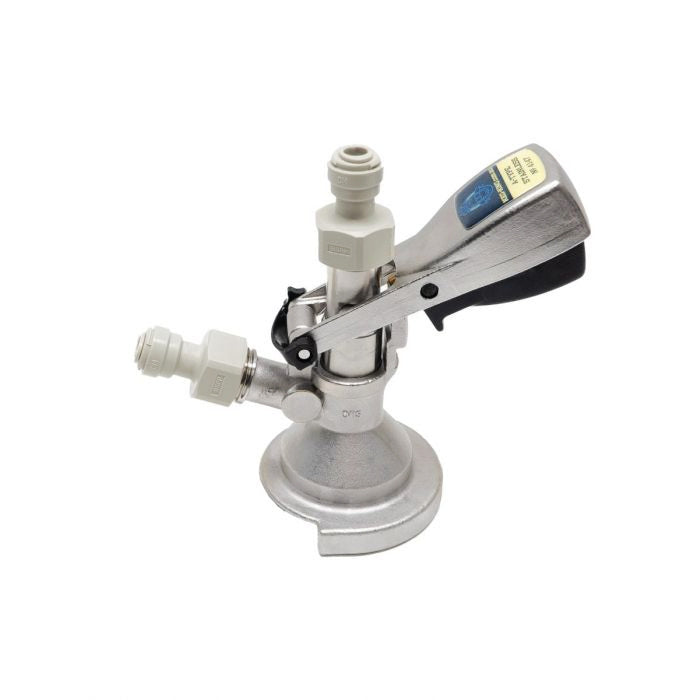 Kegerator Accessory | A-Type Coupler
Description

Why buy From Us

Shipping
Kegerator A-Type Coupler
The A-Type Keg Coupler, also known as the German Slider Coupler, is your gateway to a wide variety of kegged drinks. These couplers are essential for tapping into the flavours of your favourite brews, and they're commonly found in Australia, particularly in Independent Craft Breweries. You'll also spot them in kegs from well-known brands like Tooheys, Coopers, and XXXX.

Our Keg King A-Type Couplers are designed to provide you with the ultimate convenience. Here's what they come with:
5/8" Male Beer and Gas threads on the coupler body
Two 5/8 to 5/16 DM variety Push-In Fittings for easy gas and liquid line connections
One Non-Return Ball or Torpedo check piece (Non-Return Liquid)
One Gas Duck Bill valve (Non-Return Valve for Gas)
Other beverage brands that use A-Type variety kegs include:
Bridge Road
Brookvale
Bundaberg & Cola
Canadian Club
Carlsberg
Coopers
Franzikaner
Furphy
Guinness
Hahn
Heineken
Hills Cider
James Boags
James Squire
Kilkenny
Kirin
Kosciuszko
Kronenbourg
Little Creatures
Lowenbrau
Magners
Paulaner
Pipsqueak
Rocks Brewing Co.
Sample
Sapporo
Spaten
Tooheys
Two Birds
White Rabbit
XXXX Gold
Young Henrys
Peace of mind 30 day returns policy! Find out more here.
Price match guarantee*. Get more details here.
Review Rewards Program! Check it out here.
We provide customer service, via online chat, email, and phone 7 days a week, 7am to 10 pm. Contact us anytime!
Shipping FREE on a range of items!
For bulky items we have multiple items to reduce shipping costs:
Shipping to door, calculated at the product, cart, and checkout pages.

Collect from local depots we ship to, for reduced costs.

Collect for FREE from warehouse where products are shipped from.
You can find all our delivery/shipping details here.
If you have any questions contact us anytime.