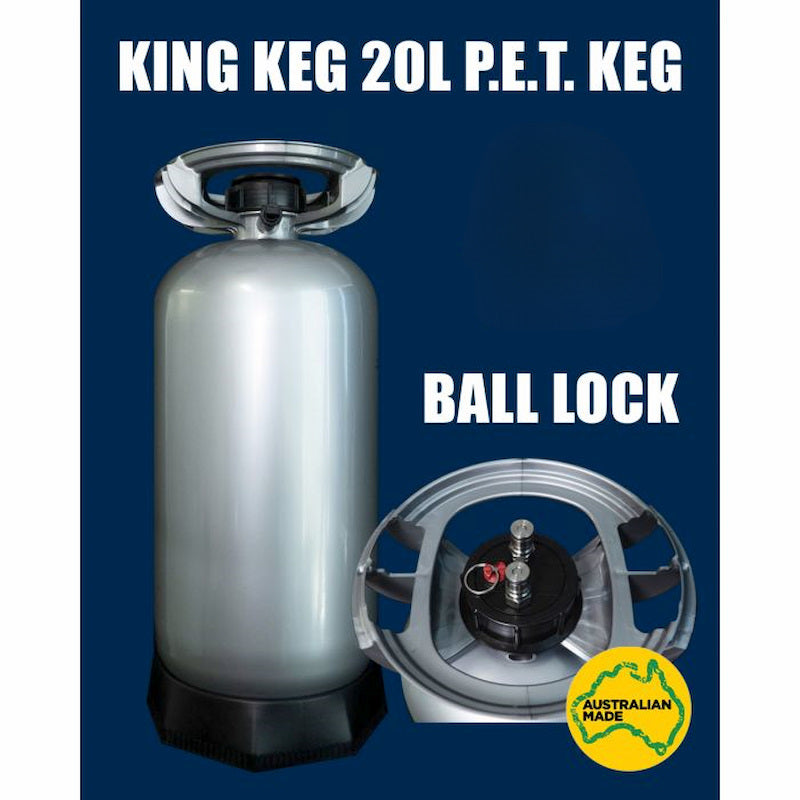 Kegerator Accessory | 20 Litre Ball Lock Keg
Description

Why buy From Us

Shipping
Looking for Cornelius Ball Lock Keg quality without the steep price? Say hello to the 20L Ball Lock King Keg! Slightly wider than your standard Cornelius keg, it packs in 20 liters of goodness compared to the usual 19.
Why go for it? Well, these King Kegs sport integrated handles for easy portability and function just like your beloved corny kegs with ball lock disconnects. Plus, they're designed with a light-protected tank, a sturdy internal liquid dip tube, and those handy integrated handles for brewers on the move.
Product Highlights:
Our Aussie-made King Kegs are individually tested, ensuring safety and reliability while offering an affordable packaging solution for your keg needs.
Crafted with our patented process, these 20-litre vessels boast integrated handles for hassle-free transport.
The King Keg's special P.E.T. material maintains beverage quality by keeping light at bay and includes an active oxygen scavenger to keep drinks fresh for up to 18 months.
Opting for the Ball Lock variety? It comes with a rigid dip tube that you'll need to install when assembling the lid and post components.
Peace of mind 30 day returns policy! Find out more here.
Price match guarantee*. Get more details here.
Review Rewards Program! Check it out here.
We provide customer service, via online chat, email, and phone 7 days a week, 7am to 10 pm. Contact us anytime!
Shipping FREE on a range of items!
For bulky items we have multiple items to reduce shipping costs:
Shipping to door, calculated at the product, cart, and checkout pages.

Collect from local depots we ship to, for reduced costs.

Collect for FREE from warehouse where products are shipped from.
You can find all our delivery/shipping details here.
If you have any questions contact us anytime.