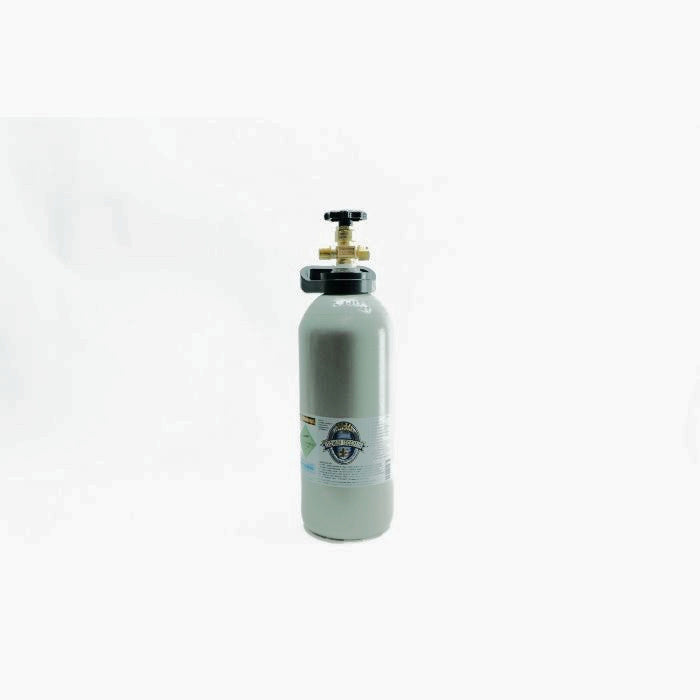 Kegerator Accessory | 2.6kg CO2 Gas Bottle (FULL)
Description

Why buy From Us

Shipping
Introducing our top-selling CO2 cylinder, a versatile 2.6kg powerhouse that's perfect for your carbonation and keg-dispensing needs. Compact and portable,  fits seamlessly inside your kegerator, and can be conveniently hung in the cylinder bracket provided with our Keg Masters. Not to mention, it boasts a capacity large enough to dispense multiple kegs with ease. Plus, there's a smart financial advantage to owning your own CO2 cylinder rather than renting it from a gas supplier, especially if your usage extends beyond a year.
Key Features:
Australian Standard Approved for quality and safety
Generous 2.6kg gas capacity when full
Dimensions: 470mm in height and 140mm in diameter
Equipped with a convenient carry handle for hassle-free transportation and valve protection
When it comes to CO2 usage, here's a quick breakdown
Typically, you'll require around 6g per litre for both carbonation and dispensing from your kegerator. If you're brewing and carbonating your own beer, without factoring in any losses, you can expect to carbonate and dispense approximately 200 liters or over 10 x 19-liter kegs. On the other hand, if you're enjoying commercially carbonated beer, you should be able to dispense roughly 400 liters or 8 x 50-liter kegs.
A vital tip: Never operate these cylinders in an inverted position. Always keep the valve upright to ensure safe and efficient usage. With this CO2 cylinder by your side, you're all set to elevate your kegging and carbonation game while enjoying the convenience and savings that come with owning your own cylinder.
Peace of mind 30 day returns policy! Find out more here.
Price match guarantee*. Get more details here.
Review Rewards Program! Check it out here.
We provide customer service, via online chat, email, and phone 7 days a week, 7am to 10 pm. Contact us anytime!
Shipping FREE on a range of items!
For bulky items we have multiple items to reduce shipping costs:
Shipping to door, calculated at the product, cart, and checkout pages.

Collect from local depots we ship to, for reduced costs.

Collect for FREE from warehouse where products are shipped from.
You can find all our delivery/shipping details here.
If you have any questions contact us anytime.