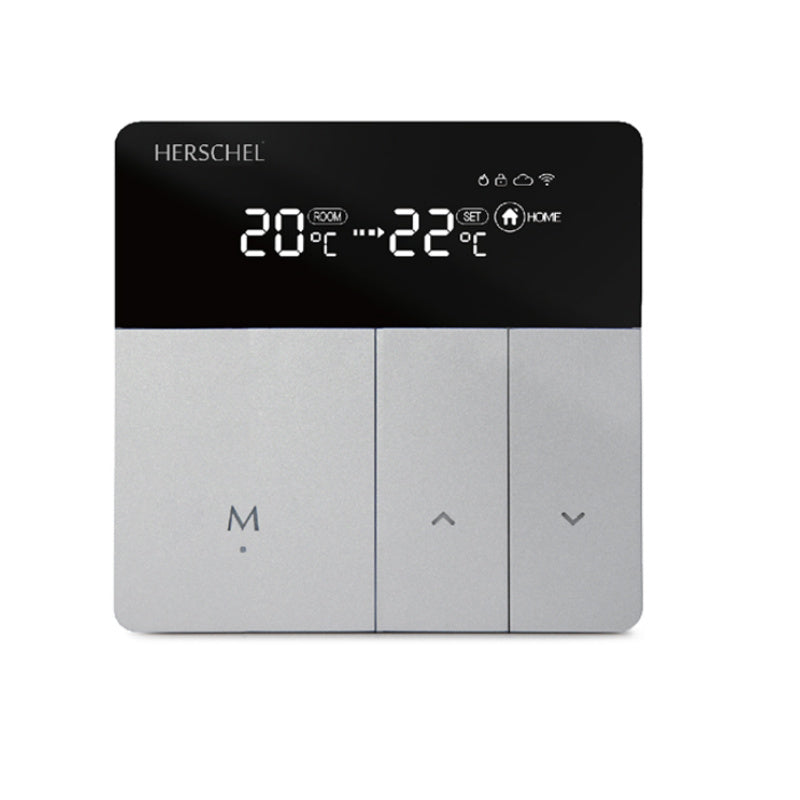 Infrared Heater Thermostat | Herschel iQ T-MKS
Description

Why buy From Us

Shipping
The Herschel iQ MKS Mains Powered WiFi Thermostat: Control and Efficiency Redefined
Introducing the Herschel iQ MKS Mains Powered WiFi Thermostat - your pathway to superior control and energy efficiency in your infrared heating system. Its exceptional design and smart, versatile controls through the SmartLife App make it a top choice for new constructions, renovations, and both residential and commercial applications.
Infrared Heater Thermostat | Herschel iQ T-MKS Key Features
The MKS Thermostat brings a range of powerful features:
16 Amp Wired Thermostat: Hard-wired to the mains circuit and heaters for seamless and reliable operation.
Programmable: 7 x 1 day programmable through the SmartLife App for optimum heating control and energy efficiency.
Open Window Detection: Automatic sensing of open windows for enhanced energy efficiency.
Temperature Control: Can control temperatures up to 45°C, perfect for various settings, including high-temperature applications like hot yoga studios.
Keypad Locking Feature: Prevents unauthorised changes to settings, making it ideal for commercial settings such as hotels, care homes, and rental properties.
Detailed Overview
The MKS Thermostat, seamlessly integrated with your WiFi network and SmartLife App, can operate in 'Smart Mode,' allowing you to manage your heating as efficiently as possible whether you're home or away.
Directly wired to the mains circuit and heaters, the MKS Thermostat operates your Herschel heater(s) by turning them on when the room temperature falls below the desired level and turning them off once the desired temperature is reached. It's simple to operate through the SmartLife App or push buttons and includes the latest EcoDesign energy-saving features, including Herschel's open window detection technology.
The MKS Thermostat is a 16 Amp unit that can connect up to 3.6 kW of Herschel heaters, making it compatible with the Inspire, Select XLS, or Herschel space heating range. If used with the Select XLS panel range, the SMART-R function of the XLS panel will be bypassed, and the thermostat will have to be hard-wired directly to the heater and the mains.
Please note: Herschel iQ controls will only work with Herschel heaters. Attempting to use them with other heater brands will void the warranty.
Infrared Heater Thermostat | Herschel iQ T-MKS Technical Specifications
The MKS Thermostat comes with easy-to-use features and the latest energy-saving technology:
7 x 1 Day Programmable: Set up to 4 periods per day in "Auto" Mode using the SmartLife App.
Home and Away Modes: Choose between Manual "Home" and "Away" modes for added control.
Open Window Function: Shuts off the heating if a rapid drop in temperature is detected until you override this or wait 15 minutes.
Adaptive Start: Automatically ensures the room reaches the desired temperature at the set time.
Keypad Lock: Keeps your settings secure from unauthorized tampering.
Wall-mounted: Designed for wall-mounted installation.
External Sensor: Comes with an external sensor for bathroom use.
SmartLife App-enabled: Control your heating with the easy-to-use SmartLife app.
Quality and Safety
Herschel Heaters and iQ Controls adhere to the highest standards of quality and safety, complying with ErP Regulation (EU) 2015/1188 and Supplement (EU) 2016/2282 (Lot 20).
Infrared Heater Thermostat | Herschel iQ T-MKS Documentation Manual | App Links
Smartlife App download Links
Peace of mind 30 day returns policy! Find out more here.
Price match guarantee*. Get more details here.
Review Rewards Program! Check it out here.
We provide customer service, via online chat, email, and phone 7 days a week, 7am to 10 pm. Contact us anytime!
Shipping FREE on a range of items!
For bulky items we have multiple items to reduce shipping costs:
Shipping to door, calculated at the product, cart, and checkout pages.

Collect from local depots we ship to, for reduced costs.

Collect for FREE from warehouse where products are shipped from.
You can find all our delivery/shipping details here.
If you have any questions contact us anytime.