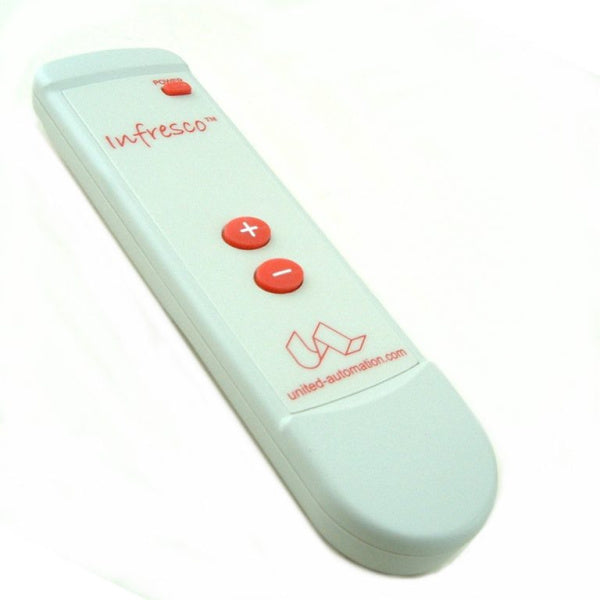 Infresco 4000 W Infrared Heater Remote
Description

Why buy From Us

Shipping
Convenient Remote Control Handset for 4kW Heater Controllers
Upgrade your heating control experience with the Remote Control Handset designed for 4kW Heater Controllers. This handy device allows you to effortlessly turn your heaters on and off and provides convenient adjustment of the heat output, all from the palm of your hand. Compatible with multiple heater controllers, this remote control handset offers enhanced flexibility and convenience for managing your heating system.
Effortless Control at Your Fingertips
With the Remote Control Handset, you can easily manage your heaters with just a few clicks. Say goodbye to manual adjustments and enjoy the convenience of remote control operation. Whether you want to turn the heaters on or off or fine-tune the heat output, this handset provides you with effortless control at your fingertips.
Seamless Integration with 4kW Heater Controllers
Designed specifically for 4kW Heater Controllers, this remote control handset seamlessly integrates with your existing heating system. Its compatibility with multiple heater controllers allows you to control and adjust various heaters from a single device, providing a centralized and streamlined control experience.
Flexible Heat Output Adjustment
The remote control handset gives you the flexibility to adjust the heat output of your heaters according to your preferences and comfort level. Easily increase or decrease the heat with precision, allowing you to create the perfect ambiance and temperature in your space without the need for manual adjustments.
Enhanced Convenience and Efficiency
By utilizing the Remote Control Handset, you can enhance the convenience and efficiency of your heating system. With the ability to turn the heaters on or off remotely, you can optimize energy usage and only heat the areas when needed. This results in improved energy efficiency and cost savings while maintaining a comfortable environment.
Upgrade your heating control capabilities today with the Remote Control Handset for 4kW controllers. Experience the convenience, flexibility, and enhanced control it provides, allowing you to effortlessly manage and adjust your heating system with ease. Enjoy the comfort and convenience of remote control operation for a more enjoyable and personalized heating experience.
Peace of mind 30 day returns policy! Find out more here.
Price match guarantee*. Get more details here.
Review Rewards Program! Check it out here.
We provide customer service, via online chat, email, and phone 7 days a week, 7am to 10 pm. Contact us anytime!
Shipping FREE on a range of items!
For bulky items we have multiple items to reduce shipping costs:
Shipping to door, calculated at the product, cart, and checkout pages.

Collect from local depots we ship to, for reduced costs.

Collect for FREE from warehouse where products are shipped from.
You can find all our delivery/shipping details here.
If you have any questions contact us anytime.