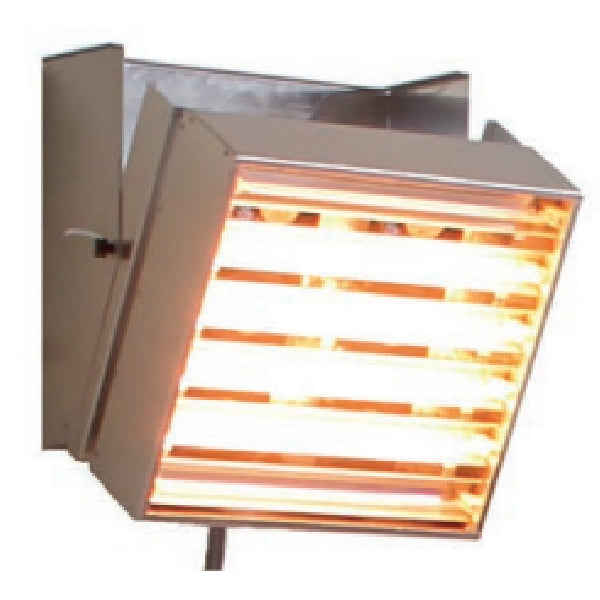 Infrared Heater | Electric | Industrial | Herschel Vulcan
Description

Why buy From Us

Shipping
FREE DELIVERY australia wide
This is a special order item - please contact us for purchasing
Herschel introduces the Vulcan 6-12 kW Infrared workshop heaters, specifically engineered for large spaces such as workshops and warehouses. They offer substantial benefits to users looking for alternatives to conventional gas or convection-based heating systems.
Infrared Heater | Electric | Industrial | Herschel Vulcan Key Features:
Can be mounted on either the wall or ceiling
Uses High-power Tungsten-Halogen lamps
Provides heating coverage over large areas
Made from durable components for a long lifespan
Requires professional installation
Operates on 3 Phase 380 – 415V power supply
Contact us for controller options when purchasing
Vulcan's unique heating system provides heat exactly when and where you need it. It's perfect for heating specific zones within a large space without causing air movement or any form of pollution. The Vulcan model is also equipped with fans which greatly enhance heat distribution in the direction the heating is pointing, while also extending the life of the lamps by keeping them cool without affecting their radiance.
Vulcan's design allows for higher installation heights, better heat production in colder / higher altitude locations, and a larger heated area. They can be installed vertically downwards from heights upwards of 3.5m above the ground, or wall-mounted at 3.5m or above and angled downwards between 20 – 30˚.
Please note, 380 – 415V 3-phase power is necessary for Vulcan Heaters, and they must be installed by a commercial electrician. These heaters do not have built-in controls, so please discuss control options with us during the estimating phase of your heating project.
The purchase price includes the first set of lamps.
Infrared Heater | Electric | Industrial | Herschel Vulcan Technical Specifications:
Element: 3 or 6 2kW Low Glare Tungsten-Halogen Lamps producing 6 or 12kW
Useful Wavelength Range: 1µm
Body: Aluminium body
Cable length: 5m
Voltage: 380 – 415 V, 50 Hz
Protection: IP65
Guarantee: 2 years, excluding lamps.
IP Rating: IPXX
Models:
M-VULCAN-6S: 6kW; Dimensions: 52.5 x 42 x 11cm
M-VULCAN-6L: 6kW; Dimensions: 129 x 25.5 x 11cm
M-VULCAN-12S: 12kW; Dimensions: 87.5 x 52.5 x 11cm
M-VULCAN-12L: 12kW; Dimensions: 129 x 39 x 11cm
IMPORTANT: This unit is not suitable for household or similar use. Always refer to to the installation instructions before installing.
Infrared Heater | Electric | Industrial | Herschel Vulcan Documentation Manuals
Peace of mind 30 day returns policy! Find out more here.
Price match guarantee*. Get more details here.
Review Rewards Program! Check it out here.
We provide customer service, via online chat, email, and phone 7 days a week, 7am to 10 pm. Contact us anytime!
Shipping FREE on a range of items!
For bulky items we have multiple items to reduce shipping costs:
Shipping to door, calculated at the product, cart, and checkout pages.

Collect from local depots we ship to, for reduced costs.

Collect for FREE from warehouse where products are shipped from.
You can find all our delivery/shipping details here.
If you have any questions contact us anytime.