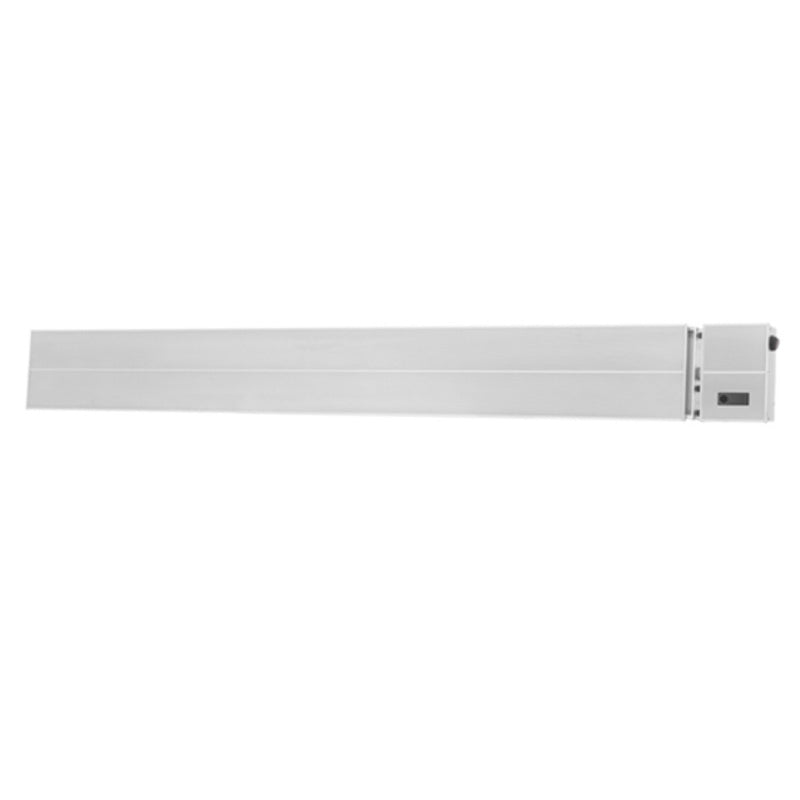 Infrared Heater | Outdoor | Electric | Herschel Summit
Description

Why buy From Us

Shipping
FREE DELIVERY AUSTRALIA WIDE
Herschel SUMMIT: Premium Infrared Heater for Indoor and Covered Outdoor Spaces
Introducing the Herschel SUMMIT, a stylish and potent 2.6kW electric space heater designed to deliver unparalleled comfort in large indoor spaces and sheltered outdoor zones. With its zero light and zero maintenance design, it not only provides an effective heating solution but also adds a modern and chic touch to your space.
Infrared Heater | Outdoor | Electric | Herschel Summit Key Features:
Zero light infrared heating
Powerful 2.6kW Herschel Kanthal elements
Available with or without remote control
Available in Black and White (different emitters)
Remote model comes with 2 power settings & timer
Suitable for wall or ceiling mount
Ideal for indoor use or covered, sheltered outdoor locations
Wall/ceiling mounts come standard with each mdoel
Classified as Zero Light emitters
Sophisticated Design & Flexibility
Available in discrete black and contemporary white, the SUMMIT blends effortlessly with any decor. Its slimline design ensures a high-end finish, making it an elegant addition to any setting.
SUMMIT provides considerable flexibility when it comes to installation - whether you want to mount it on a wall or a ceiling, SUMMIT is extremely easy to install. Wall/ceiling mount swivel brackets and accessories come along with the heater for a smooth installation experience. For longer distances from the ceiling, an optional wire suspension kit can be purchased separately.
Efficient Performance
Powered by Herschel's Kanthal elements, the SUMMIT heats up in less than 10 minutes, offering a warm and gentle comfort during those chilly evenings. Its far infrared heat directly warms people, without unnecessarily heating the air in between, making it an energy-efficient choice. Whether you are warming up large indoor spaces like shops, cafes, and restaurants, or enjoying a chilly evening outdoors, the SUMMIT ensures silent operation and zero light for a discreet and environmentally friendly heating solution.
Control at Your Fingertips
For added convenience, SUMMIT comes with an optional remote control, offering two different power levels and a timer for up to 24 hours. However, the non-remote model can be used with external thermostat controllers, like the Herschel iQ MD2, for thermostatic and app control.
Infrared Heater | Outdoor | Electric | Herschel Summit Specifications:
Voltage

: 
220-240 V @ 50/60 Hz

Current

: 
11.3 A

Fuse

: 
13 A

Heating Coverage

(100% Power) : 
9-16 m2  (Indoors)
6-9 m2  (Outdoors)

Power Output

: 
2600 W

Remote Control

: 
2 settings - 50% and 100%
(24 hour timer | 1 hour slots)

Heating Element

: 
Herschel Kanthal AF (all models)

Emitter

: 
BLACK - Aluminium with GE IR enhanced coating
WHITE - Aluminium with white ceramic coating

Dimensions

:
140 x 16 x 4.5 cm (no remote)
150 x 16 x 4.5 cm (remote model)

Materials

: 
Aluminium (body)

Warm up period

: 
< 10 minutes

Wavelength

: 
3-10 µm

Cable length

: 
2 m

Weight

:
7 kg (no remote models)
7.5 kg (remote models)

Warranty

: 
2 years (Excludes remote)

Protection

: 
IP64

Standards

: 
IEC 60335-1; 60335-2-30 Electrical & Construction Safety Tested 
Safety and Considerations

When used outdoors, ensure the Herschel SUMMIT is under permanent cover and fully protected against water ingress or exposure to rainfall. In exposed areas with air movement or wind, the far infrared spread may reduce by 1/3 to 1/2. In such situations, consider increasing the number of heaters or opting for heaters from Herschel's Sunset or Performance outdoor range.
Experience the fusion of elegance and performance with the Herschel SUMMIT. Its reliable, long-lasting, and powerful heating capabilities will redefine your space's ambiance and comfort.
Infrared Heater | Outdoor | Electric | Herschel Summit Documentation Manuals
Smartlife App download Links
Only when used with the non remote control variant and a controller (thermostat) sold seperately.
Peace of mind 30 day returns policy! Find out more here.
Price match guarantee*. Get more details here.
Review Rewards Program! Check it out here.
We provide customer service, via online chat, email, and phone 7 days a week, 7am to 10 pm. Contact us anytime!
Shipping FREE on a range of items!
For bulky items we have multiple items to reduce shipping costs:
Shipping to door, calculated at the product, cart, and checkout pages.

Collect from local depots we ship to, for reduced costs.

Collect for FREE from warehouse where products are shipped from.
You can find all our delivery/shipping details here.
If you have any questions contact us anytime.