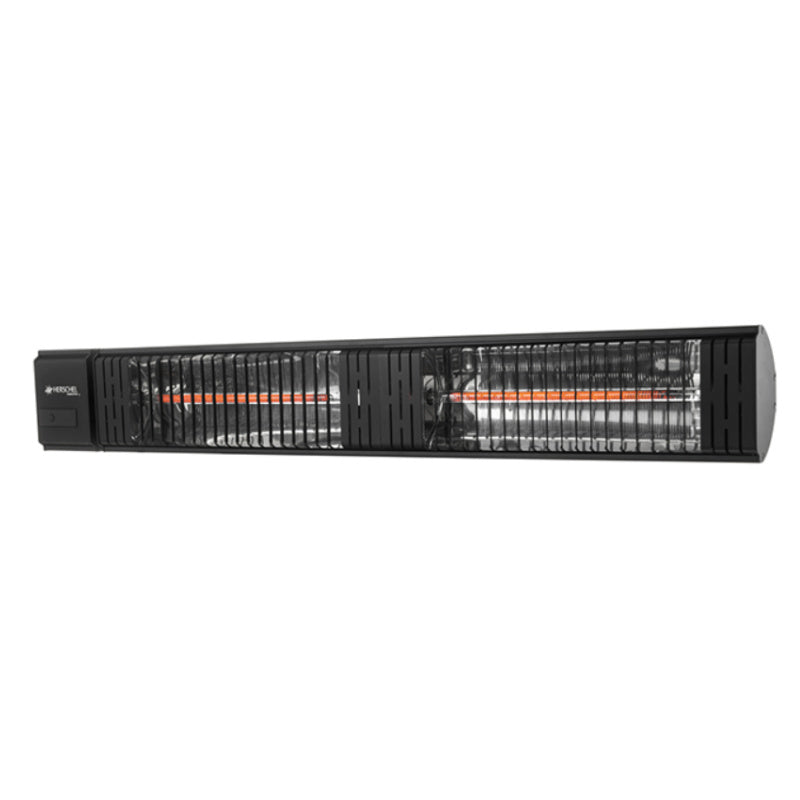 Infrared Heater | Outdoor | Electric | Herschel Manhattan
Description

Why buy From Us

Shipping
FREE DELIVERY AUSTRALIA WIDE
The Herschel infrared MANHATTAN 3kW heater redefines comfort in your outdoor restaurant areas and bar terraces. Known for its low glare infrared technology, this electric heater brings instant, robust heat to both outdoor and cold indoor commercial environments.

Unparalleled Performance and Design
The Manhattan is a testament to Herschel's commitment to merging style, utility, and durability. Its mirror reflectors are designed to project the heat forwards, ensuring a more concentrated warmth. Coupled with its robust aluminium build, the Manhattan promises longevity and consistent performance.
Infrared Heater | Outdoor | Electric | Herschel Manhattan Features:
High power, low glare from our Performance range
Adjustable power settings - 50% (1.5kW) and 100% (3kW) - with remote control
Suitable for wall or ceiling mounting
Features 3kW (2 x 1.5 kW) low glare lamps
Constructed with long-life, quality components
Ideal for commercial use
Infrared Heater | Outdoor | Electric | Herschel Manhattan Specifications
Part Number: M-MANHATTAN-3000
Rated Power: 3000W
Voltage: 220-240V
Dimensions: 104.5 x 15 x 8.5 cm
Current: 12.5-13.7A
Weight: 4.2kg
Heated Zone: Indoors 12-22m²; Outdoors 9-14m²
Advanced Control System
The Manhattan comes with a convenient remote control, complete with adjustable power levels and 24-hour timer settings. It offers flexibility in control options; if you prefer hardwire control, the remote can be bypassed using a switching device such as a push button timer or thermostat. Please note, in 'remote bypass mode', the heater can only operate at full power.
Infrared Heater | Outdoor | Electric | Herschel Manhattan Technical Information
Voltage:
230 V @ 50/60 Hz
Current:
13 A
Fuse:
13 A
Heating Coverage (100% Power):
12-22 m2 – Indoors
9-14 m2 – Outdoors
Power Output:
3000 W
Remote Control:
2 settings - 50% and 100%
Reflector:
Mirrored Aluminium
(98% efficiency - only 2% loss rearwards)
Heating Element:
Carbon Heating Lamp
(2x1.5 kW premium low glare)
10,000 hour life
Materials:
Aluminium (in a black finish)
Dimensions:
5 x 15 x 8.5 cm
Warm up period:
2 seconds
Wavelength:
8 µm
Weight:
2 kg
Cable length:
2 m
Warranty:
2 years (Excludes lamp and remote)
Protection:
IP54
Standards:
IEC 60335-1; 60335-2-30 Electrical & Construction Safety Tested
Installation and Safety Considerations
Although Manhattan is suitable for outdoor use, it requires professional installation by a qualified electrician as it does not come with a plug. The minimum installation height is 1.8m (when wall-mounted) and 2.4m (when ceiling-mounted) from the floor.
In areas with significant air movement or wind, the infrared spread may reduce by 1/3 to 1/2. Also, ensure that the supply voltage does not exceed 245 Volts. Always consult the Herschel Manhattan Installation Manual before installation (linked below).
Trust in Herschel's Quality Assurance
The Herschel Manhattan heater is backed by a two-year warranty, covering any failure due to faulty materials or workmanship (lamp and remote control excluded). For detailed warranty information, including exclusions, refer to the warranty policy on Herschel-infrared.com.
Invest in the Herschel MANHATTAN 3kW heater for a reliable, stylish, and powerful solution to your outdoor heating needs. Enjoy the confidence that comes with choosing a brand that is synonymous with quality and performance.
Infrared Heater | Outdoor | Electric | Herschel Manhattan Documentation Manuals
Peace of mind 30 day returns policy! Find out more here.
Price match guarantee*. Get more details here.
Review Rewards Program! Check it out here.
We provide customer service, via online chat, email, and phone 7 days a week, 7am to 10 pm. Contact us anytime!
Shipping FREE on a range of items!
For bulky items we have multiple items to reduce shipping costs:
Shipping to door, calculated at the product, cart, and checkout pages.

Collect from local depots we ship to, for reduced costs.

Collect for FREE from warehouse where products are shipped from.
You can find all our delivery/shipping details here.
If you have any questions contact us anytime.