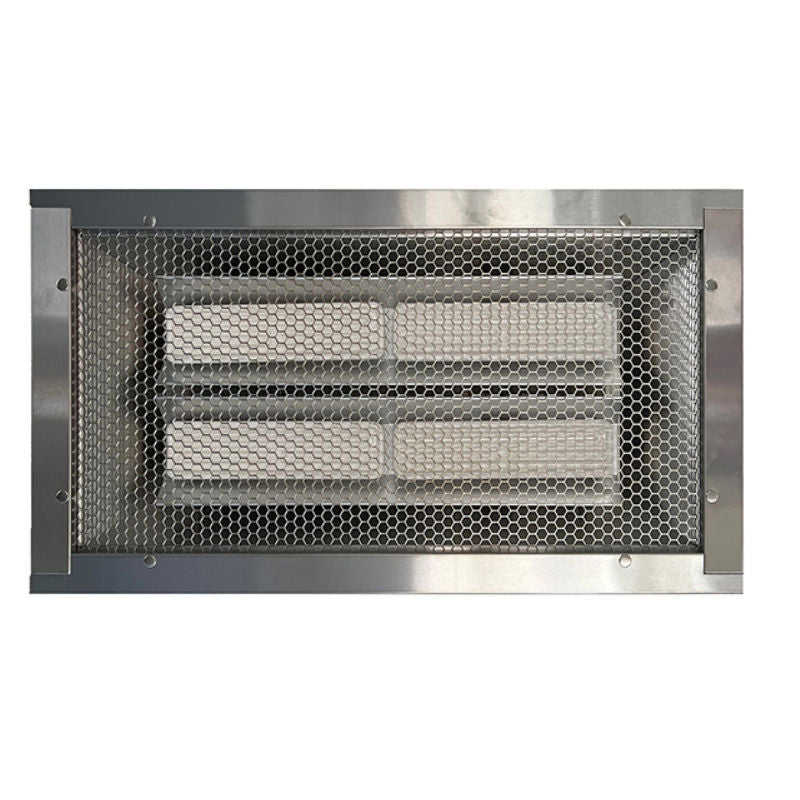 Infrared Heater | Electric | Industrial | Herschel Power 4
Description

Why buy From Us

Shipping
Unveiling the Herschel IRP4, a robust infrared heating solution perfect for large indoor spaces. Designed specifically for industrial settings and workshops, it combines the power of four highly emissive ceramic heating elements in a reflective unit that directs heat exactly where it's needed.
Streamlined Installation & Easy Maintenance
The IRP4 is a 2600W unit that mounts to the ceiling, designed for areas that provide a safe distance from the ground (2.5 – 3.5m), the ceiling (minimum 125mm), and the nearest wall (minimum 1.5m). Installation and upkeep of this unit is simpler and more economical than traditional hot air blowers or gas-burning space heating systems, providing a more comfortable heating solution.
Advantages over traditional systems:
No planning required due to zero exhaust emissions
Silent and fume-free operation - no health and safety concerns
More affordable installation compared to oil or gas options - only an electric cable is required
Maintenance-free operation
Targeted heating - no wastage of heat into unnecessary areas
Please note, the emitters of IRP4 emit a soft orange glow.
Infrared Heater | Electric | Industrial | Herschel IRP4 Technical Specifications (2.6 kW System):
Rated Voltage (V): 230
Heat up time is less than 5 minutes
Rated Current (A): 11.3
Fuse/Circuit Breaker Rating (A): 16
Protection:

 IP rating IP20

Stainless Steel body with protective grill.

Heated Zone: 12-21 m2
Element: 4 x White glazed ceramic longwave Infrared emitters (3-10 microns)

Compatible with 

Herschel iQ MD2 Wired Thermostat
High Precision Heating
With the IRP4, heat can be "focused" precisely where it's needed - none is wasted in areas where it's not wanted. This is possible due to the absence of heat convection, offering significant energy savings.
Heating Zone Capacity
The 2.6 kW system can efficiently heat a zone of 12-21m2, a figure based on a mounting height of 2.8m.
Infrared Heater | Electric
 

| Industrial | Herschel IRP4 Features:
High power ceramic elements
Zero light, far infrared industrial heater
Manufactured in Europe
Ceiling mount only
Perfect for heating workshops and other large spaces
Precautions and Considerations
In areas with air movement or wind, the directional Far Infrared spread may reduce by 1/3 to 1/2. In these situations, consider mounting at the lowest height and proportionally increasing the number of heaters. For specific installation guidance and heat intensity at different mounting heights, refer to the Herschel ADVANTAGE IRP4 Installation Manual (attached below).
The Herschel Advantage IRP4 reaches very high temperatures during operation and should not be touched when powered on or for at least 30 minutes after switch off. Ensure the supply voltage does not exceed 245 volts. Please note, the IRP4 is not approved for outdoor use.
Warranty and Support
The Herschel Advantage IRP4 comes with a five-year warranty against failure due to faulty materials or workmanship, while the ceramic elements are warranted for 12 months.
Embrace the Herschel Advantage IRP4 - a silent, efficient, and powerful solution to all your industrial and workshop heating needs. Its high-quality design and exceptional performance ensure an optimal work environment while significantly cutting down on energy wastage.
RCM | IEC 60335-1; 60335-2-30 Electrical & Construction Safety Tested | RoHS compliant
Infrared Heater | Electric
 

| Industrial | Herschel IRP4 Documentation Manuals
Peace of mind 30 day returns policy! Find out more here.
Price match guarantee*. Get more details here.
Review Rewards Program! Check it out here.
We provide customer service, via online chat, email, and phone 7 days a week, 7am to 10 pm. Contact us anytime!
Shipping FREE on a range of items!
For bulky items we have multiple items to reduce shipping costs:
Shipping to door, calculated at the product, cart, and checkout pages.

Collect from local depots we ship to, for reduced costs.

Collect for FREE from warehouse where products are shipped from.
You can find all our delivery/shipping details here.
If you have any questions contact us anytime.