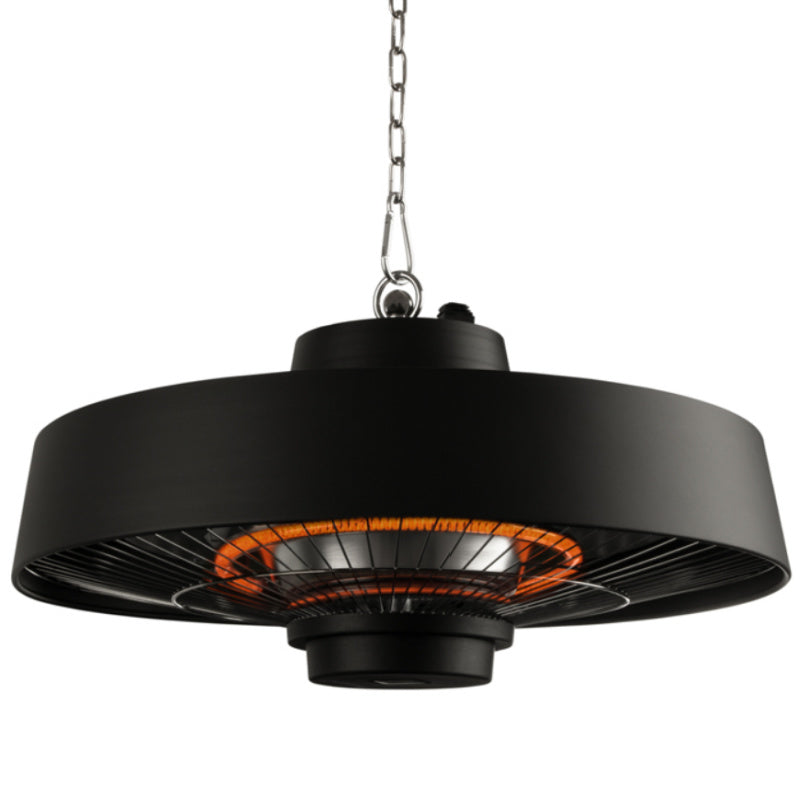 Infrared Heater | Outdoor | Electric | Herschel Hawaii
Description

Why buy From Us

Shipping
FREE DELIVERY AUSTRALIA WIDE
Herschel HAWAII: Power and Style for Your Outdoor or Indoor Heating Needs
Whether you're seeking comfort for your home's outdoor space or looking to provide warmth in a commercial setting, Herschel HAWAII has the answer with its high-performance, stylish hanging heater.
Experience the Herschel Difference
Engineered to deliver heat where it matters most, Herschel HAWAII stands out with its carbon fibre middlewave heating lamp, producing a delightful deep orange light and an exceptional level of heat.
It belongs to Herschel's Sunset range, known for their warm glow heaters. The unique blend of technology and style ensure the HAWAII is not just an appliance, but a centerpiece that adds warmth and ambiance to your setting.
Infrared Heater | Outdoor | Electric | Herschel Hawaii Specifications
Part Number: M-HAWAII-2000
Rated Power: 2000W
Voltage: 220-240V
Dimensions: Ø 50 x 25 cm
Current: 9A
Weight: 3.5kg
Heated Zone: Indoors 6-12m²; Outdoors 4-7m²
Remote Control: On off (100% power)
Can be controlled by an alternative control system (thermostat) rather than remote
Designed for Excellence
With a sleek, circular design, the ceiling-mounted HAWAII is purpose-built to deliver 360° focused heat coverage. Its lightweight aluminium construction is complemented by a modern black finish, enhancing the aesthetics of any location.
The heater is designed to be both efficient and user-friendly with remote on/off control capabilities for added convenience.
Versatility at its Core
Able to function perfectly in both domestic and commercial environments, the HAWAII is a versatile choice. From your cozy garden room or gazebo to public halls and restaurants, it can bring its comfortable, no-glare light and pleasant heat indoors as well. The supplied suspension chain kit allows it to be securely fixed to overhead shelters or ceilings, ensuring optimal heat distribution and safety.
Infrared Heater | Outdoor | Electric | Herschel Hawaii Technical Features
Voltage
230 V @ 50/60 Hz
Current
9 A
Fuse
13/16 A
Heating Coverage (100% Power)
6-12 m2 – Indoors
4-7 m2  – Outdoors
Power Output
2000 W
Remote Control
On/Off (100%)
Reflector
Mirror Aluminium
(98% efficiency - only 2% loss rearwards)
Heating Element
Carbon Heating Lamp
10,000 hour life
Materials
Aluminium (in a black finish)
Dimensions
50 x 50 x 25 cm
Warm up period
5-10 seconds
Wavelength
2 – 5 µm
Weight
5 kg
Cable length
2 m
Warranty
2 years (excludes lamp and remote)
Protection
IP44
Standards
IEC 60335-1; 60335-2-30 Electrical & Construction Safety Tested
Infrared Heater | Outdoor | Electric | Herschel Hawaii Installation and Safety
While it boasts splash proof capabilities, it's recommended that the HAWAII be installed away from direct rain for optimum durability. It's vital to ensure it's securely suspended from a solid overhead structure. Its comprehensive design enables it to be controlled directly via an alternative control system, bypassing the provided remote control if needed.
Enjoy the freedom of outdoor living with the Herschel HAWAII hanging heater, combining innovation, performance and design to provide exceptional warmth for your outdoor spaces.
This unit does not come with a plug, it must be installed by a qualified electrician!
Infrared Heater | Outdoor | Electric | Herschel Hawaii Documentation Manuals
Peace of mind 30 day returns policy! Find out more here.
Price match guarantee*. Get more details here.
Review Rewards Program! Check it out here.
We provide customer service, via online chat, email, and phone 7 days a week, 7am to 10 pm. Contact us anytime!
Shipping FREE on a range of items!
For bulky items we have multiple items to reduce shipping costs:
Shipping to door, calculated at the product, cart, and checkout pages.

Collect from local depots we ship to, for reduced costs.

Collect for FREE from warehouse where products are shipped from.
You can find all our delivery/shipping details here.
If you have any questions contact us anytime.