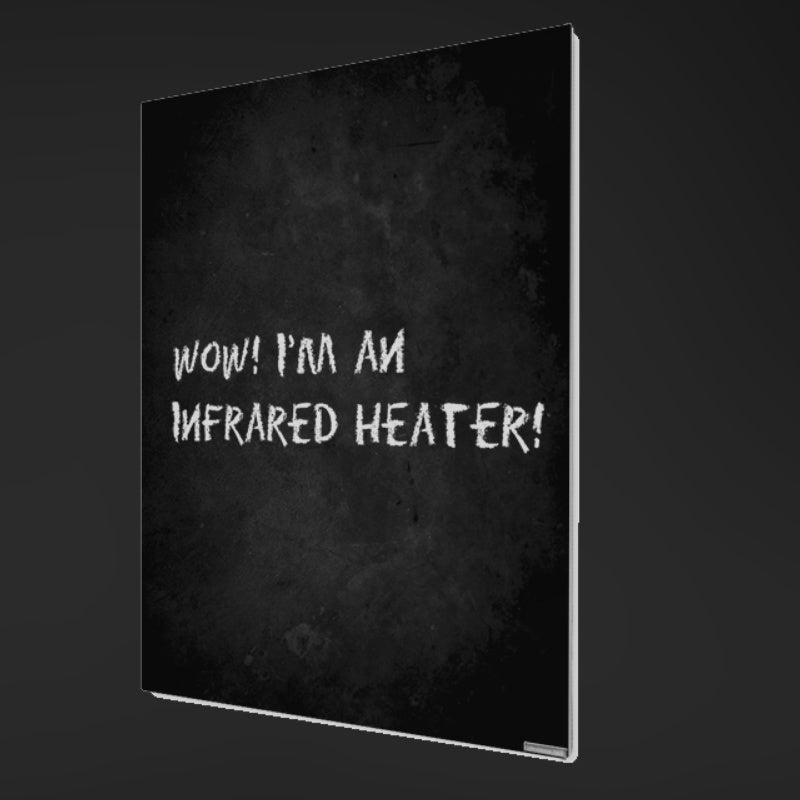 Infrared Heater | Electric | Herschel Inspire Blackboard
Description

Why buy From Us

Shipping
MADE TO ORDER IN GERMANY - ALLOW 6-8 weeks lead time
The Herschel Inspire Blackboard Heater Panels offer a contemporary, dual-purpose solution for maintaining warmth and organization in your space. Combining German craftsmanship with modern functionality, these stylish blackboard heaters enable you to jot down memos while enjoying gentle, comfortable heat.
Infrared Heater | Electric | Herschel Inspire Blackboard Key Features
Made to order in Germany, reflecting the highest standards of craftsmanship
Functions as a stylish blackboard heater for multipurpose utility
Constructed from the highest quality German components
Offers designer heating with gentle, comfortable warmth
Designed for wall mounting only, to maximize your floor space
Fully compatible with Herschel IQ controls for optimal energy efficiency and convenience
Detailed Description
Herschel Inspire Blackboard Heater Panels are expertly manufactured in Germany from reinforced safety glass (ESG). They feature a matte black finish that allows you to use the board as a chalkboard. This feature has found popularity in household kitchens as well as in the catering and retail trade.
Available in three different sizes and power outputs ranging from 750 to 1150 Watts, these blackboard heaters come with a protection rating of IP54. Backed by a 10-year guarantee, these heaters should be wall-mounted.
Inspire Blackboard Heaters serve as a modern and practical heating solution for both residential and commercial environments. They marry purpose with sophistication, comfort, and optimal safety and energy efficiency.
Please note, these panels require professional installation and do not contain any inbuilt receivers. They must be paired with Herschel IQ controllers. These panels are directly wired to either the MD2 hard-wired thermostat or the R1 receiver, offering full APP control when used with the MD2.
Infrared Heater | Electric | Herschel Inspire Blackboard Available Models
HB-750

Wattage: 750W
Dimensions: 70 x 90 cm
Heated Area: 11-18 m²



HB-900

Wattage: 900W
Dimensions: 80 x 100 cm
Heated Area: 13-22 m²



HB-1150

Wattage: 1150W
Dimensions: 80 x 120 cm
Heated Area: 17-29 m²
Quality and Safety
Inspire Blackboard Heater Panels comply with the highest safety and quality standards:
CE
TÜV GS Certification (by TÜV Rheinland, Germany)
EMC Certification (by TÜV Rheinland, Germany)
RoHS compliant
ErP Regulation (EU) 2015/1188 and Supplement (EU) 2016/2282 (Lot 20). Valid from 1 January 2018 when used with Herschel iQ
Additional Reasons to Choose Herschel Inspire Blackboard Heater Panels
Made to order in Germany
10-year warranty
Helps reduce heating costs
Energy-efficient design
Easy installation
Requires zero maintenance
Infrared Heater | Electric | Herschel Inspire Blackboard Technical Specifications
Field of Application: Direct Heating
Surface Material: ESG Safety Glass
Colour: Matte Black
Rear Panel: Sheet steel, powder coated, with mounting points
Frame: Frameless for a sleek, modern appearance
Surface Temperature: Ranges between 85 - 95°C, delivering a gentle heat
Cable: Comes with a 1.8m power cable
Voltage: Operates at 230V 50hz
Protection Class: Boasts an IP54 rating for dust and splash resistance
Installation: Designed to be wall-mounted for efficient space utilization
The heated areas provided are guidelines only and assume a medium to well-insulated space with an average floor to ceiling height of 2.40m. If your room has greater heights or if there are other building factors to consider, please  reach out for a more detailed assessment.
The Herschel Promise
With each Herschel Inspire Blackboard Heater Panel, you receive German precision and ingenuity, a 10-year warranty for peace of mind, the potential to reduce your heating costs, and the benefits of an energy-efficient heating solution. You also enjoy the convenience of easy installation and the assurance of zero maintenance requirements.
Join the Herschel family and experience warmth and comfort like never before. Your satisfaction is our top priority. For more details or any queries, feel free to get in touch. We'll be more than happy to assist you.
Make the Switch Today
Elevate your space with Herschel Inspire Blackboard Heater Panels – an innovative, stylish, and energy-efficient heating solution. Make the switch today and experience the blend of design, utility, and comfort that only Herschel can deliver.
Whether you want to keep your home warm during the winter months or you need a functional memo board for your business, our blackboard heater panels serve as the perfect solution. Place your order now and get ready to experience the Herschel difference.
Infrared Heater | Electric | Herschel Inspire Blackboard Document Manuals
Smartlife App download Links
Peace of mind 30 day returns policy! Find out more here.
Price match guarantee*. Get more details here.
Review Rewards Program! Check it out here.
We provide customer service, via online chat, email, and phone 7 days a week, 7am to 10 pm. Contact us anytime!
Shipping FREE on a range of items!
For bulky items we have multiple items to reduce shipping costs:
Shipping to door, calculated at the product, cart, and checkout pages.

Collect from local depots we ship to, for reduced costs.

Collect for FREE from warehouse where products are shipped from.
You can find all our delivery/shipping details here.
If you have any questions contact us anytime.