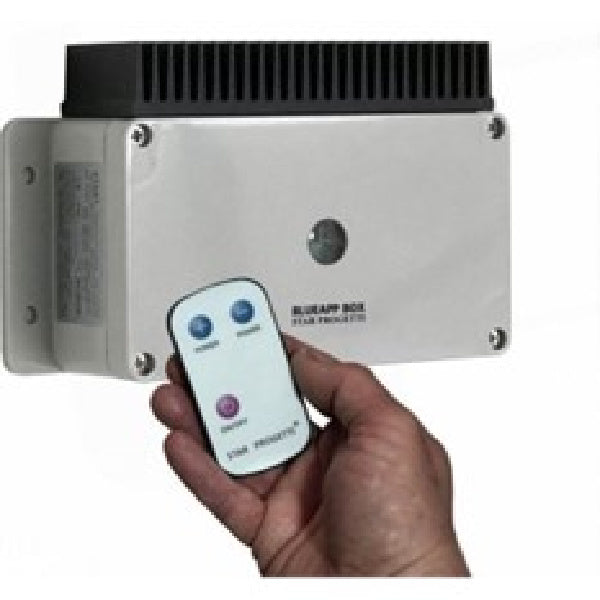 4kW Bluetooth Infrared Heater Controller | Star 7
Description

Why buy From Us

Shipping
Introducing the Star Progetti Star 7 Controller, a state-of-the-art Bluetooth heater controller designed to enhance your outdoor heating experience. With its user-friendly app and versatile compatibility, the Star 7 Controller allows you to effortlessly adjust the heat level of your infrared patio heaters, providing customizable warmth at your fingertips.
Advanced Bluetooth Control
The Star 7 Controller utilizes Bluetooth technology, enabling seamless control of your patio heaters from your iPhone or Android device. Simply download the free app and experience the convenience of adjusting heat levels with ease.
Compatible with Various Radiant Heaters
Designed to work with any radiant heater or a group of patio heaters, the Star 7 Controller supports a maximum overall load of 4.4kW, which can accommodate two 2000W heaters. This compatibility ensures that you can easily integrate the controller into your existing outdoor heating setup.
Effortless Heat Adjustment
With the intuitive app, you have the flexibility to set the heat level anywhere from 0% to 100%, allowing precise control over the warmth output. Additionally, a timer function is available, enabling you to schedule automatic shutdown, such as at the end of an evening.
Convenient Remote Control
The Star 7 Controller includes a separate remote control handset as an alternative to the app. This handheld remote provides a convenient backup control method, offering flexibility in how you adjust the heat levels. An LED on the front panel changes color as the heat level is adjusted, providing immediate visual feedback on your settings.
Weatherproof Design
Built to withstand outdoor conditions, the Star 7 Controller boasts an IP65 weatherproof rating, ensuring its reliability in commercial or residential outdoor heating applications. This level of durability allows you to enjoy the convenience and comfort of precise heat control, no matter the weather.
Compact and Discreet
Despite its advanced functionality, the Star 7 Controller maintains a remarkably compact and discreet design. Measuring just 195mm in width, 118mm in height, and 63mm in depth, it seamlessly integrates into your outdoor space without compromising aesthetics.
4kW Bluetooth Infrared Heater Controller | Star 7 Technical Specifications:
Electrical supply: 230Vac ±10% 50-60 Hz 1ph
Maximum rating: 4.4kW
Dimensions: 195 x 118 x 63mm (width x height x depth)
Cable access - incoming power: One 20mm diameter grommet
Cable access - power out to heaters: Two 16mm diameter grommets
Terminals: LNE screw terminal connectors x 3
Professional installation recommended for optimal performance and safety.
Experience the convenience and control of the Star Progetti Star 7 Controller, an innovative solution that brings personalized warmth to your outdoor space. With its app and remote control options, weatherproof design, and versatile compatibility, this Bluetooth heater controller takes your outdoor heating experience to new heights.
Peace of mind 30 day returns policy! Find out more here.
Price match guarantee*. Get more details here.
Review Rewards Program! Check it out here.
We provide customer service, via online chat, email, and phone 7 days a week, 7am to 10 pm. Contact us anytime!
Shipping FREE on a range of items!
For bulky items we have multiple items to reduce shipping costs:
Shipping to door, calculated at the product, cart, and checkout pages.

Collect from local depots we ship to, for reduced costs.

Collect for FREE from warehouse where products are shipped from.
You can find all our delivery/shipping details here.
If you have any questions contact us anytime.