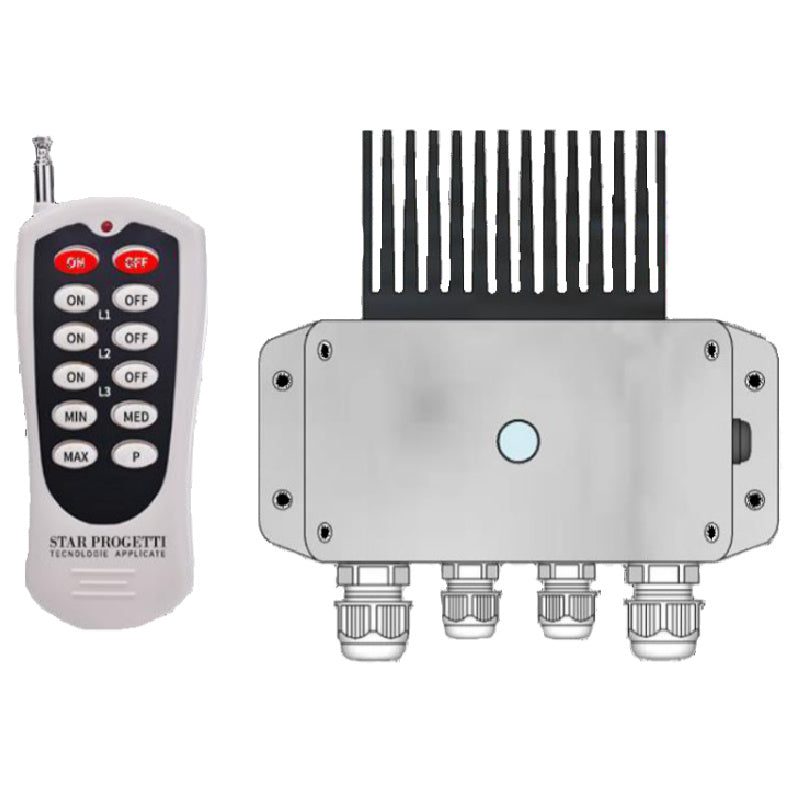 Star 6 | 6000 W Infrared Heater Controller
Description

Why buy From Us

Shipping
Effortless Control and Convenience: The Wall-Mounted Remote Control Box - Star 6
Control Multiple Infrared Heaters with Ease:
The wall-mounted remote control box is designed to effortlessly manage up to 3 x 2000W infrared heaters, providing you with convenient control over your outdoor heating setup.
With just one remote, you can adjust the heat setting of all heaters on the circuit, offering four options: 100%, 75%, 50%, and off.
Note that heat settings cannot be changed individually for heaters on the same circuit, ensuring synchronized heating adjustments.
Seamless Remote Communication:
The remote control box allows one remote to communicate with up to 3 controllers, simplifying the control process and offering greater flexibility in managing your outdoor heating system.
Durable and Weatherproof Design:
Built to withstand outdoor conditions, the controller is IP65 rated, providing reliable operation even in challenging environments.
With its robust construction, the control box can be safely installed outside, ensuring long-lasting performance.
Convenient Installation:
Mount the control box in a suitable and easily accessible position near the heaters, allowing for seamless control.
The control box is equipped with its own heat-sink, ensuring optimal temperature regulation for efficient operation.
Secure Electrical Connection:
To ensure proper functionality, the control box needs to be hardwired to an electrical circuit capable of handling 25 amps.
This ensures a secure and reliable power supply, enabling smooth operation of your infrared heaters.
Extended Remote Range:
The remote control offers a generous range of up to 20 meters, allowing you to adjust the heat settings from a distance.
Please note that a clear line of sight between the remote and the control box is required for optimal signal transmission.
Enhance Your Outdoor Experience:
With the wall-mounted remote control box, you can effortlessly manage and customize the heat output of your infrared heaters, creating a comfortable and inviting outdoor environment.
Enjoy the convenience of centralized control, ensuring that all heaters on the circuit operate at the desired settings simultaneously.
Note: Professional installation is recommended for proper wiring and optimal performance.
Upgrade your outdoor heating system with the wall-mounted remote control box. Take full control of your infrared heaters, enjoy the ease of managing heat settings from a distance, and create a cozy outdoor space tailored to your preferences.
Peace of mind 30 day returns policy! Find out more here.
Price match guarantee*. Get more details here.
Review Rewards Program! Check it out here.
We provide customer service, via online chat, email, and phone 7 days a week, 7am to 10 pm. Contact us anytime!
Shipping FREE on a range of items!
For bulky items we have multiple items to reduce shipping costs:
Shipping to door, calculated at the product, cart, and checkout pages.

Collect from local depots we ship to, for reduced costs.

Collect for FREE from warehouse where products are shipped from.
You can find all our delivery/shipping details here.
If you have any questions contact us anytime.