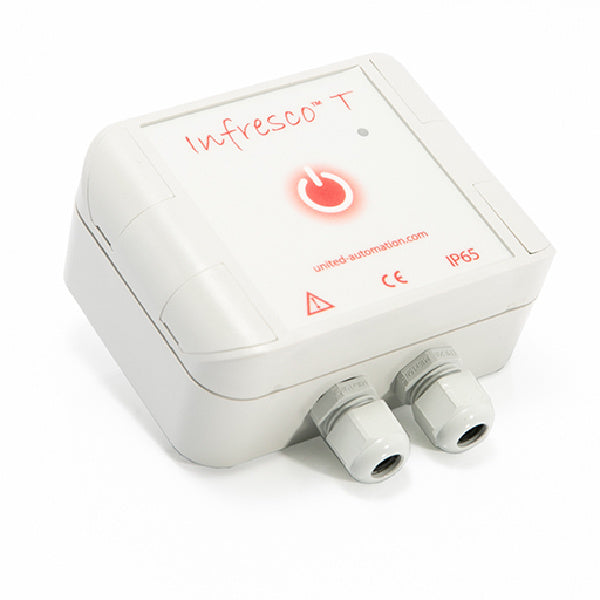 Infresco-T 4000 W Infrared Heater Controller
Description

Why buy From Us

Shipping
Enhance Your Outdoor Heating Experience with the Infresco T Controller
4kW Infrared Heater Controller | Infresco-T Key Features:
4-kW controller for efficient and powerful heat management
Timer function for predetermined heating periods, adjustable up to 60 minutes
'Soft start' function to minimize inrush current and extend lamp life by up to 30%
Efficient Heating Control:
The Infresco T controller offers precise control over your outdoor heater, allowing you to optimize the heat output according to your needs.
With a 4-kW capacity, this controller ensures efficient and powerful heating performance.
Convenient Timer Function:
Set the desired heating period with the timer function, which can be adjusted for up to 60 minutes.
Enjoy the flexibility of pre-determined heating cycles, making it easy to customize the warmth in your outdoor space.
Extended Lamp Life:
The 'soft start' function gradually increases current flow when the heater is switched on, minimizing inrush current.
By reducing high inrush current, this controller can increase the lamp life of your heater by up to 30%.
Experience enhanced longevity and cost savings, while maintaining optimal performance.
Effortless Installation and Compatibility:
The Infresco T controller is designed for easy installation, allowing you to quickly integrate it into your outdoor heating setup.
It is compatible with a wide range of heaters, providing versatility and flexibility in your choice of heating equipment.
Create a Cozy Outdoor Environment:
Take full control of your outdoor comfort by harnessing the power of the Infresco T controller.
With precise heating management and a convenient timer function, you can create the perfect ambiance for any outdoor occasion.
Enjoy Peace of Mind:
Rest assured knowing that the Infresco T controller is designed to provide reliable and efficient operation.
Benefit from the extended lamp life and reduced energy consumption, contributing to a more sustainable and eco-friendly outdoor heating solution.
Upgrade Your Outdoor Heating Setup:
Elevate your outdoor experience with the Infresco T controller, offering advanced control features and enhanced durability.
Maximize your comfort, extend the lifespan of your heater, and create a warm and inviting atmosphere in your outdoor space.
Note: Professional installation is recommended to ensure optimal performance and safety.
Transform your outdoor space into a haven of warmth and relaxation with the Infresco T controller. Experience the convenience of customizable heating periods, efficient control, and extended lamp life, making every outdoor moment more enjoyable.
Peace of mind 30 day returns policy! Find out more here.
Price match guarantee*. Get more details here.
Review Rewards Program! Check it out here.
We provide customer service, via online chat, email, and phone 7 days a week, 7am to 10 pm. Contact us anytime!
Shipping FREE on a range of items!
For bulky items we have multiple items to reduce shipping costs:
Shipping to door, calculated at the product, cart, and checkout pages.

Collect from local depots we ship to, for reduced costs.

Collect for FREE from warehouse where products are shipped from.
You can find all our delivery/shipping details here.
If you have any questions contact us anytime.