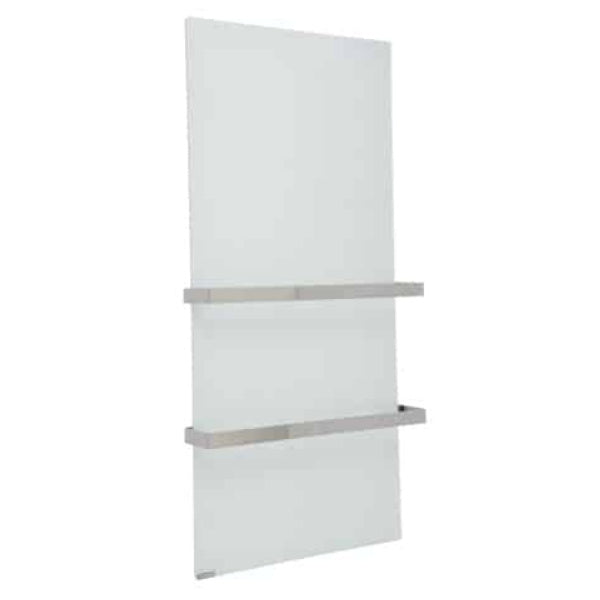 Infrared Heater | Electric | Herschel XLS Towel Rack
Description

Why buy From Us

Shipping
Experience the Ultimate Bathroom Heating Solution: Herschel Select XLS Glass Towel Heater
Infrared Heater | Electric | Herschel XLS Towel Rack Key Features:
Dual-element heat technology for efficient bathroom heating and towel warming
Integrated SMART-R technology for smart control and convenience
Stunning pure white glass finish with chrome rails for a stylish look
Designed for wall-mounted installation
Compatible with Herschel XLS controls for easy operation
Upgrade your bathroom heating with the Herschel Select XLS Glass Towel Heater, the perfect choice for those seeking a designer finish and optimal functionality.
This state-of-the-art heater combines innovative dual-element technology, ensuring efficient infrared heating for your bathroom while providing low-energy towel warming capabilities.
Let's dive into the features and benefits of this exceptional heating solution.
Smart Control with Integrated SMART-R Technology
Enjoy the convenience of integrated SMART-R technology, allowing you to control and adjust your heating settings with ease.
Choose from a variety of control options, including a separate thermostat (sold separately), a user-friendly App, or voice control using Alexa or Google Assistant.
Experience personalized comfort and energy savings, tailoring your heating to your specific needs and preferences.
Stylish Design for Enhanced Bathroom Aesthetics
The Select XLS Glass Towel Heater boasts a stunning pure white (or black) glass finish, adding a touch of elegance to your bathroom decor.
Featuring two chrome towel rails, this heater combines functionality with style, providing a convenient solution for warming your towels.
It is designed to seamlessly blend into any home or commercial bathroom application, making it an ideal choice for hotels and hospitality establishments.
Efficient Heating and Damp Reduction
The Select XLS Glass Towel Heater efficiently heats your bathroom using advanced infrared technology, promoting a comfortable and moisture-free environment.
Experience reduced dampness and condensation in your bathroom, ensuring a more enjoyable and hygienic space.
The lower energy towel zone offers effective drying and warming of towels, adding a luxurious touch to your daily routine.
High-Quality Construction and Safety Standards
The surface of the heater consists of ESG 6mm Safety Glass, ensuring durability and safety.
The frameless design, along with the aluminium rear panel featuring the Herschel Easy-Fix mounting system, provides a sleek and secure installation.
The Select XLS Glass Towel Heater meets RCM standards and holds TÜV GS Certification and EMC Certification, guaranteeing high-quality performance and safety.
It is RoHS compliant and adheres to ErP Regulation (EU) 2015/1188 and Supplement (EU) 2016/2282 (Lot 20) for energy efficiency when used with Herschel XLS Controls.
Infrared Heater | Electric | Herschel XLS Towel Rack Technical Specifications:
Surface: ESG 6mm Safety Glass
Colour: Pure White
Rear Panel: Aluminium with Herschel Easy-Fix mounting system
Frame: Frameless
Voltage: 220-240V, 50/60Hz
Protection Class: IP44
Cable Length: 1.8m power cable
Installation: Wall mounted
Warranty: 5 years
Choose Your Select XLS Glass Towel Heater Model:
XLS500-TW:

Dimensions: 48 x 120 x 13 cm
Weight: 21 kg
Rated Power: 500 W
Heated Area: 4-9 m²



XLS700-TW:

Dimensions: 60 x 130 x 13 cm
Weight: 22 kg
Rated Power: 700 W
Heated Area: 6-12 m²
Transform your bathroom into a luxurious retreat with the Herschel Select XLS Glass Towel Heater. Enjoy the perfect blend of style, comfort, and efficiency, and indulge in the warmth and convenience it offers. Upgrade your bathroom heating with Herschel's innovative Select XLS Glass Towel Heater today.

Infrared Heater | Electric | Herschel XLS Towel Rack Documentation Manual
Smartlife App download Links
Peace of mind 30 day returns policy! Find out more here.
Price match guarantee*. Get more details here.
Review Rewards Program! Check it out here.
We provide customer service, via online chat, email, and phone 7 days a week, 7am to 10 pm. Contact us anytime!
Shipping FREE on a range of items!
For bulky items we have multiple items to reduce shipping costs:
Shipping to door, calculated at the product, cart, and checkout pages.

Collect from local depots we ship to, for reduced costs.

Collect for FREE from warehouse where products are shipped from.
You can find all our delivery/shipping details here.
If you have any questions contact us anytime.