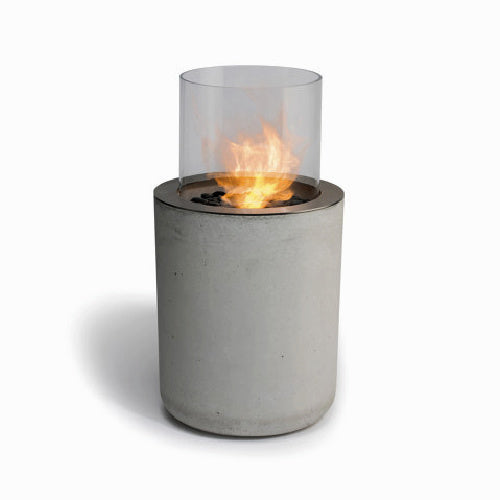 Fireplace | Planika Jar Bioethanol | Commerce
Description

Why buy From Us

Shipping
Fireplace | Planika Jar Bioethanol | Commerce Overview
Experience the blend of design and functionality with the Jar Commerce Fireplace. Its exclusive design, portability, eco-friendly operation, and safety features make it a unique addition to your living space.
An Exclusive Design by Christophe Pillet
The Jar Commerce Fireplace, a design marvel created exclusively for Planika by acclaimed architect Christophe Pillet, effortlessly melds the cool chill of a concrete base with the heartwarming dance of flames.
Versatile and Portable
This unit is a perfect fit for outdoor and indoor use, is portable and easy to install. Designed to withstand severe weather conditions, its robust concrete base and sturdy glass cylinder assure longevity. Whether enhancing a trendy loft or a cosy living room, Jar Commerce Fireplace seamlessly integrates with any décor.
Eco-Friendly Fuel Source
Committed to environmental sustainability, this modern concrete fireplace runs on green fuel derived from crops like cane sugar and maize. The resulting heat is pure, free from smoke, ash, harmful pollutants, or unpleasant smells. Note: Bioethanol fuel is not included.
Commerce Technology for Safety
Developed with Commerce Technology, the Jar Commerce Fireplace is great for residential and commercial projects alike. It's an ideal solution for hotel and restaurant areas. In case of accidental tipping, the ceramic fibers in the burner prevent fuel leakage, ensuring a secure, worry-free experience.
Fireplace | Planika Jar Bioethanol | Commerce Specifications and Dimensions
Fuel Type Bio-Ethanol
Heat Output 2.5 kW
Burn Time 6-8 hours
Diameter 410 mm
Height to burner 510 mm
Glass Height 262 mm
Total Height 772 mm
Weight 41 kg
Casing Finish Concrete
Glass Tube
Burner Finish Stainless Steel
Application Outdoor
Indoor
Features No Ash
No Smoke
No Smell
Portable Yes
Eco Friendly Yes
Fireplace | Planika Jar Bioethanol | Commerce Video
Fireplace | Planika Jar Bioethanol | Commerce Technical Specification Download
Fireplace | Planika Jar Bioethanol | Commerce Technical Sheet Download
Peace of mind 30 day returns policy! Find out more here.
Price match guarantee*. Get more details here.
Review Rewards Program! Check it out here.
We provide customer service, via online chat, email, and phone 7 days a week, 7am to 10 pm. Contact us anytime!
Shipping FREE on a range of items!
For bulky items we have multiple items to reduce shipping costs:
Shipping to door, calculated at the product, cart, and checkout pages.

Collect from local depots we ship to, for reduced costs.

Collect for FREE from warehouse where products are shipped from.
You can find all our delivery/shipping details here.
If you have any questions contact us anytime.