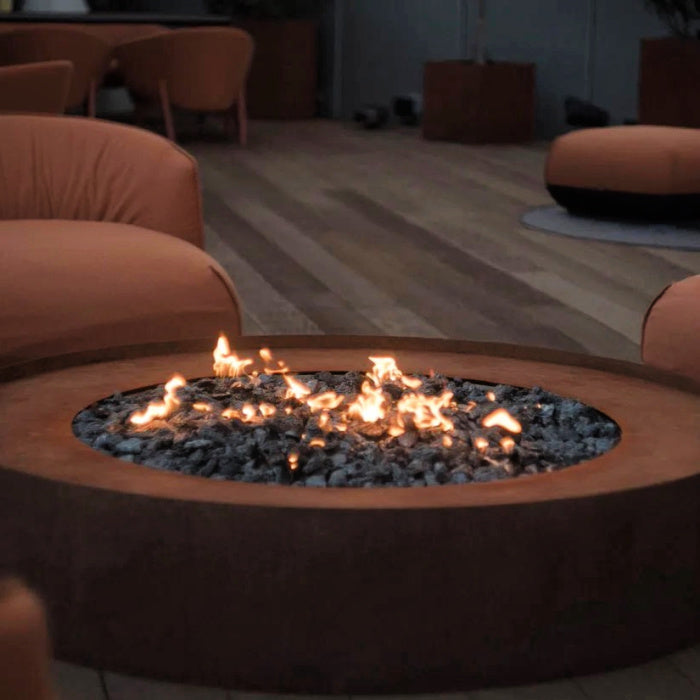 Fireplace | Planika Galio Star Insert
Description

Why buy From Us

Shipping
Fireplace | Planika Galio Star Insert Overview
Experience the breathtaking beauty of Galio Star Insert, the ultimate outdoor fireplace that will enhance your outdoor area like never before. Its star-shaped gas burner creates a stunning display of natural flames, adding a touch of enchantment to your garden.
Unleash Your Creativity with the Galio Star Insert
The Galio Star is designed for the imaginative minds seeking to create a unique outdoor ambiance. This versatile fireplace can be effortlessly installed in a piece of furniture or on a pedestal, allowing you to customise your design according to your vision. Choose the perfect material to complement your project and create a truly personalised outdoor retreat.
Captivating Star-Shaped Burner
Galio Star features a one-of-a-kind star-shaped burner that produces an eye-catching multidimensional flame. Be prepared to be mesmerized by the radiant and captivating display that will instantly become the focal point of your outdoor space.
Versatile Gas Technology
Galio Star has two different gas options: LPG or Natural Gas. This versatility allows you to create custom outdoor fire designs, ensuring that your fireplace perfectly complements your outdoor aesthetic and preferences
Fireplace | Planika Galio Star Insert Design Features
Crafted with meticulous attention to detail, Galio Star is built to the highest quality standards. Constructed from durable stainless steel and premium materials, it guarantees exceptional durability and resilience against even the harshest weather conditions. Transform your fireplace into a true work of art and create a captivating centrepiece for your garden.
Discover the endless possibilities of the Galio Star Insert and turn your outdoor space into a stylish haven. Whether installed in a piece of furniture or on a pedestal, this exceptional fireplace offers an opportunity to showcase your creativity while providing warmth and beauty. Explore the Galio Star today and make your outdoor area shine like never before!
Fireplace | Planika Galio Star Insert Specifications
Fuel Type Natural Gas
LPG
Heat Output 16.4 kW (NG)
17.3 kW (LPG)
Gas Consumption 17 MJ/h (NG)
17.6 MJ/h (LPG)
Max Gas Hose Length 4 metres
(Valve to Regulator)
Gas pressure (NG) 20 mbar
(LPG) 37 mbar
Diameter 610 mm
670 mm (clips)
Height 260 mm
Weight 17 kg
Adjustable Flame Height Yes
Thermocouple Yes
Decorative Stones Black Diamond Stones
Custom Sizes Yes
Materials Steel
Optional Extras WiFi Module
Fireplace | Planika Galio Star Insert Bespoke | Custom sizes
The fire pit is available in custom sizes. You can choose the length, width, and height of the fire pit to perfectly suit and fit into any outdoor setting. This provides versatility to anyone designing or renovating their outdoor space.
Please note bespoke sizes CAN NOT be smaller than the standard sizes but can be any size larger.
Bespoke (Custom) sized Fire Pits typically have an 12-16 week turn around due to being custom made in Europe and shipped to Australia.
For those looking for expedited delivery, we also offer Air Freight options before shipping to Australia, with delivery within 45 days. With our personalized approach and attention to detail, your outdoor oasis will soon become a reality.
Fill in the form on the link below and we will contact you with a price and time frame. Feel free to call us anytime for any custom sizes also.
Follow this link and fill out the form for a quote on a custom order
Peace of mind 30 day returns policy! Find out more here.
Price match guarantee*. Get more details here.
Review Rewards Program! Check it out here.
We provide customer service, via online chat, email, and phone 7 days a week, 7am to 10 pm. Contact us anytime!
Shipping FREE on a range of items!
For bulky items we have multiple items to reduce shipping costs:
Shipping to door, calculated at the product, cart, and checkout pages.

Collect from local depots we ship to, for reduced costs.

Collect for FREE from warehouse where products are shipped from.
You can find all our delivery/shipping details here.
If you have any questions contact us anytime.