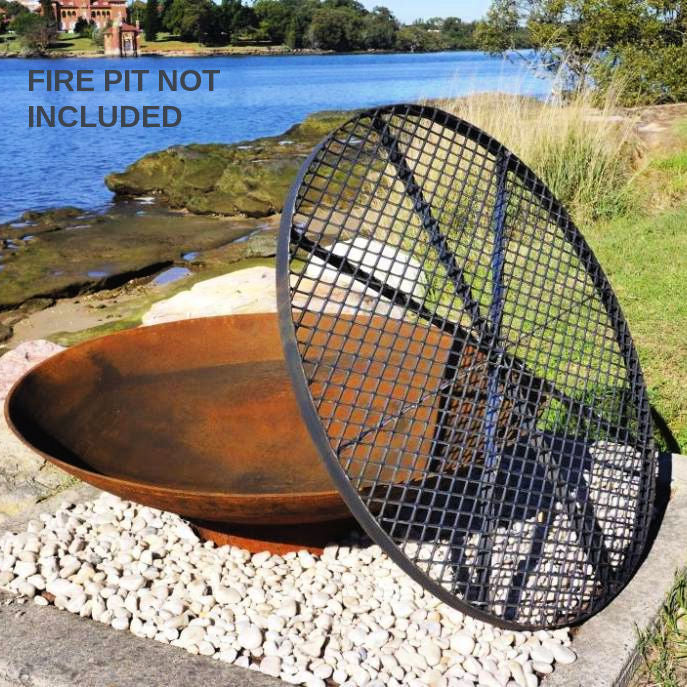 Fire Pit BBQ Grill | Metal and Stainless Steel
Description

Why buy From Us

Shipping
BBQ Grill Fits most 800 mm (80 cm), 1000 mm (100 cm), 1200mm (120 cm), and 1500 mm (150 cm)  Fire Pits
This is a fire pit accessory - BBQ grill that fits the sizes listed above.
FIRE PIT IS NOT INCLUDED.
BBQ Fire Pit Grill Features:
BBQ full size metal Grills come in 2 sizes - 

700 mm and 900 mm (for the 800 mm and 1000 mm sizes respectively).

BBQ full size Grills in Stainless Steel come in 3 sizes - 700 mm, 900 mm, and 1100 mm (for the 800 mm, 1000 mm, and 1200 mm sizes respectively).

BBQ half size Grills in Stainless Steel 

come in 3 sizes 

900 mm, 1100 mm, and 1400 mm (for the 1000 mm, 1200 mm, and 1500 mm sizes respectively).
Get ready to sizzle and sear like a pro with our metal and stainless steel BBQ fire pit grill! Whether you're a master of the grill or a newbie, this bad boy will have you cooking up a storm in no time.
First off, let's talk about the construction. Our grill is made of a durable metal or sleek stainless steel, so you can rest easy knowing that it can withstand the heat and elements. Both options have a design that will complement any backyard aesthetic.
Now, let's get to the grilling options. You can get a full grill that will cover the whole pit in both metal and stainless steel or half grills in stainless steel. this means you'll get that perfect char on your meats and veggies, leaving your taste buds in absolute bliss.
And let's not forget about the convenience factor. Our stainless steel grills are easy to clean and maintain, so you won't have to spend hours scrubbing and scraping off burnt-on food. Plus, it's compact and lightweight, so you can easily move it around your backyard and store it away when not in use.
Overall, our metal and stainless steel BBQ fire pit grills are the perfect addition to any outdoor cooking setup. It's versatile, durable, and easy to use, making it a must-have for any backyard grilling enthusiast. So fire up those flames, grab your tongs, and get ready to cook up a storm!
Delivery Prices
Please note that some accessories are quite bulky (as large the the fire pits) and can be quite expensive to ship, if they are bought and delivered individually. However, they are ususally bundled with the fire pit and combined shipping means accessories are delivered for less than

 

$5, and usually

 

FREE.
Peace of mind 30 day returns policy! Find out more here.
Price match guarantee*. Get more details here.
Review Rewards Program! Check it out here.
We provide customer service, via online chat, email, and phone 7 days a week, 7am to 10 pm. Contact us anytime!
Shipping FREE on a range of items!
For bulky items we have multiple items to reduce shipping costs:
Shipping to door, calculated at the product, cart, and checkout pages.

Collect from local depots we ship to, for reduced costs.

Collect for FREE from warehouse where products are shipped from.
You can find all our delivery/shipping details here.
If you have any questions contact us anytime.