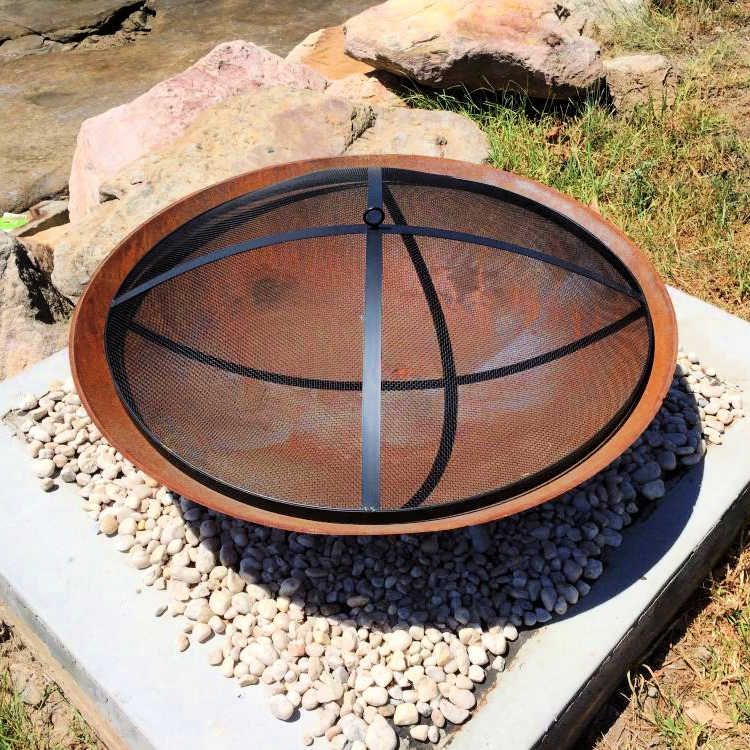 Outdoor Fire Pit Bundle | Cauldron Hearth with Lid and Ember Screen
Description

Why buy From Us

Shipping
The Cauldron Hearth with Metal Lid and Ember Screen bundle in cast iron

This bundle provides savings on the Lid, ember Screen and fire pit pirce as well as significantly reducing shipping cost!
Outdoor Cauldron Hearth Fire Pit bundle Features
Choose from one of three size packages (measurements are diameters):
800 mm (80 cm) fire pit with 700 mm (70 cm) ember screen and 850 mm (85 cm) lid.


1000 mm (100 cm) fire pit with 900 mm (90 cm) ember screen and 1050 mm (105 cm) lid.


1200 mm (120 cm) fire pit with 1100 mm (110 cm) ember screen and 1250 mm (125 cm) lid.
Welcome to our amazing Cauldron Hearth Fire Pit with metal lid and ember screen - the perfect addition to your outdoor space! The weathered rustic look of the cast iron Cauldron Hearth will create the perfect atmosphere for friends and family during gatherings all year round. This bundle comes with a metal lid and ember screen. 
Features: Cast Iron Cauldron Hearth Fire Pit
Made from

 

8 - 10mm thick Cast Iron, which is completely maintenance free

150 mm height (not including he base)
Base height of 150 mm
Weight including base is

 

45 kg for the 800 mm,

 

55 kg for the 1000 mm

 

and

 

65 kg for the 1200 mm.
12 mm drain hole in the bottom 

(if requested)
The lid and ember screen can provide extra safety to your outdoor gatherings, with the ember screen stopping loose embers from flying away and the lid will help smother the fire at the end of the night, or if that favourite uncle lets it get a bit too out of hand. In addition, the lid can transform you fire pit into an outdoor table and also help protect it from moisture when not in use.
What's more, our Fire Pit Cauldron Hearth comes equipped with a 12mm drain hole (if requested) in the center. This smart feature allows water to easily run off, so you don't have to worry about rain or moisture collecting inside the pit. You can rest easy knowing that your fire pit is built to withstand the elements and keep looking great for years to come.
But this fire pit isn't just practical - it's also beautiful. The cast iron construction gives it a rustic and authentic look that will be the envy of all your friends and neighbours. You'll love gathering around the fire with loved ones, roasting marshmallows, and enjoying the cosy warmth of the flames.
Whether you're an avid outdoor enthusiast or just looking for a way to add some warmth and ambiance to your backyard, the Fire Pit Cauldron Hearth bundle is the perfect choice. So why wait? Order yours today and start enjoying the benefits of this incredible fire pit!
Optional Extras
This bundle comes with the fire pit, lid, and ember screen but other optional extras can be purchased to fit this fire pit.
Simply click on the add on pictures above to view full descriptions.
Fire Pokers/Stokers
Metal and Stainless steel

 

fire poker.
BBQ Fire Pit grills
700 mm and 800 mm metal BBQ grill

 

(for the 800 mm and 1000 mm sizes respectively).

700 mm, 800 mm, 1100 mm Stainless Steel BBQ grill

 

(for the 800 mm, 1000 mm, and 1200 mm sizes respectively).
900 mm and 1100 mm Stainless Steel half BBQ grill

 

(for the 1000 mm and 1200 mm sizes respectively).
700 mm, 800 mm, 1100 mm metal Ember Screens (for the 800 mm, 1000 mm, and 1200 mm sizes respectively).
Peace of mind 30 day returns policy! Find out more here.
Price match guarantee*. Get more details here.
Review Rewards Program! Check it out here.
We provide customer service, via online chat, email, and phone 7 days a week, 7am to 10 pm. Contact us anytime!
Shipping FREE on a range of items!
For bulky items we have multiple items to reduce shipping costs:
Shipping to door, calculated at the product, cart, and checkout pages.

Collect from local depots we ship to, for reduced costs.

Collect for FREE from warehouse where products are shipped from.
You can find all our delivery/shipping details here.
If you have any questions contact us anytime.