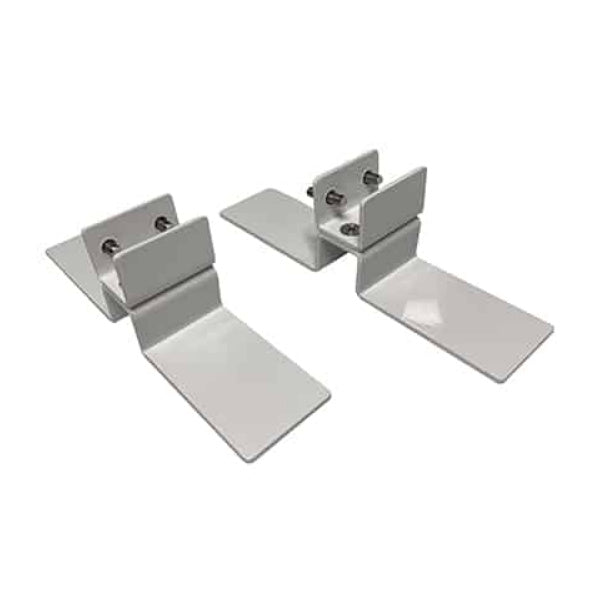 Infrared Heater Feet | Herschel Select XLS
Description

Why buy From Us

Shipping
Transform Your Select XLS White Panels with Premium Standalone Feet
Maximize your heating flexibility with this pair of premium design feet for your Select XLS White panels. These durable and stylish feet will convert your panels into versatile, free-standing heaters, enabling you to position them exactly where you need the most warmth.
Infrared Heater Feet | Herschel Select XLS Detailed Description
Specifically designed for the Select XLS White models:
300W,
400W,
600W,
800W,
These feet attachments ensure your heaters offer optimal performance and adaptability.
However, please note that they are not compatible with the Select XLS 1100W White panel heater.

For the 800W model, ensure the heater is positioned in a landscape orientation when using the feet. This will ensure stability and optimal operation of your heater.
Expand Your Heating Options
With this pair of premium feet, your Select XLS White panel heaters transform into standalone units, offering you greater flexibility in heating. You can easily reposition your heater to focus on specific areas or adjust them according to changing room layouts or usage.
Experience the freedom to move your heat source exactly where you want it, enhancing your comfort and optimizing the effectiveness of your infrared heater.
Embrace the adaptability of your Select XLS White panel heaters with this pair of premium feet. Easy to attach and robustly designed, they provide a practical solution to meet your changing heating needs.
Infrared Heater Feet | Herschel Select XLS Instructions
Peace of mind 30 day returns policy! Find out more here.
Price match guarantee*. Get more details here.
Review Rewards Program! Check it out here.
We provide customer service, via online chat, email, and phone 7 days a week, 7am to 10 pm. Contact us anytime!
Shipping FREE on a range of items!
For bulky items we have multiple items to reduce shipping costs:
Shipping to door, calculated at the product, cart, and checkout pages.

Collect from local depots we ship to, for reduced costs.

Collect for FREE from warehouse where products are shipped from.
You can find all our delivery/shipping details here.
If you have any questions contact us anytime.