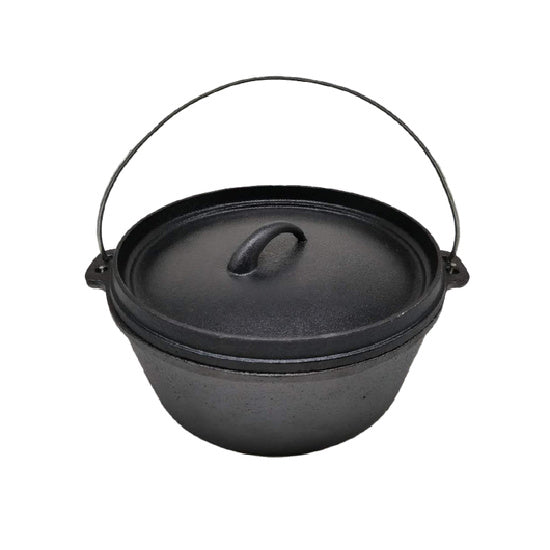 Cast Iron Cookware Combo | Flaming Coals
Description

Why buy From Us

Shipping
Cast Iron Cookware Combo | Flaming Coals
Elevate your outdoor cooking experience with the premium 6pc Cast Iron Cookware Combo Set. Perfectly seasoned and built to last, this set is a must-have for passionate campers who enjoy cooking in the beautiful Australian outdoors.
Featuring three fry pans, a 4.5qt or 9qt camp oven pot, and a heavy-duty burger press, this set equips you with all the essential cooking accessories. Whether you're at home or exploring the bush, these versatile cast iron pieces will take your culinary skills to new heights.
Unlock a world of possibilities as you prepare stews, roasts, burgers, pizzas, cakes, bacon, eggs, and more. With the durability and heat retention of cast iron, there are no limits to what you can create with this complete cooking kit.
Invest in this high-quality cast iron cookware set and embark on unforgettable cooking adventures wherever you go. Experience the unmatched performance and versatility that only cast iron can offer.
Cast Iron Cookware Combo |

 Specifications
Grill press Specifications:
Length: 23cm 

Width: 13.2cm at the widest point and 10cm at the narrowest point

Weight: 1.28kgs
Cast Iron Pan Set Specifications:
Large diameter - 24.9cm

Medium diameter - 19.5cm

Small diameter - 16cm

Large weight - 1.994kg

Medium weight - 1.144kg

Small weight - .679kg
Choice of one of the Cast iron pots listed below:
Camping pot volume 4.5qt 10" (4.2Ltr)
Internal diameter top - 239mm

Internal diameter bottom - 207mm

Height without lid - 100mm

Height with lid - 120m excl. lid handle

Total weight - 5.462kg
Cast Iron Oven 9QT 12" (8.57ltr) 
Internal diameter top - 292mm

Internal diameter bottom - 247mm

Height without lid - 133mm

Height with lid - 155mm excl. lid handle

Total weight - 8.79kg
Peace of mind 30 day returns policy! Find out more here.
Price match guarantee*. Get more details here.
Review Rewards Program! Check it out here.
We provide customer service, via online chat, email, and phone 7 days a week, 7am to 10 pm. Contact us anytime!
Shipping FREE on a range of items!
For bulky items we have multiple items to reduce shipping costs:
Shipping to door, calculated at the product, cart, and checkout pages.

Collect from local depots we ship to, for reduced costs.

Collect for FREE from warehouse where products are shipped from.
You can find all our delivery/shipping details here.
If you have any questions contact us anytime.