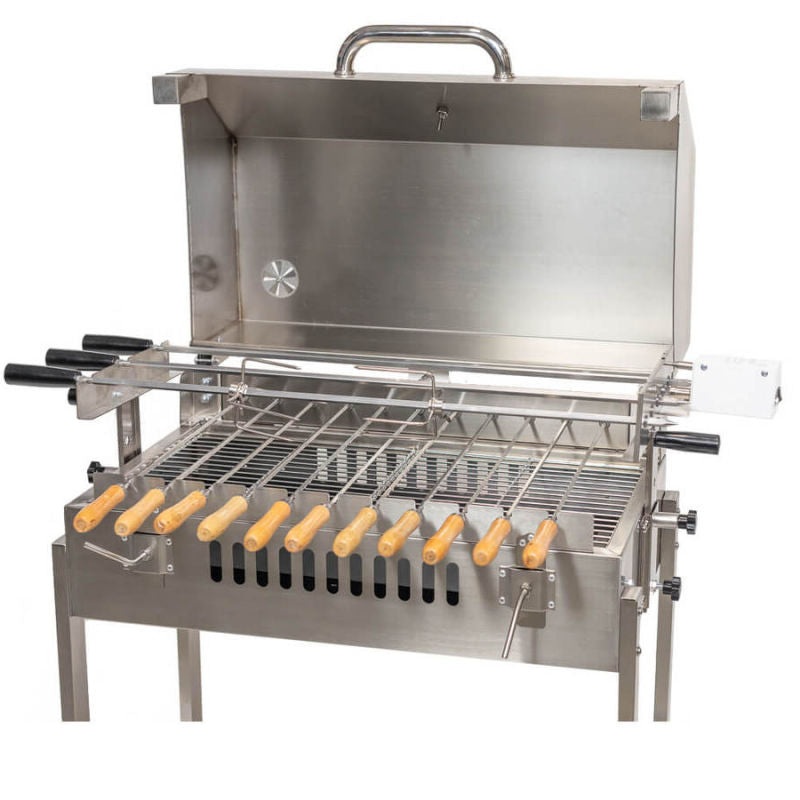 BBQ Spit Roaster | Hooded Cyprus
Description

Why buy From Us

Shipping
Introducing the Hooded Cyprus Spit | Stainless Steel, Model: SP009. This remarkable spit combines the features of the Straight 3 skewer in-line Cyprus Spit with the added advantage of a hooded lid, transforming your spit into a versatile oven. With the hood open, it acts as a windbreak, while closing the lid intensifies the smoky flavor of your meats.
BBQ Spit Roaster | Hooded Cyprus Key Features:
Versatile Cooking:
The Hooded Cyprus Spit allows you to load all three main skewers with meat, ensuring they are ready simultaneously. Alternatively, you can cook a single roast on one skewer, providing a restaurant-quality meal for yourself. The option to use one, two, or all three skewers gives you flexibility based on your needs.
Straight 3 Skewer Mechanism:
This spit employs the time-tested principle of the traditional 3 skewer clover design Cyprus Grills, cooking all three skewers at an even temperature throughout the process. This ensures that the meats on each skewer should be ready at the same time. The straight 3 skewer layout is particularly ideal for cooking Picanha, kokoretsi (kokoreç), or gyros on the outer skewers.
Durable Stainless Steel Construction:
Crafted from high-quality stainless steel, the Hooded Cyprus Spit guarantees long-lasting use and durability.
Height Adjustable Mechanism:
The height adjustment feature allows you to customize the cooking temperature, giving you precise control over your culinary creations.
Variable Speed Motors:
Equipped with two 15 kg variable speed motors, you can adjust the speed to suit your cooking preferences and achieve the desired results.
Multiple Skewers and Grills:
The spit includes:
three stainless steel 8mm thick long skewers for the main meal

eleven stainless steel 5mm thick kebab skewers for appetizers.

Additionally, it features two stainless steel grills, allowing you to use it as a standard charcoal BBQ.
Easy Maneuverability:
The spit is designed with four lockable wheels, ensuring effortless movement and stability as you transport it to your desired location.
Additional Features:
It includes a charcoal pan for added protection and easy cleaning, as well as a convenient storage shelf.
BBQ Spit Roaster | Hooded Cyprus Dimensions:
Lid Closed: 98cm L x 72cm W x 110cm H
Lid Open: 98cm L x 75cm W x 139cm H
Grilling Height: 80cm
Cooking Area: 36cm x 66cm
Experience the versatility and convenience of the Hooded Cyprus Spit | Stainless Steel, Model: SP009. Whether you're hosting a gathering or preparing a delicious meal for yourself, this spit offers superior functionality, durability, and precise cooking control. Elevate your outdoor cooking experience and enjoy succulent, smoky flavors with this exceptional hooded spit.
Peace of mind 30 day returns policy! Find out more here.
Price match guarantee*. Get more details here.
Review Rewards Program! Check it out here.
We provide customer service, via online chat, email, and phone 7 days a week, 7am to 10 pm. Contact us anytime!
Shipping FREE on a range of items!
For bulky items we have multiple items to reduce shipping costs:
Shipping to door, calculated at the product, cart, and checkout pages.

Collect from local depots we ship to, for reduced costs.

Collect for FREE from warehouse where products are shipped from.
You can find all our delivery/shipping details here.
If you have any questions contact us anytime.