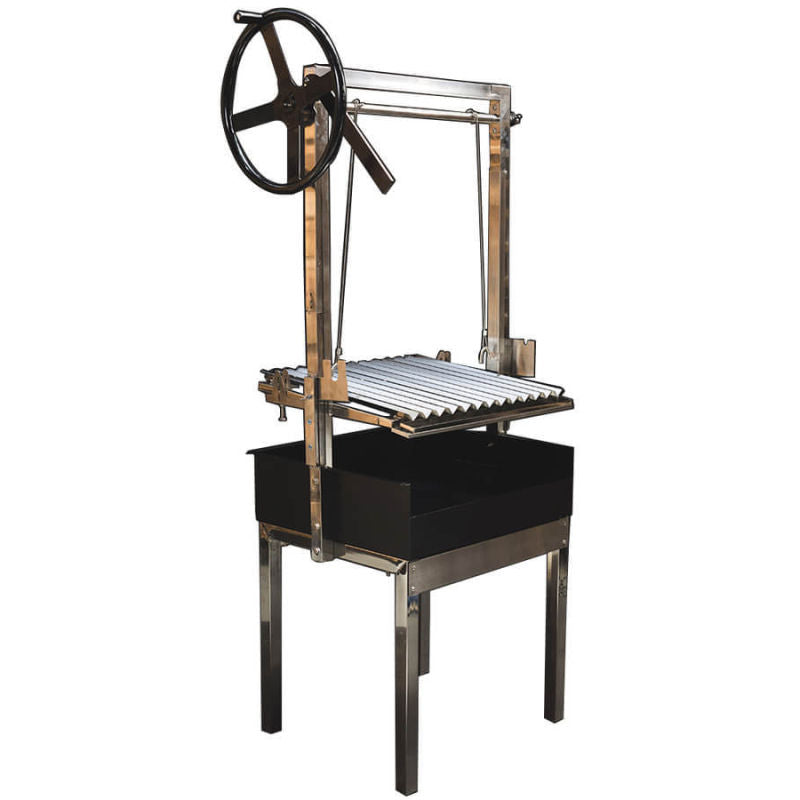 Parrilla Charcoal BBQ Grill | Argentine | Optional Spit
Description

Why buy From Us

Shipping
Out of Stock until January 2024
Parrilla BBQ Grill | Argentine | Optional Spit Overview
Introducing the Argentine Parrilla Asado Grill with Spit Kit Option, a versatile and high-quality grill designed to bring the flavors of traditional Argentine asado to your backyard. This grill combines simplicity, functionality, and durability, ensuring an exceptional grilling experience every time.
Construction
The grill is constructed using mild steel with a high-temperature coating, while the grill itself is made of food-grade stainless steel. This combination ensures longevity and optimal grilling performance.
Generous Height Adjustment
The deep firebox allows for loading with hot coals or timber, and the large wheel on the side provides generous height adjustment options. You can easily move your meat up high if needed, allowing for precise temperature control and desired cooking results.
Efficient Fat Management
The stainless steel V-channel grill slopes forward, directing the fat into removable catch trays at the front. This minimizes fat fires and simplifies the cleaning process.
Heavy-Duty Stainless Steel Construction:
The Argentinian Parrilla Grill insert is crafted with robust stainless steel components, ensuring durability and longevity. The grill features a stylish black large height-adjusting wheel for easy operation.
Compact Size
With a grill size of 55 x 55cm, the Argentine Parrilla Asado Grill is perfect for those with limited space or those who prefer cooking for small gatherings of friends and family.
Optional Spit Kit
Enhance your grilling versatility with the optional Asado Grill Rotisserie kit. It includes 304 food-grade stainless steel accessories, a 240v stainless steel motor with a 10kg load capacity and 2RPM, two stainless steel spikes/forks, and a solid 8mm square skewer.
Parrilla BBQ Grill | Argentine | Optional Spit Specifications and Dimensions
Fuel Type Charcoal
Heat Beats
Wood Fire
Asjustable Height 850 mm
(Lowest to Highest)
Total Height 1675 mm
Height to Charcoal Tray 525 mm
Charcoal Pan Height 220 mm
Total Length 905 mm
(Including Wheel)
Length 660 mm
(Excluding Wheel)
Width 600 mm
Weight 39 kg
Weight with Spit 45 kg
Grill Length 565 mm
Grill Width 525 mm
Materials Stainless Steel
Black Powder Coated Steel
Parrilla BBQ Grill | Argentine | Optional Spit Additional Information
The grill features a high-temperature black powder-coated finish, providing durability and a sleek appearance.

It includes a height-adjustable V-grate grill, a removable oil collection tray, and a removable grill for convenience.

The charcoal pan allows for efficient heat distribution and control.

The grill's overall dimensions are 66cm x 60cm x 24cm, with a BBQ grilling area of 56cm x 52cm (see dimensions in the photo gallery above).

Optional side mounting brackets are provided to accommodate the optional rotisserie kit. Please select the kit option from the drop-down list.
Note: The rotisserie kit is sold separately and can be selected as an optional extra. The product photos are for illustrative purposes only.
Peace of mind 30 day returns policy! Find out more here.
Price match guarantee*. Get more details here.
Review Rewards Program! Check it out here.
We provide customer service, via online chat, email, and phone 7 days a week, 7am to 10 pm. Contact us anytime!
Shipping FREE on a range of items!
For bulky items we have multiple items to reduce shipping costs:
Shipping to door, calculated at the product, cart, and checkout pages.

Collect from local depots we ship to, for reduced costs.

Collect for FREE from warehouse where products are shipped from.
You can find all our delivery/shipping details here.
If you have any questions contact us anytime.