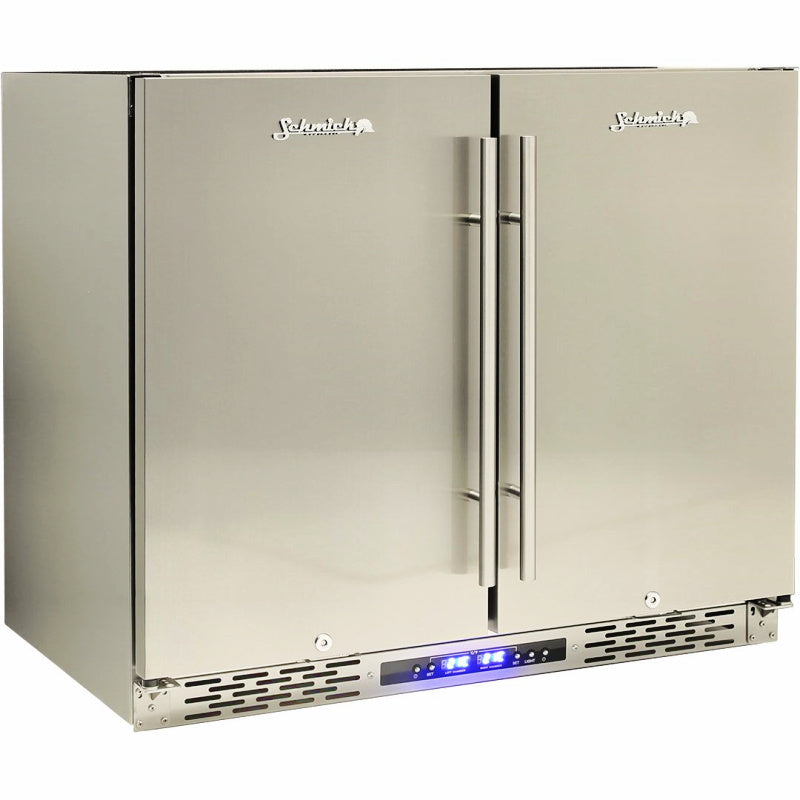 Bar Fridge | Solid Door | Beer and Wine Combo
Description

Model Code

Why buy From Us

Shipping
Bar Fridge | Solid Door | Beer and Wine Combo
The Ultimate Alfresco Bar Fridge!
Enjoy FREE delivery in NSW, VIC, QLD (Gold Coast to Sunshine Coast), and the Adelaide region.
Indulge in versatile beverage storage with the Schmick Twin Zone Alfresco Bar Fridge. Crafted to perfection, this fridge seamlessly combines elegance and functionality, providing endless options for storing your beers, wines, and soft drinks. With dual temperature zones adjustable from 1°C to 18°C, enjoy the freedom to customise your chilling environment.
Cooling Mastery: Achieve 1°C even in scorching 38°C conditions.

Location Versatility: Suitable for both indoor and outdoor enclosed spaces.

Trusted Brand Parts: Noctua Silent Fans from Norway, Meanwell Transformer from Taiwan, and Jiaxipera Chinese Compressor ensure top-notch performance.
Dimensions
External: Width 900mm, Depth 595mm, Height 800mm

Internal: Width 350mm, Depth 450mm, Height 630mm

Capacity: Fit 190 standard 375ml cans or 58 wine bottles, totaling 190 liters.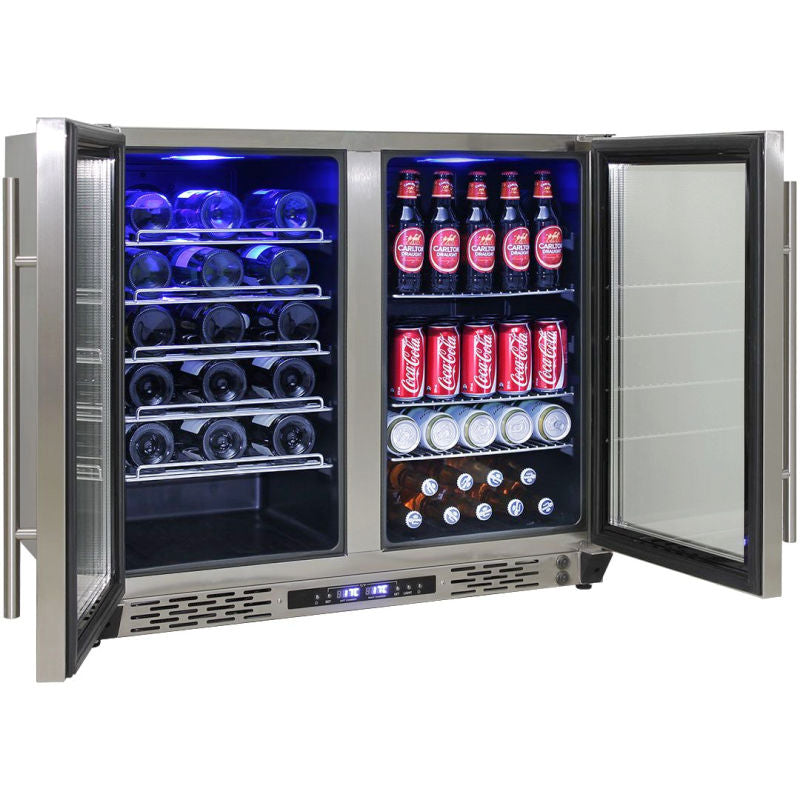 Bar Fridge | Solid Door | Beer and Wine Combo | Features
Dual-Zone Marvel: Perfect for beer, wine, and soft drinks. Two zones can be independently set to cater to your beverage preferences.

Elegant Design: This classy stainless steel twin zone bar fridge is designed to complement any space, whether indoor or outdoor.

Intelligent Cooling: Chill down to 1°C with ease, even in soaring 38°C temperatures. Enjoy your drinks at their finest.

Eco-Friendly Energy: Energy-saving features including 12V fans and eco LED lighting that turns off when not in use, backed by ozone-safe R600 gas.

Sleek Solid Door: 304 stainless steel solid door not only exudes elegance but also ensures efficient insulation and minimal energy loss.

Built-in Heater: Unique built-in heater system to elevate the temperature when ambient conditions drop below the set threshold.

Adjustable Shelving: Mix and match shelving with 3 flat chromed adjustable shelves in one zone and slide-out saddle shelving in the other.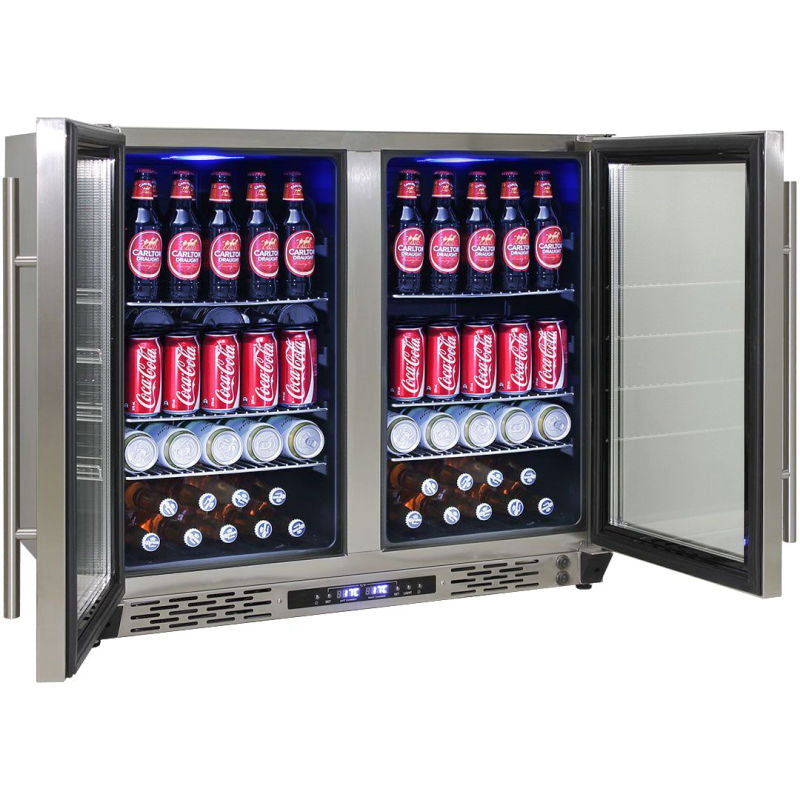 Bar Fridge | Solid Door | Beer and Wine Combo | Specifications
Litres: 190
Weight: 60kg
Dimensions: Width 900 mm
Depth 595 mm
Height 800 mm
Capacity: 190 cans
58 Wine Bottles
Noise Level: 44dB Similar to
a kitchen fridge
Shelving: 3 flat
3 Wine shelves
Body Colour: 304
Stainless Steel
Interior Finish: Black
moulded plastic
Adjustable Feet: Yes
Lockable: Yes
Glass Door: 304
Stainless Steel
Door Hinge: 1 x Right
1 x Left
Power Consumption: 1.470 kW/24hrs
Running Costs: Approximately
$131 per year
Approvals: RCM
SAA Electrical
EMC (C-Tick)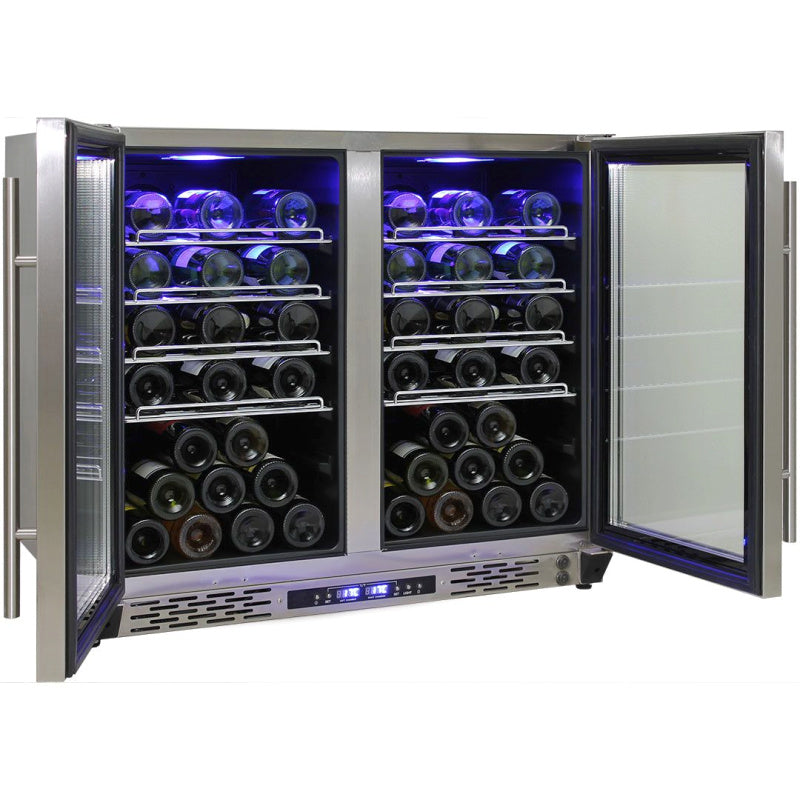 Bar Fridge | Solid Door | Beer and Wine Combo | Complete Guide
Dive deeper into the world of cooling sophistication with the Schmick Solid Door Combo Bar Fridge. Discover maintenance tips, performance insights. Explore the Complete guide here
Peace of mind 30 day returns policy! Find out more here.
Price match guarantee*. Get more details here.
Review Rewards Program! Check it out here.
We provide customer service, via online chat, email, and phone 7 days a week, 7am to 10 pm. Contact us anytime!
Shipping FREE on a range of items!
For bulky items we have multiple items to reduce shipping costs:
Shipping to door, calculated at the product, cart, and checkout pages.

Collect from local depots we ship to, for reduced costs.

Collect for FREE from warehouse where products are shipped from.
You can find all our delivery/shipping details here.
If you have any questions contact us anytime.