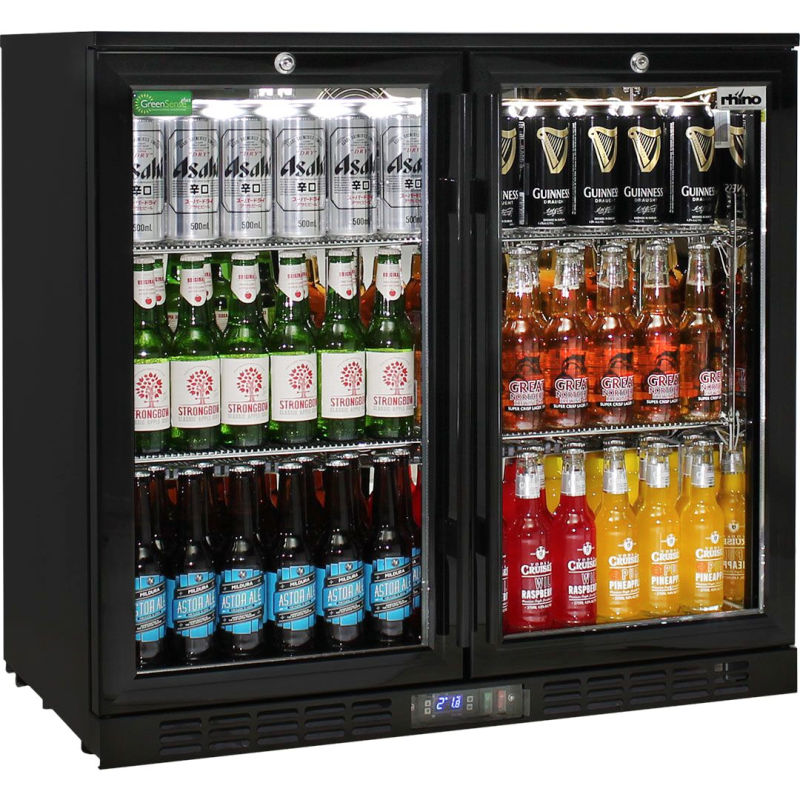 Bar Fridge | 2 Door Alfresco | Rhino SG2H Model
Description

Why buy From Us

Shipping
Bar Fridge | 2 Door Alfresco | Rhino SG2H
The Ultimate 2 Door Under Bench Bar Fridge!
Enjoy FREE delivery in NSW, VIC, QLD (Gold Coast to Sunshine Coast), and the Adelaide region.
Upgrade your beverage chilling experience with our state-of-the-art Double Door Commercial Under Bench Bar Fridge. Crafted to perfection, this fridge boasts superior quality, cutting-edge technology, and exceptional energy efficiency, making it the prime choice for both commercial establishments and homeowners seeking the ultimate cooling solution.
Unrivaled Excellence in Refrigeration
Our Double Door Commercial Under Bench Bar Fridge is meticulously engineered using top-tier components sourced from renowned global brands. Crafted by expert engineers and backed by a reputable long-term manufacturer, this refrigerator sets the standard for reliability and performance in the market.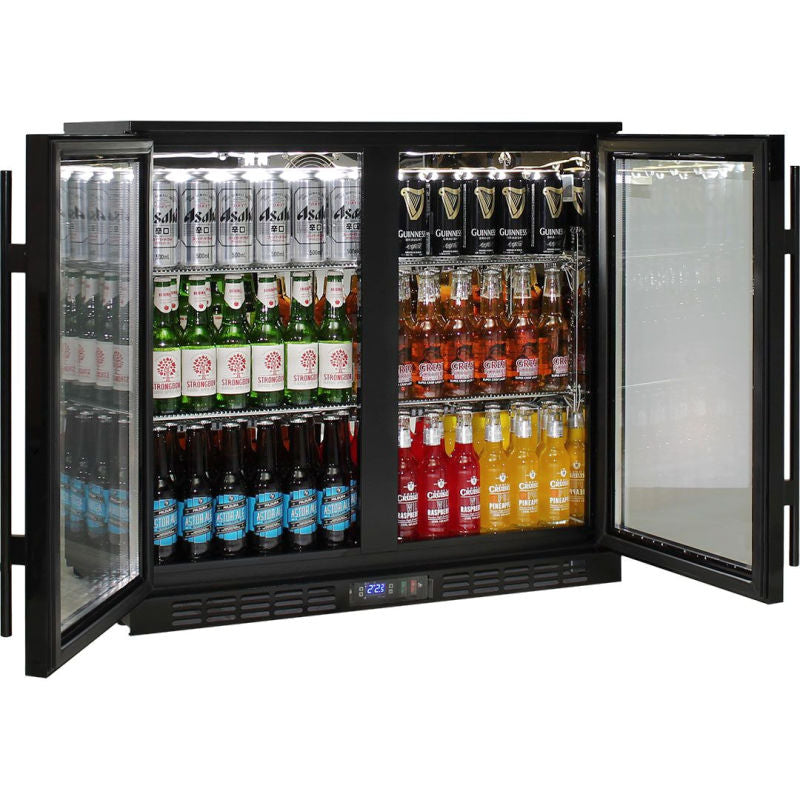 Bar Fridge | 2 Door Alfresco | Rhino SG2H | Outstanding Features
Polished Stainless Steel Interior: The interior features a sleek polished stainless steel finish, enhancing durability while providing a premium aesthetic.

LG Compressor: Powering the cooling prowess of this unit is the trusted LG compressor, ensuring rapid and consistent cooling performance.

LOW E Glass: The advanced LOW E glass technology contributes to excellent insulation, reducing energy consumption while preventing condensation.

German EBM Fans: Equipped with energy-efficient German EBM fans that operate 70% more economically, this fridge maintains optimal cooling conditions with reduced power usage.

Lock Feature: Offering enhanced security, the integrated lock keeps your beverages safe and allows you to store valuable items with peace of mind.

Running Cost: With an estimated yearly running cost of approximately $137.57, calculated at 25.64 cents per kilowatt, you can enjoy efficient cooling without breaking the bank.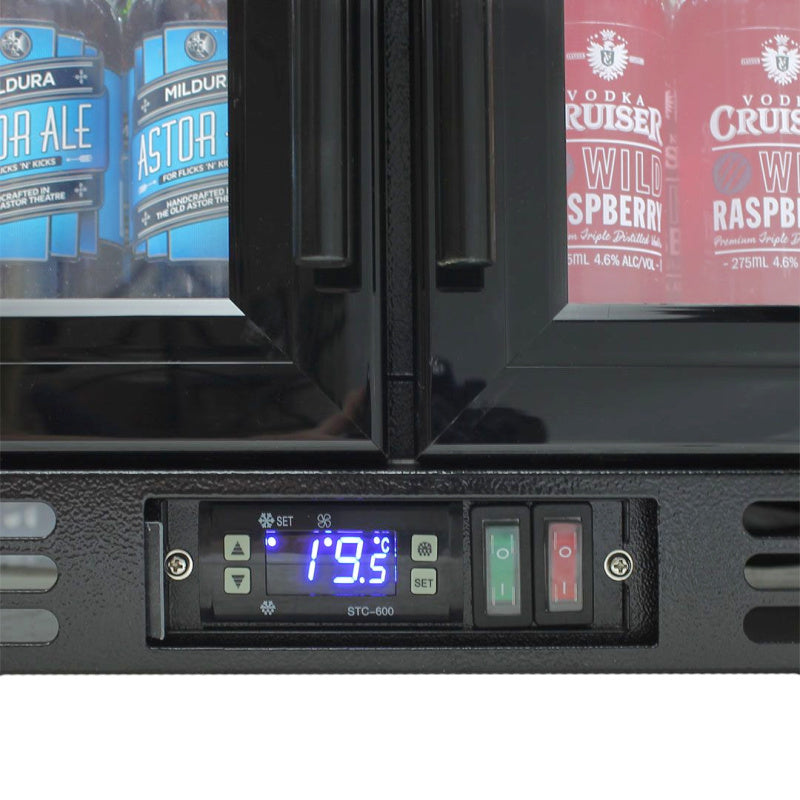 Brand Legacy
Rhino has established itself as a global leader in commercial refrigeration, holding the esteemed position of the number one provider of energy-efficient technologies. Their commitment to excellence is evident through partnerships with industry giants like Heineken and Fosters Group.
Substantial Savings
Recent testing reveals impressive energy consumption savings. In a controlled environment at 25°C and 40°C, our fridge outperformed competitors, delivering exceptional value at a price point that won't break the bank.
Generous Capacity
Accommodate up to 240 standard 375ml cans or 208 liters of beverages, ensuring ample storage for your cooling needs.
External Dimensions: Width: 900mm, Depth: 500mm, Height: 840mm
Bar Fridge | 2 Door Alfresco | Rhino SG2H | Specifications
Litres: 208
Weight: 69kg
Dimensions: Width 900 mm
Depth 500 mm
Height 840 mm
Capacity: 240 cans (375ml)
Noise Level: 47dB Similar to
a kitchen fridge
Shelving: 4 shelves
Body Colour: matte black finish
Interior Finish: Polished 304
Stainless steel
Adjustable Feet: Yes
Lockable: Yes
Glass Door: Dual Glazed
Low E Glass
Door Hinge: 1 x Right
1 x Left
Power Consumption: 2.47 kW/24hrs
Running Costs: Approximately
$137 per year
Approvals: Meps
SAA Electrical
EMC (C-Tick
Bar Fridge | 2 Door Alfresco | Rhino SG2H | Complete Guide
Dive deeper into the world of cooling sophistication with the Rhino 2 Door Alfresco Bar Fridge. Discover maintenance tips, performance insights. Explore the Complete guide here
Peace of mind 30 day returns policy! Find out more here.
Price match guarantee*. Get more details here.
Review Rewards Program! Check it out here.
We provide customer service, via online chat, email, and phone 7 days a week, 7am to 10 pm. Contact us anytime!
Shipping FREE on a range of items!
For bulky items we have multiple items to reduce shipping costs:
Shipping to door, calculated at the product, cart, and checkout pages.

Collect from local depots we ship to, for reduced costs.

Collect for FREE from warehouse where products are shipped from.
You can find all our delivery/shipping details here.
If you have any questions contact us anytime.