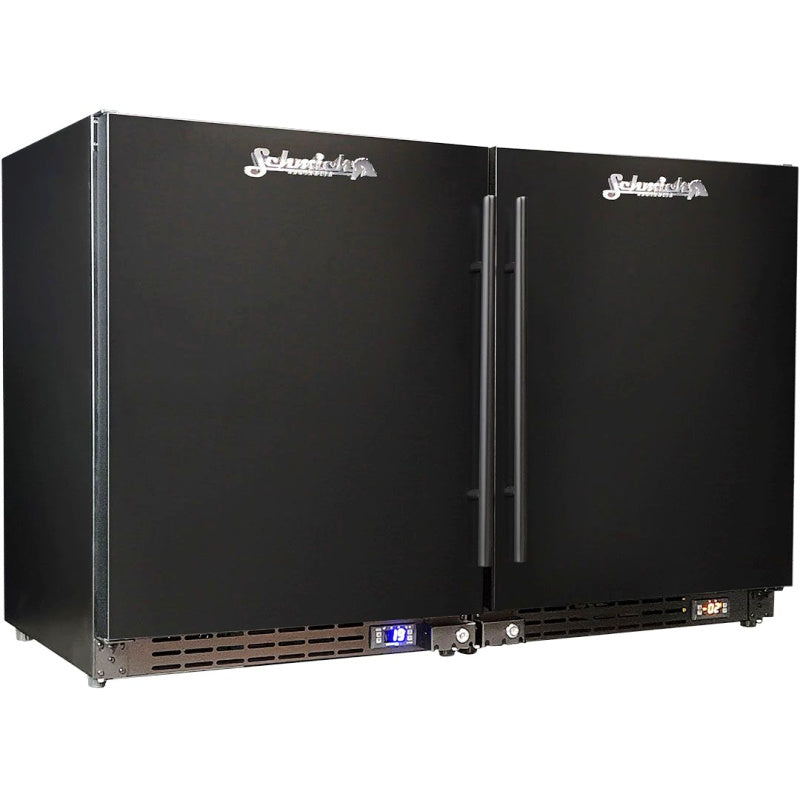 Schmick Bar Fridge and Freezer Combo | BD113 Model
Description

Model Codes

Why buy From Us

Shipping
Discover the Ultimate Bar Fridge and Freezer Combo in Australia
Enjoy FREE delivery in NSW, VIC, QLD (Gold Coast to Sunshine Coast), and the Adelaide region.

Are you in search of a premium bar fridge in Australia? Look no further! Our classy black or stainless steel matching fridge and freezer combination is here to revolutionise your indoor entertaining area and modern-day kitchen. This combo unit brings together style, convenience, and efficiency, making it a must-have addition to your space.
Unbeatable Bar Fridge and Freezer: Classy and Convenient Combo Unit
Premium Combo: Get the best of both worlds with our pigeon pair combo - a fridge and a freezer, side by side.
Elegant Design: A sleek black or stainless steel finish adds a touch of class to your space.
Quiet and Efficient: Experience quiet operation and low energy consumption.
Customizable Storage: Slide-out shelving and fully adjustable shelves make organisation a breeze.
Secure Your Stash: Lockable doors ensure the safety of your items.
Technical Excellence: Equipped with quality Schmick ECO Controller and High-Quality Jiaxipera Chinese Compressor.
Energy-Saving Features: Benefit from 12Volt Fans, Cyclopentane foaming, R600 100% ozone-safe gas, and the Schmick ECO Controller.
GEMS 2022 and RCM Certified: Rest easy with industry-standard approvals.
Fridge and Freezer Specifications:
Cooling: Freezer cools from zero to minus 18 degrees C.
Location Suitability: Indoor use is ideal.
Power Consumption: Only 2.19 kW/24hrs, resulting in an annual running cost of approximately $204.95.
Noise Level: Operating at 43.00dB, it's as quiet as a typical kitchen fridge.
Weight: This unit weighs 43.00 kg for easy placement and mobility.
Adjustable Feet: Enjoy stability with four adjustable feet.
Glass Door: Features a solid foamed door to prevent condensation.
Door Hinged: One left and one right hinged door for versatility.
Body Color: Elegant black or stainless steel finish (your choice)
Interior Finish: Black molded plastic interior.
Impressive Capacity:
What Fits In: Store up to 140 standard 375ml cans or 233 litres of your favourite beverages and treats.
Shelving: Note that the can capacity is for the fridge, while the freezer offers slightly less space.
Fridge and Freezer Dimensions:
External:

Width: 1210mm
Depth: 610mm
Height: 800mm

Internal:

Width: 470mm
Depth: 430mm
Height: 470mm
Don't miss out on this extraordinary bar fridge and freezer combo. Elevate your home with Schmick, your trusted brand for excellence in design and performance.
Please remember that the doors open 15mm outside the fridge diameter.
Bar Fridge and Freezer Combo | Complete Information Link
For a complete bar fridge guide on maintenance, tips and performance read here
BD113-B-Combo

BD113-SS-Combo
Peace of mind 30 day returns policy! Find out more here.
Price match guarantee*. Get more details here.
Review Rewards Program! Check it out here.
We provide customer service, via online chat, email, and phone 7 days a week, 7am to 10 pm. Contact us anytime!
Shipping FREE on a range of items!
For bulky items we have multiple items to reduce shipping costs:
Shipping to door, calculated at the product, cart, and checkout pages.

Collect from local depots we ship to, for reduced costs.

Collect for FREE from warehouse where products are shipped from.
You can find all our delivery/shipping details here.
If you have any questions contact us anytime.