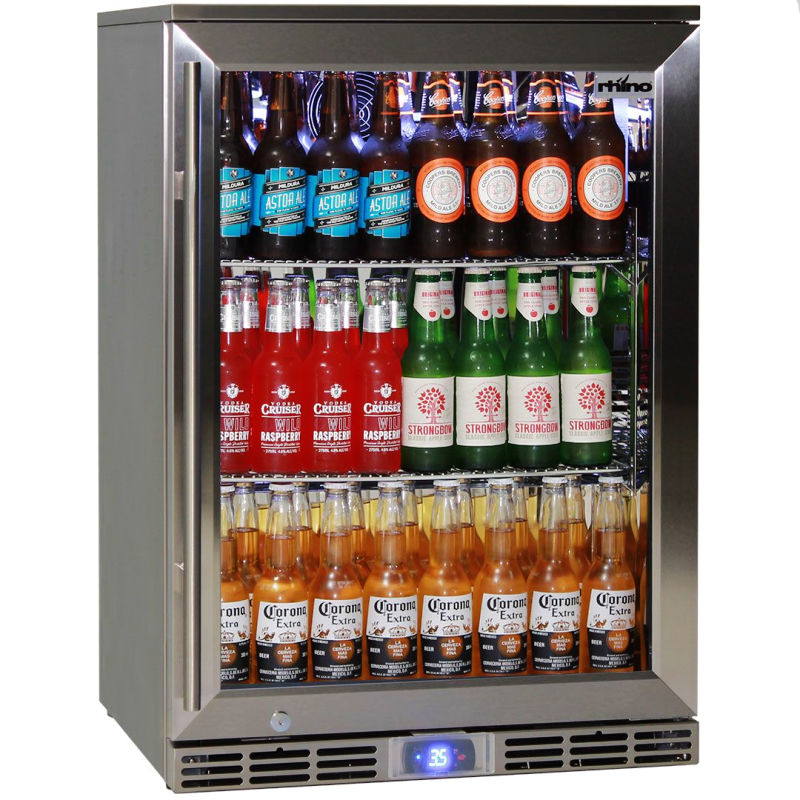 Bar Fridge | Single Door Alfresco | Rhino GSP
Description

Model Codes

Why buy From Us

Shipping
Bar Fridge | Single Door Alfresco | Rhino GSP
Bar Fridge Excellence!
Enjoy FREE delivery in NSW, VIC, QLD (Gold Coast to Sunshine Coast), and the Adelaide region.
Unveil the pinnacle of alfresco refrigeration with the Rhino GSP series, a result of 3 years of dedicated development since 2009. Crafted for optimal performance and energy efficiency, these fridges redefine outdoor refreshment. Discover the fusion of brand name components, rapid cooling in sweltering 40°C+ conditions, LOW E glass innovation, and security features that place this fridge at the forefront of the market.
Unmatched Features for Optimal Refreshment
Superior Cooling Performance: Easily chills to 0°C even in scorching 40°C+ temperatures, ensuring your beverages remain refreshingly cold.

Outdoor Durability: Designed exclusively for outdoor use, these refrigerators are equipped to withstand the elements.

Minimal Power Consumption: Running at just 1.03 kW/24hrs, enjoy efficient cooling without breaking the bank.

Unique 'No Topple' Shelves: Special tight-spaced shelves with 12 height adjustments ensure stability and organization.

Optimized Pull Down Times: Fast cooling in high temperatures minimizes wear, extending the lifespan of your fridge.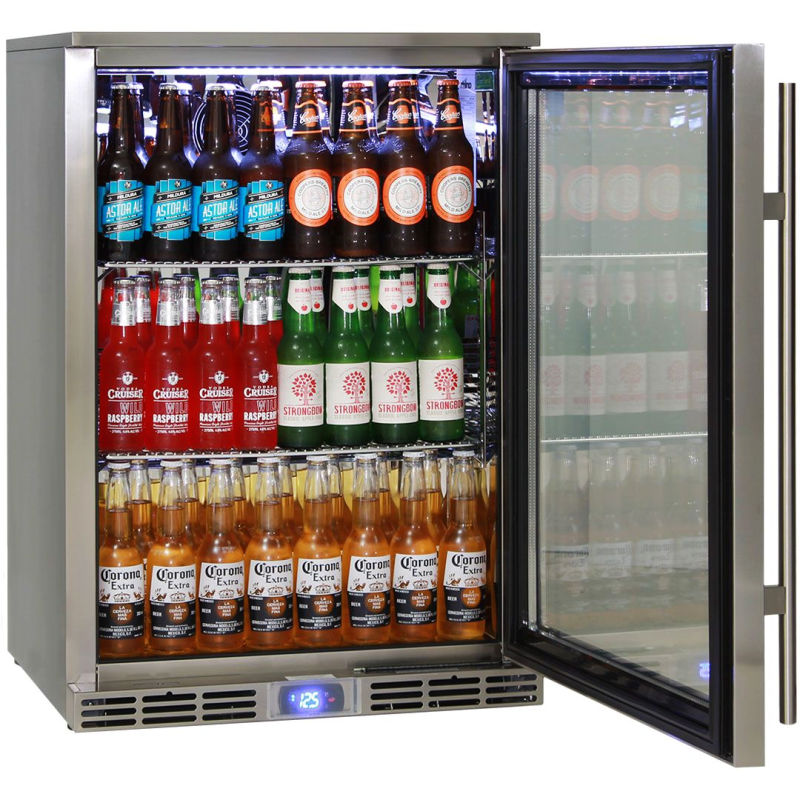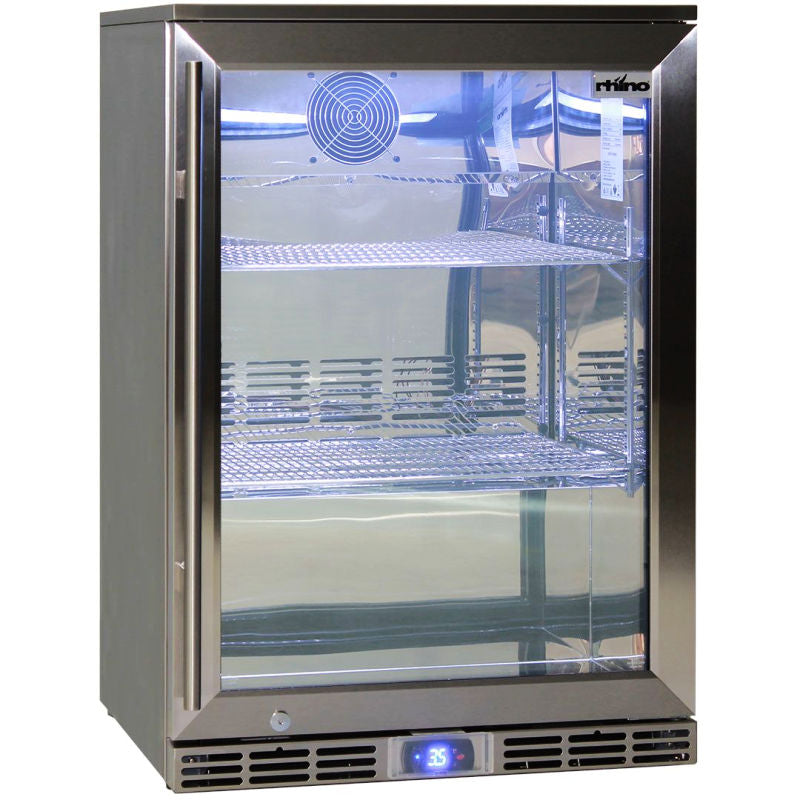 Premium Componentry
At its core, the Rhino GSP Alfresco Refrigerator is powered by top-tier components, including the Danish Danfoss ECO Controller, Embraco ECO Compressor (which operates at a wallet-friendly 25% cost reduction)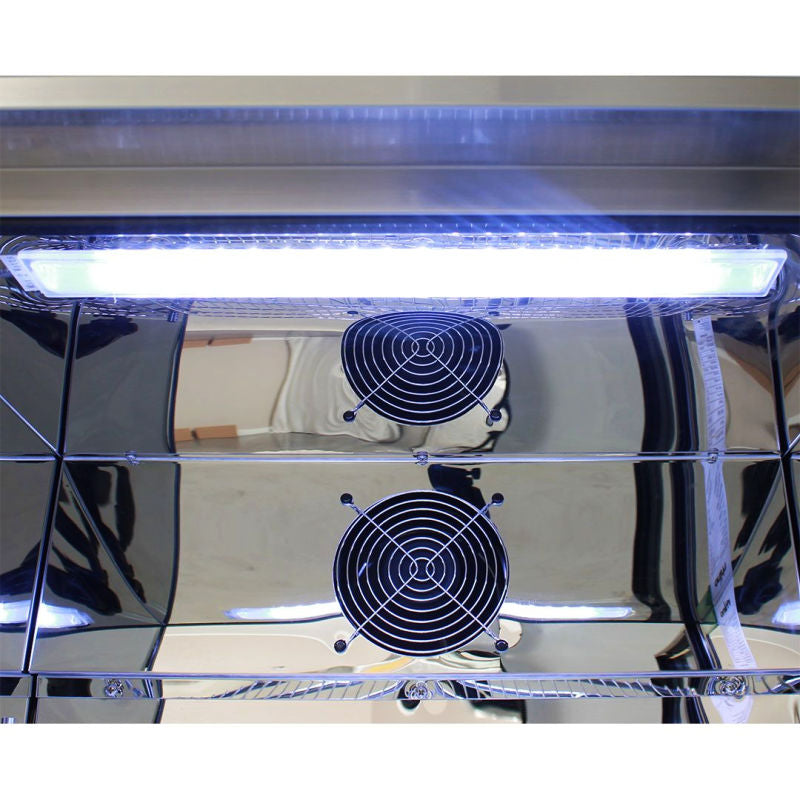 Innovative Shelf Design
Experience an unrivaled level of convenience with the special 'no topple' shelves, offering 12 height adjustments. These shelves not only enhance stability but also provide a customisable storage solution, ensuring your bottles and cans are neatly organized.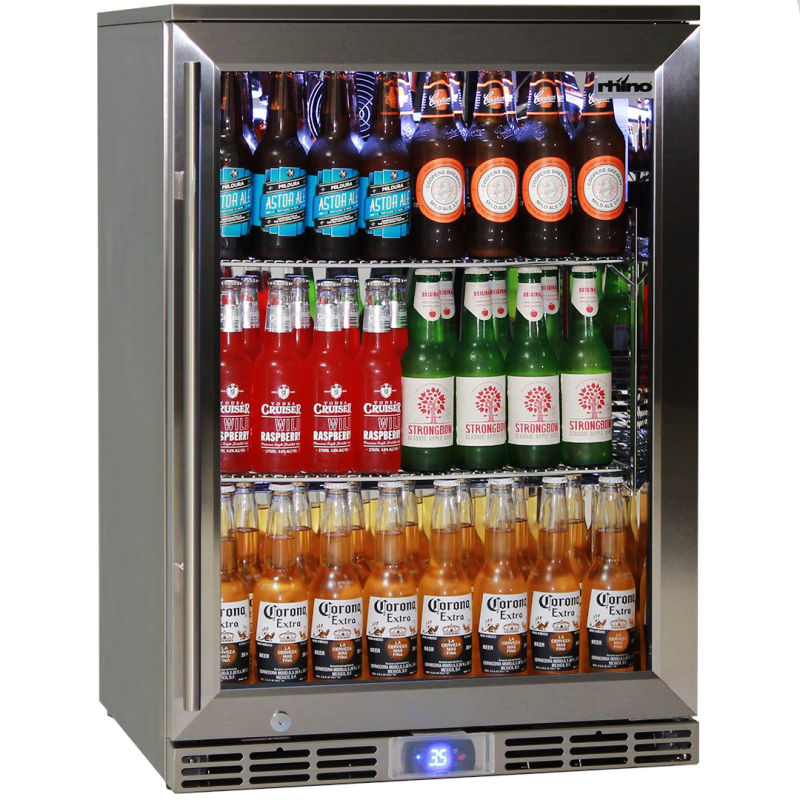 Crystal-Clear Glass Doors
The Rhino GSP series features dual-glazed LOW E glass doors that not only enhance energy efficiency but also offer an unobstructed view of your refreshment selection, adding an element of aesthetic appeal to your alfresco space.
Bar Fridge | Rhino GSP | Specifications
Litres: 138
Weight: 49kg
Dimensions: Width 600 mm
Depth 500 mm
Height 865 mm
Capacity: 140 cans (375ml)
Noise Level: 46dB Similar to
a kitchen fridge
Shelving: 2 shelves
Body Colour: 304
Stainless Steel
Interior Finish: Polished 304
Stainless steel
Adjustable Feet: Yes
Lockable: Yes
Glass Door: Dual glazed
Low E Glass
Door Hinge: Right or
Left Hinged
Power Consumption: 1.03 kW/24hrs
Running Costs: Approximately
$96 per year
Approvals:MEPS
SAA Electrical
IP 24 Outdoor Rated
Bar Fridge | Rhino GSP | Complete Guide
For a complete bar fridge guide on maintenance, tips and performance read here
Peace of mind 30 day returns policy! Find out more here.
Price match guarantee*. Get more details here.
Review Rewards Program! Check it out here.
We provide customer service, via online chat, email, and phone 7 days a week, 7am to 10 pm. Contact us anytime!
Shipping FREE on a range of items!
For bulky items we have multiple items to reduce shipping costs:
Shipping to door, calculated at the product, cart, and checkout pages.

Collect from local depots we ship to, for reduced costs.

Collect for FREE from warehouse where products are shipped from.
You can find all our delivery/shipping details here.
If you have any questions contact us anytime.