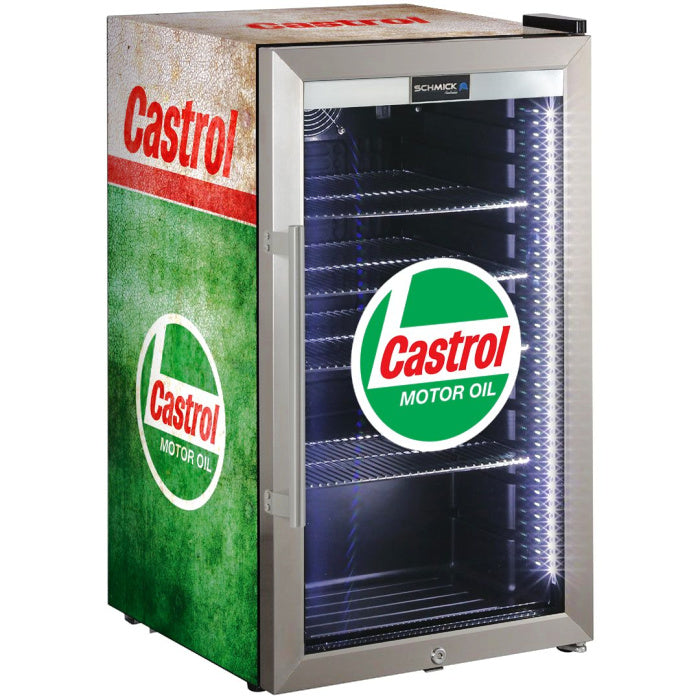 Bar Fridge | 98 Litre Fuel Pump Branded
Description

Model Codes

Why buy From Us

Shipping
Bar Fridge | 98 Litre Fuel Pump Branded
Introducing Our Retro Fuel Pump Design Tropical Rated Glass Door Bar Fridge, Perfect for Outdoor and Indoor Spaces! Choose from 6 Unique Designs.
Enjoy FREE delivery in NSW, VIC, QLD (Gold Coast to Sunshine Coast), and the Adelaide region.
Product Snapshot:
Specifically designed for outdoor alfresco areas in Australia with a retro fuel pump design.
Triple glazed LOW E stainless steel door with lock and LED strip lights.
The shelving structure allows for 5 heights of 375ml cans, accommodating over 100 cans.
Technical Specifications:
Triple glazed and tropical rated for efficient cooling in ambient temperatures from 10-38°C.
Suitable for indoor or outdoor use in enclosed under-cover areas.
Power consumption of 1.70 kW/24hrs, running costs approximately $159.1 per year.
Noise level of 41.00dB, similar to a standard kitchen fridge.
Equipped with Noctua Silent and Quiet Fans, a high-quality Chinese compressor, and a reliable Chinese transformer.
Sturdy build, weighing 48.00 kg.
Peace of Mind:
Proudly presenting Schmick, our flagship brand known for superior design and performance.
Holds MEPS, SAA Electrical, and EMC (C-Tick) approvals for quality assurance.
Main Features:
The Schmick mini bar range is the result of our longstanding partnership with top manufacturers, ensuring exceptional build quality and stability.
Self-closing lockable doors add convenience and security – a great gift idea.
Unique inner fan system provides even and stable cooling over the evaporator plate.
Customisable molded interiors with multiple height adjustments to suit various drink configurations.
Choose from 6 different designs for a personalized touch.
Energy-Saving Features:
Energy-efficient 12Volt fans for optimal cooling performance.
Environmentally friendly Cyclopentane foaming for superior insulation.
LED lighting and LOW E glass for enhanced visibility and reduced energy consumption.
Utilises R600 gas, 100% ozone safe, and features triple glazing for improved thermal efficiency.
Product Details:
Adjustable feet: Yes (4 adjustable feet)
Lockable: Yes
Glass door information: Triple glazed tempered LOW E glass
Door hinged: Right Hinge (Handle Left)
Shelving: 4 x flat chromed adjustable shelves (3 x 390mmW x 340mmD) and (1 x 390mmW x 215mmD)
Body color: Black
Door/Grill finish: Stainless Steel
Interior finish: Black Molded Plastic
Model Code: HUS-SC88-FP-CASTROL
Capacity:
Standard 375ml cans: 115
Litres: 98
Dimensions:
External: Width 470mm, Depth 500mm, Height 850mm
Internal: Width 375mm, Depth 355mm, Height 730mm
Other Size Information: Door opens approximately 5-10mm outside diameter of fridge. Inner step is 220mm in and 200mm High. Not suitable for kegs.
For a complete bar fridge guide on maintenance, tips and performance read here
HUS-SC88-FP-CASTROL

HUS-SC88-FP-DINO

HUS-SC88-FP-ESSO

HUS-SC88-FP-FLEECE

HUS-SC88-FP-HANCOCK

HUS-SC88-FP-GILMORE
Peace of mind 30 day returns policy! Find out more here.
Price match guarantee*. Get more details here.
Review Rewards Program! Check it out here.
We provide customer service, via online chat, email, and phone 7 days a week, 7am to 10 pm. Contact us anytime!
Shipping FREE on a range of items!
For bulky items we have multiple items to reduce shipping costs:
Shipping to door, calculated at the product, cart, and checkout pages.

Collect from local depots we ship to, for reduced costs.

Collect for FREE from warehouse where products are shipped from.
You can find all our delivery/shipping details here.
If you have any questions contact us anytime.